The biggest junk-bond exchange-traded fund just suffered one of its worst bout of withdrawals in its history. Some have concluded this means the $1.3 trillion U.S. high-yield bond market is poised for a severe selloff.
But that's an overly simplistic reading of the situation.
BlackRock's $15.2 billion ETF has reported about $2.6 billion of withdrawals in the past four days, which is pretty stunning. But it's a little less shocking when compared with the $2.7 billion deposited in the 12 business days through March 2, data compiled by Bloomberg show. 
The withdrawals don't necessarily indicate a loss of confidence in the junk market. In fact, just the opposite could be true. Consider this possible narrative: A couple months ago, some investors sensed a rally coming in riskier corporate bonds as oil prices started to recover. So they decided to buy the debt but couldn't find any for sale. New such bond sales had all but dried up, and everyone else was hanging onto their holdings.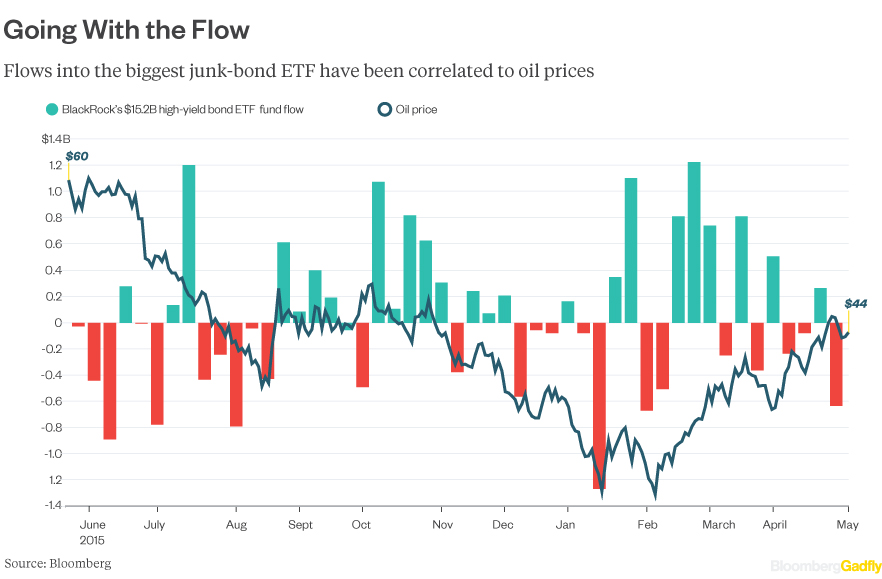 So investment firms piled into the biggest junk-bond ETF, hoping to ride the wave until more bond inventory became available.
Now, junk-bond sales are starting to pick up again, with Apollo Global Management co-founder Josh Harris saying financing markets for leveraged buyouts "are back in all their glory" and that "the good times are rolling, at least for this month."
With bonds available, investors are pulling out of the ETF to buy the individual securities.
This hypothetical seems a more likely explanation than a sudden realization of impending Armageddon for credit. After all, the second-biggest junk-bond ETF experienced only $245 million of withdrawals in the last week, which isn't all that remarkable.
It's true that the recent rally is probably losing steam, but it's hard to see how high-yield bonds are going to plunge in value without some specific catalyst. Interest rates are still at or near record lows around the world, and riskier corporate bonds are offering average coupon payments of about 8 percent, compared with nearly $10 trillion of sovereign debt offering no yield at all.
Could high-yield bonds sell off sometime in the near future? Yes, quite likely. Will this be the beginning of a protracted, wholesale demise of the asset class? Probably not.
High-yield bond ETF flows are a good gauge of tactical positioning by specific big investors. They're less instructive regarding the general, longer-term mood of the entire market.
This column does not necessarily reflect the opinion of Bloomberg LP and its owners.
To contact the authors of this story:
Lisa Abramowicz in New York at labramowicz@bloomberg.net
Rani Molla in New York at rmolla2@bloomberg.net
To contact the editor responsible for this story:
Daniel Niemi at dniemi1@bloomberg.net