Two companies are competing to be the first to fully and accurately measure who's watching TV in a digital world.
Nielsen has long been the gold standard for TV ratings, but it's now working to hone its digital data chops. ComScore has been the go-to for Internet metrics, but recently completed a merger with a video measurement company, Rentrak, to boost its TV-rating credentials.
Both Nielsen and comScore have rolled out services this year that measure viewership across multiple platforms -- including television, DVR, video on demand, phones, computers, tablets, and web-based subscriptions such as Netflix -- but it's going to be a while until those numbers count with clients. That's because advertisers who use this data have more specific needs than in the past.
Advertisers no longer care that a show's viewers are simply young and female; they also want to know, for example, on what show and on which device they can best reach women who have pets and also buy SUVs. But with measure-everything services in early development, clients buying and selling ads against video content still don't fully trust the metrics.
Indeed, holes remain in coverage of mobile and over-the-top services like Netflix, though both Nielsen and comScore promise fuller assessments later this year. Granularity of data is also inconsistent across platforms, so advertisers are still finding it difficult to get reliable cross-platform analytics on specific audiences. 
Measurement companies have to make sure they're not over-counting as well, a problem that gets exponentially more difficult as people use more and more devices.  Look, for example, at the graphic below. It shows that in order to gauge viewership on just four devices without duplication, measurement companies have to try to isolate 13 different viewership segments.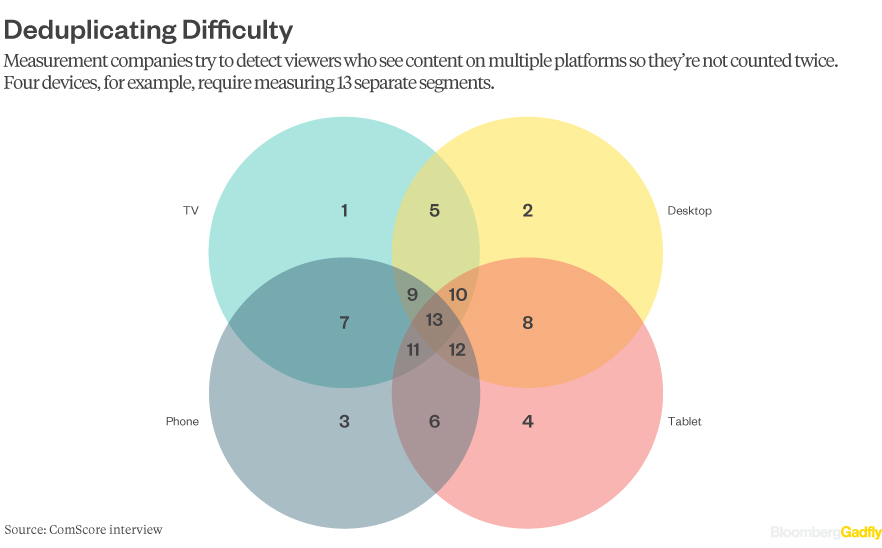 Nielsen and comScore are using a mix of panels and census methods in conjunction with third-party data sources like Facebook and Google to fine-tune their measuring.
Panels consist of demographically-representative users who have their viewing habits tracked. Panel data offer higher quality feedback than census data, but the expense makes it hard, if not impossible, to generate large-scale results that would allow for more granular analysis.
Census data, on the other hand, scales because it tracks everything that transits across, say, a cable provider's Internet connection or set-top box. Mass data downloads, however, don't provide clear pictures of how individuals behave (and the data sets have to be normalized to be useful). 
Nielsen and comScore currently have similar offerings and vary only on particulars, according to the Coalition for Innovative Media Measurement, a trade group that represents ad buyers and sellers.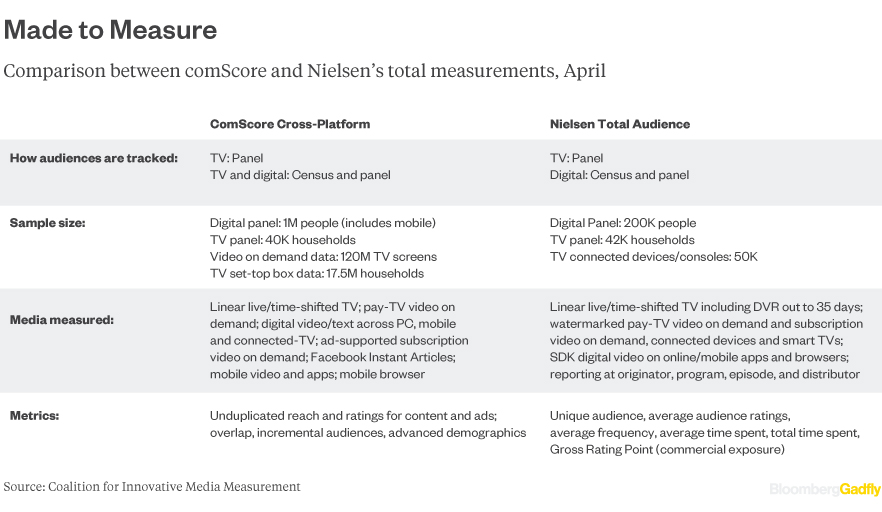 As the incumbent and as a much bigger company, Nielsen has the advantage in video metrics, but its lead isn't secure, as evidenced by a flurry of deals lately to boost its scale and usefulness. Nielsen agreed last month to use data from set-top box company DISH, with which comScore already has an agreement. In March, Nielsen bought advertising analytics tool Pointlogic to help ad agencies plan media campaigns based on Nielsen's audience measurements.
The breadth of comScore's data gives it an advantage over Nielsen when it comes to granular data analysis (meaning Nielsen will need more deals like DISH to compete more effectively). ComScore also has a 10-million-person overlap between its digital and TV data, so it has an unrivaled storehouse of cross-platform data it can parse.
(ComScore's stock plunged more than 30 percent in March after it announced its annual report would be late due to an ongoing accounting review. The stock now trades at $29.23, down 43 percent from a year ago.)
In the meantime, smaller competitors are making inroads of their own. Samba TV uses its smart TVs to generate real-time ratings for advertisers. Symphony Advanced Media uses audio recognition apps to track Netflix episodes across devices. TiVo is using its eponymous DVR devices to match viewership with purchase data.
None of these measurement firms, large or small, have cracked the mystery of exactly which audiences are leaving television and where they're going. There's also no clarity on whether growth in viewership on other platforms will make up for TV's losses. Broadly, we know that the size of TV's audience has been stagnating for years, especially among young people, and that viewers are going online, but very little specific, concrete information about that audience is known beyond that.
TV is still the goliath of the advertising market, with estimated gross global sales of $201 billion in 2016, according to Magna Global. Sales of digital video ads are growing swiftly, and are projected to reach $20.5 billion in 2016. 
But until companies like Nielsen and comScore can help ad buyers and sellers pinpoint exactly which audience is leaving TV behind and where they're going, the value of their measurement services may be a little over-rated.
This column does not necessarily reflect the opinion of Bloomberg LP and its owners.
To contact the author of this story:
Rani Molla in New York at rmolla2@bloomberg.net
To contact the editor responsible for this story:
Timothy L. O'Brien at tobrien46@bloomberg.net