Laid Bare
Uncovering China's SOEs
The malaise goes a lot deeper than coal miners and steelmakers.
By , , and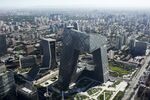 Three years after President Xi Jinping vowed to shake up state-owned enterprises, they're looking worse than ever. And not just in traditional smokestack industries such as coal and steel -- the malaise has spread to consumer and health-care firms.
Gadfly examined 346 state-owned companies to gauge the progress of China's SOE reform, tracking the change in return on equity, return on assets, interest cover, financial leverage and accounts-receivable days between 2012, before Xi took office in March 2013, and last year.
As the resulting five charts show, the problems go deeper than those faced by coal miners and steelmakers. Zombie-like characteristics also exist in consumer-staples companies and health-care firms. Outside of utilities like China General Nuclear Power, practically every part of China's economy touched by state ownership has serious issues, either in terms of the amount of debt companies owe or investor returns. Even tech outfits score low on profitability and return on assets.
Whatever promise China's unreformed SOEs may have once held has long turned to disappointment. While the government continues to insist on an overhaul of its sclerotic state firms, its efforts to prop up the economy are bearing fruit -- reducing the pressure for change. Commodity prices are rebounding, there are green shoots in the property market, and the Shanghai A-share stock index is up 11 percent from its January low. All that, paradoxically, is bad news, because it lends an air of complacency to Xi's much-vaunted push to shake up China's bloated conglomerates.
Huge amounts of leverage and inefficiency aren't the bailiwick of commodities players and shipbuilders any longer. And with debt-fueled growth showing signs of making a comeback, it may be years before Beijing's resolve to clean up the mess is tested.

Industrial companies, including trainmakers and shipbuilders, now wait an average of 106 days to get paid. Little wonder these SOEs rank among the highest on China's reform to-do list. Some progress has been made but changes haven't gone far enough. In December, China Ocean Shipping Group was merged with China Shipping Group in the hope that combined, they could improve their collective bargaining power in a shipping industry plagued by overcapacity and slowing trade. Last June, China CNR Corp. teamed with CSR Corp. to create CRRC Corp., a train equipment maker to challenge the likes of Germany's Siemens.

While consumer-staples firms including liquor maker Kweichou Moutai are favored by investors, the sector's profitability has taken a hit over the past three years as deflationary pressures mount. Perhaps some of these businesses would be better in private hands, run by, for example, the Alibabas of the world, or one of the country's many startups. These more nimble, tech-savvy companies are better placed to execute on ideas quickly and embrace rapidly changing trends.

Return on assets has fallen in most industries, illustrating the rampant glut China faces economy-wide. The State Council said in January it plans to cut steel production capacity by 100 million to 150 million tons, without specifying a time frame. Facing a slump in prices, China's steel producers lost an estimated $12 billion in 2015, according to IHS Global Insight. Coal production capacity will also be reduced on a ``a relatively large scale,'' the State Council said.

JPMorgan Chase CEO Jamie Dimon said in an interview last month with Bloomberg's Editor-in-Chief John Micklethwait that China may have been wanting to ``equitize'' some of its companies, the logic being that a healthy stock market helps to reduce a firm's debt burden. It's easy to see why. Chinese companies, especially swollen real-estate developers, have huge assets supported by a tiny sliver of equity. Naturally, China will seek frothy stock prices so lenders don't lose confidence in SOEs' balance sheets. What's needed, however, is genuine deleveraging.

With China hawking its massive supplies of steel to the rest of the world, it's probably not surprising that the country's state-owned coal and steel firms, and other companies in the energy and materials area, have the toughest time servicing their debt. Interest payments as a share of earnings before interest surged to 34 percent last year, the data show, more than any other state-owned industry. Analysts have also questioned authorities' attempts to reduce bloat: Fitch Ratings said that of the 60 million tons of capacity that was suspended in 2015, only about 17 million tons, or less than a third, was actually permanently shuttered.
Of course, all of this is not to say Beijing doesn't have the will, or tools at its disposal, to make sweeping SOE reforms if it wants. According to a 2009 paper in the Journal of East Asian Studies, China went from about 113,000 SOEs in the early 1990s, when Beijing made a push to create a ``socialist market economy," to 65,000 in 1998 and finally to about 27,000 by the mid-2000s. Since then, Morgan Stanley analysts estimate the number has been whittled down to about 20,000, made up of some 110 central government SOEs and the rest provincial state-owned firms.
Any change will be fraught, and potentially risk social upheaval -- something authorities are obviously keen to avoid. Transitioning the economy away from investment-led growth without tipping it into a deeper slump was always going to be a delicate balancing act. But it's one China's leaders must embark upon sooner rather than later. As our data show, time isn't on their side.
To contact the authors of this story:
Andy Mukherjee in Singapore at amukherjee@bloomberg.net
Nisha Gopalan in Hong Kong at ngopalan3@bloomberg.net
Rani Molla in New York at rmolla2@bloomberg.net
To contact the editor responsible for this story:
Katrina Nicholas at knicholas2@bloomberg.net
Before it's here, it's on the Bloomberg Terminal.
LEARN MORE