Facebook reported boffo revenue growth yesterday, separating it from the malaise of its tech-industry peers. Its record first-quarter ad revenue put it on track to hit $22.4 billion in total ad revenue for all of 2016, according to digital data firm eMarketer.
So how should we think about Facebook's prospects?
Well, if the year-end figures pan out it would raise the social media and messaging company's share of global Internet ad sales to 12 percent -- and allow it to gain ground on Alphabet, which will potentially see ad share in its Google unit shrink to 31 percent by year-end from 33 percent in 2015. As you can see from the chart below, eight companies will control over 60 percent of the world's digital ad revenue by the end of 2016.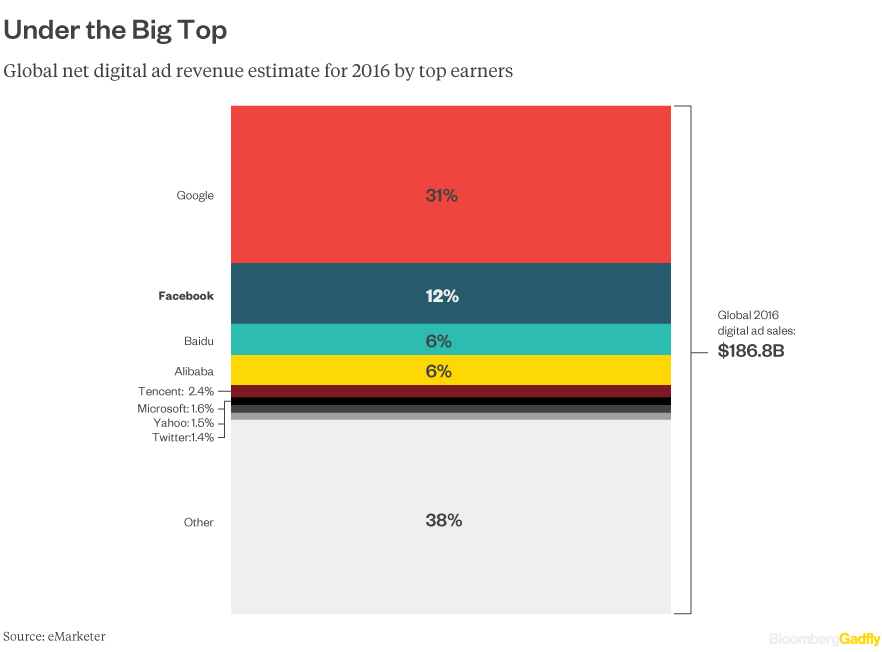 Facebook's 2015 ad revenue was not only mammoth compared to other digital media companies, it was as much as the entire revenue of some U.S. industries -- and comparable to the revenue of others.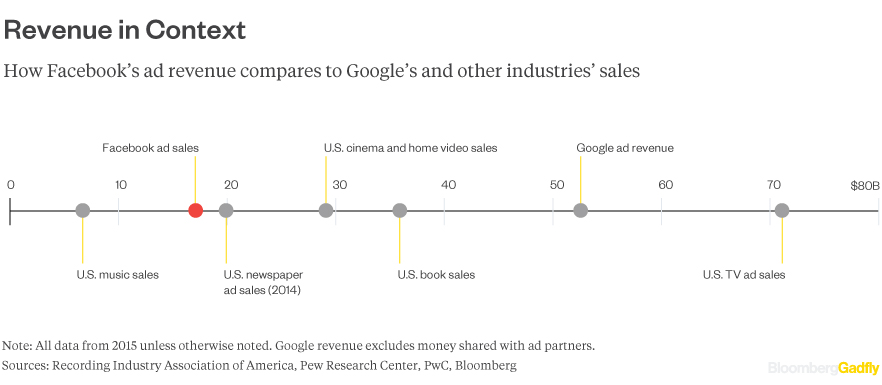 Chief Operating Officer Sheryl Sandberg said during Facebook's earnings call yesterday that "people are sharing and creating nearly three times more video on Facebook than they were a year ago" -- making video a major contributor to the company's ad growth. It may be a while, however, until Facebook's video ads reach the revenue ranks of TV, which currently remains the reigning advertising champ.
This column does not necessarily reflect the opinion of Bloomberg LP and its owners.
To contact the author of this story:
Rani Molla in New York at rmolla2@bloomberg.net
To contact the editor responsible for this story:
Timothy L. O'Brien at tobrien46@bloomberg.net