High-wattage technology companies have been stains on corporate report cards. 
In this earnings season so far, Apple, Twitter, Google's parent company, IBM and some other big tech names gave investors reasons to feel anxious by falling short of Wall Street estimates for revenue, profits or future financials -- or all three, as Apple did on Tuesday. And the companies were punished severely for the shortfalls.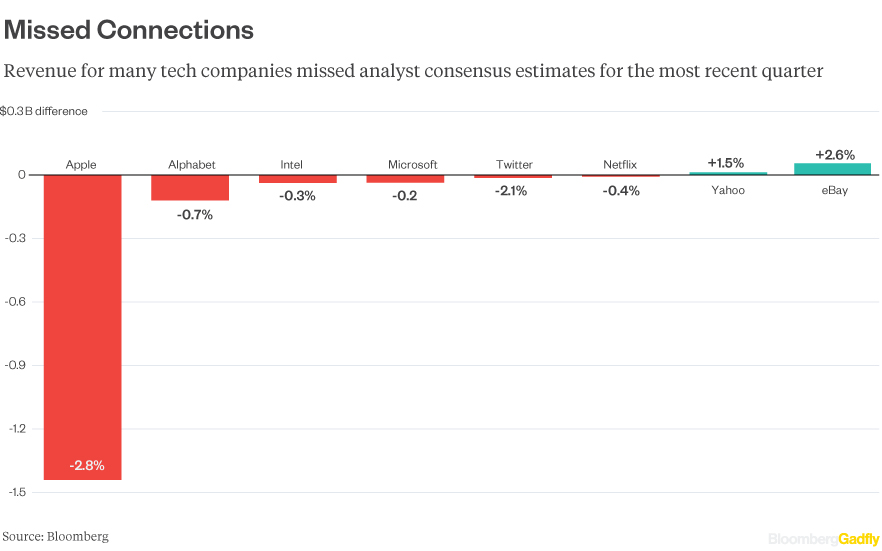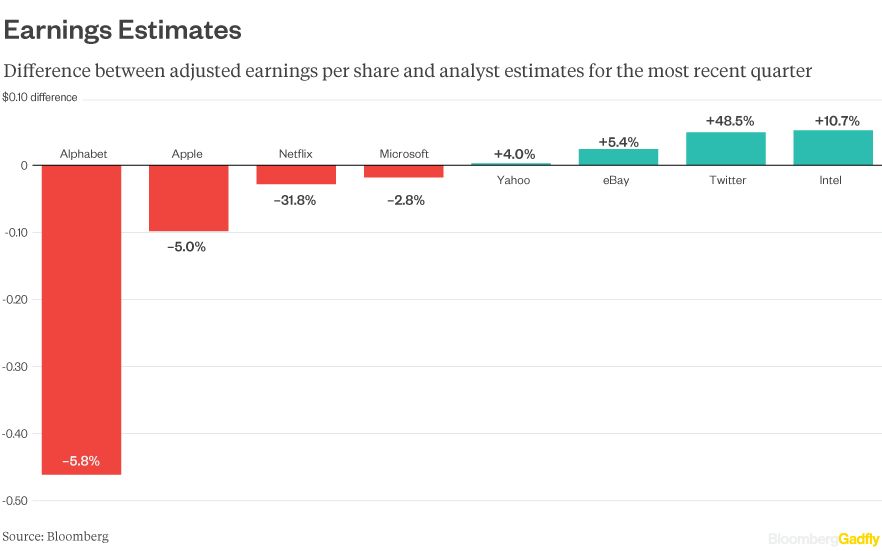 Six big technology companies with troublesome reports shed a collective $114 billion in stock market value on the day after they broke bad news to Wall Street. That is the equivalent of McDonald's market cap going to zero.
The biggest culprit in the cumulative swoon is Apple, whose shares had fallen by $38 billion, or 6.6 percent, as of late morning Wednesday, thanks to an awful quarter only CEO Tim Cook found reasons to like. 
The company in a single day has lost roughly a Netflix worth of stock market value. The erased market cap is more than the stock value for three-quarters of companies included in the S&P 500 index, Bloomberg data show.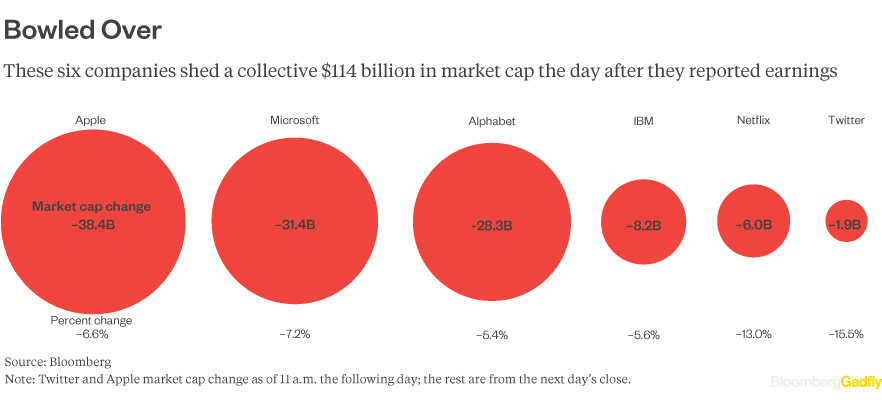 Investors have had itchy trigger fingers about tech firms for much of this year. Signs of soft economic spots in parts of the world and hiccups in business spending have clouded hopes for tech companies that depend on growing sales. Investors also have turned away many companies with stock prices that are expensive relative to the market. Apple, Google and Microsoft aren't pricey stocks, but Wall Street doesn't look kindly on any mega-cap company that flops at the rigged but important earnings expectations game. 
The performance of a handful of big tech names is something of an outlier in the industry. Of companies included in the Standard & Poor's information technology sector, only about 12 of 30 tech firms that have reported spring quarter earnings have fallen shy of Wall Street sales estimates, according to Bloomberg data. An even larger majority have beat analysts' expectations for earnings.
To be fair to the tech firms with ugly misses, they have plenty of company in the dour earnings party. This period of corporate financial reports was expected to be the worst since the financial crisis. 
But in technology, time is running short for the superpowers to salvage this earnings season for big tech. Only Facebook and Amazon can save the day now. No pressure. 
This column does not necessarily reflect the opinion of Bloomberg LP and its owners.
To contact the authors of this story:
Shira Ovide in New York at sovide@bloomberg.net
Rani Molla in New York at rmolla2@bloomberg.net
To contact the editor responsible for this story:
Daniel Niemi at dniemi1@bloomberg.net