Japan took a big risk in January. To stimulate its economy, it adopted an unconventional negative interest-rate policy that penalized banks for hoarding too much money.

The move has been an all-out failure. Not only has Japan drawn the ire of chief executives and bankers at home and abroad, but the nation hasn't achieved its objective.
For evidence of this, take a look at bond yields. They have plunged to unfathomable lows, with rates on 40-year Japanese bonds falling to a record low of 0.3 percent, fueling gains of 4.3 percent on Japanese sovereign debt generally since the end of January. This isn't entirely unexpected. But these diminishing yields haven't prompted investors to buy riskier assets, such as Japanese stocks. In fact, the Nikkei 225 lost 6.4 percent from the end of January through April 18.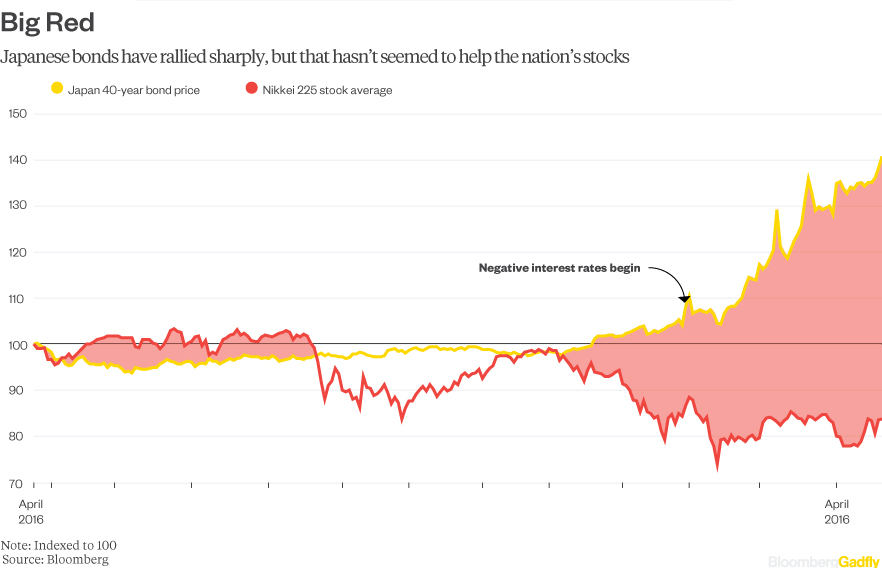 (The Nikkei did rally this week, but it wasn't because of  the stimulus announced earlier this year. Rather, the gain was due largely to a better macroeconomic outlook and the possibility that Japan could expand its asset-purchase program as soon as next week.)

You would think that investors would want to be compensated more than 0.3 percent for four decades, or look elsewhere instead of paying to lend to Japan for as much 10 years. But they're still buying bonds and don't seem to believe in the nation's future growth prospects. This is different from what happened in the U.S., where stocks often rallied after the Federal Reserve announced new stimulus measures.

The yen has also been a huge surprise in the aftermath of Japan's negative-rate announcement, on Jan. 29. Rather than weaken, the currency has strengthened against the dollar. This doesn't necessarily make sense because ordinarily an ultra-easy monetary policy should spur inflation and prompt residents to take money out of the country, which should weaken the yen. 
But inflation is moribund, as is Japan's annual economic output. Expectations don't seem to be rising all that fast, either, given the rates that bond investors are willing to accept at this point. 
Even Japanese banks don't seem to be in a hurry to lend. They've actually been slowing the pace of loan growth of late, despite being penalized for holding excess cash with the Bank of Japan.

Maybe things will change and history will show these unconventional policies were ultimately effective. But right now, it sure doesn't look like that way.
This column does not necessarily reflect the opinion of Bloomberg LP and its owners.
To contact the authors of this story:
Lisa Abramowicz in New York at labramowicz@bloomberg.net
Rani Molla in New York at rmolla2@bloomberg.net
To contact the editor responsible for this story:
Daniel Niemi at dniemi1@bloomberg.net