Hedge-fund bazillionaire Steven A. Cohen doesn't get a ton of good press, so it's worth giving him a quick shout-out for a classy move he made this week by committing $275 million to finance free mental health clinics for military veterans and their families.  
However, judging from the other big financial news stories of the week, he may want to put a few bucks into a kitty to pay for therapists for some of his own peers in the hedge-fund world -- and indeed, many others in the upper echelons of our benevolent ruling oligarchies who may be suffering from traumatic shock or general suspicions that the world is out to get them.  

There could be, for example, some couch space made available for John Paulson, Daniel Loeb, Andreas Halvorsen and all the hedge fundies and investment bankers who stand to lose boatloads of money after the Treasury Department's surprise new rules on cross-border takeovers killed Pfizer's planned $160 billion merger with Allergan and pulled the rug out from under the whole cottage industry of corporate inversions. (Hey, Pfizer, maybe you could throw in a few hundred free bottles of Zoloft, too.)     

Allergan's stock plunged 15 percent on Tuesday, and Gadfly's Rani Molla made this handy chart to show just how far out in the tails that one-day plunge lands: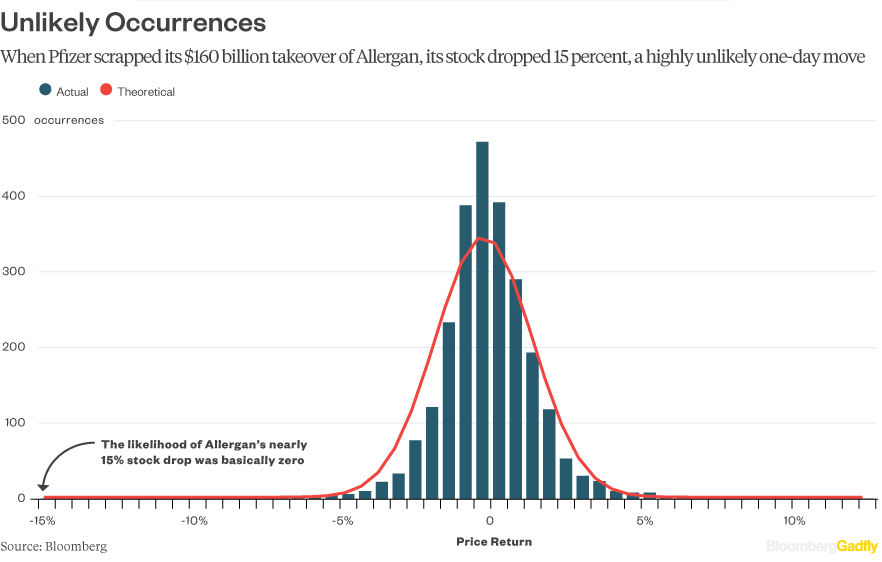 But that's not all, folks. Sometimes the black swans aren't flying solo at all but moving in a flock like the crows in that Alfred Hitchcock movie. It's enough to drive a 1 percenter mad! (Even while, admittedly, many of the rest of us 99ers are rolling on the floor in a fit of schadenfreude-induced glee.) 
Certainly, some group therapy may be helpful for Iceland's Sigmundur Gunnlaugsson, Russia's Vladimir Putin, Britain's David Cameron and all the other power players caught up in the Panama Papers scandal.
And for heaven's sake, can someone send a sports psychologist down to Augusta National to talk to Ernie Els about his putting on the first hole of the Masters tournament? It was a six putt, or a seven putt, or who the heck knows, since even the marshals seemed to have a hard time keeping count. What, you may ask, are the odds of that type of yips hitting a veteran golfer like Els? According to the Washington Post, he'd be a million times more likely to be injured by a toilet, 39 times more likely to win the Mega Millions jackpot and 2,700 times more likely to get killed by a shark .

Here, Rani made another chart to show how that is so rare compared with other rare things: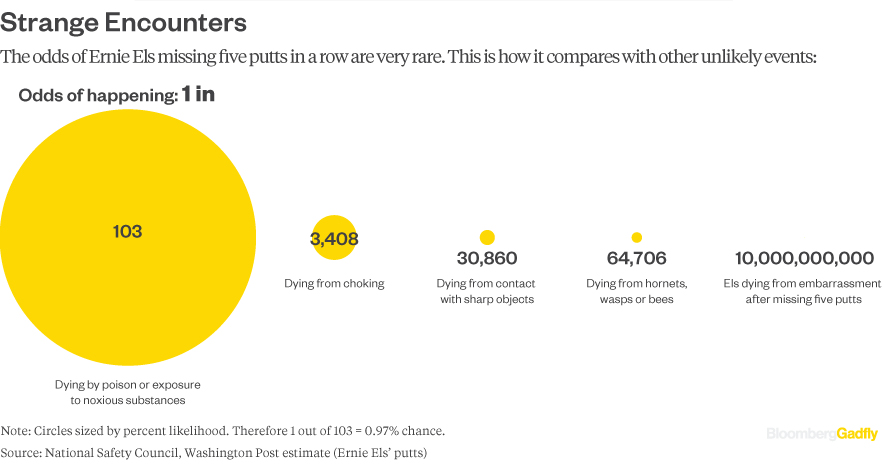 Elsewhere in pro bono therapy, we'd be tempted to recommend a specialist in grandiose delusions to the folks at any hedge fund who decided to start a new fund with the simple strategy of shorting a single stock. But then we read that Kerrisdale Capital Management was doing this with a single unidentified "technology company with a market cap of at least $10 billion" and, well, never mind. It's had a hot hand in short trades of late, so we'd bet any grandiosity involved in this is no delusion.   
Instead, save it for the proverbial "stock pickers" out there whose much-heralded return to greatness seems to keep getting delayed longer than the Philadelphia 76ers much-heralded return to greatness. See this Bloomberg piece that shows how the companies in which mutual fund managers are the least invested are doing great, while the most popular stocks are down this year.

Finally, someone should take the Acela down to Trenton and check in on Chris Christie and cohorts, who we're guessing may benefit from some anger-management therapy after learning that the whole state budget may be affected by the loss of income taxes from hedge-fund legend David Tepper, who's decided to become a #FloridaMan. Indeed, as that article shows, less than 1 percent of taxpayers contribute about a third of personal income taxes in the state, so anger management might be needed up in Hunterdon and Morris counties, too.

Heck, it's tax season, so anger management all around. 
This column does not necessarily reflect the opinion of Bloomberg LP and its owners.
To contact the author of this story:
Michael P. Regan in New York at mregan12@bloomberg.net
To contact the editor responsible for this story:
Daniel Niemi at dniemi1@bloomberg.net