Bond investors have learned to tune out Wall Street's dire forecasts for higher benchmark U.S. yields, and it's easy to see why: Big bank analysts have been wrong time and again.
At this point, however, even analysts have given up predicting higher rates, and perhaps everyone has become too sanguine about benchmark borrowing costs staying low. That's one of the biggest worries of JPMorgan Chase CEO Jamie Dimon, as he laid out in his annual letter to shareholders this week. He said he was more concerned about a sharp increase in Treasury yields than he was about potential negative interest rates in the world's biggest economy. 
Higher benchmark yields would not necessarily be problematic; they would in fact help financial institutions like JPMorgan over the longer term. But traders have become so one-sided that a sudden shift in the outlook could cause a big market disruption. 
U.S. government debt has posted annualized returns of 5.4 percent over the past two decades and has returned 3.5 percent so far this year. Almost anyone who tries to bet against it seems to fail. But here are some charts to show why Dimon -- and members of the Federal Reserve -- have reason to be more concerned right now.
1) Traders are factoring in an incredibly low inflation rate over the next decade. A measure called the five-year, five-year forward breakeven rate is well below historical averages and hasn't meaningfully picked up even in the face of a declining unemployment rate and slowly rising wages.    
"You'd actually like to see those numbers even somewhat higher than they are today," St. Louis Fed President James Bullard said in an interview on Wednesday with Bloomberg's Kathleen Hays. The 1.7 percent implied inflation forecast within the next five to 10 years is below the Fed's 2 percent inflation target. While the Fed may very well be wrong, as it has been again and again, traders have become remarkably comfortable with the idea that inflation will stay dormant for the long term.
2)  Debt investors have increasingly taken their cues from the price of oil, even though there isn't a clear, fundamental reason for this connection. While plummeting oil prices initially tamped down how much consumer prices could rise, values have shown signs of stabilizing, which means they should have less of an effect on inflation.
Below is a look at the correlation between 30-year Treasury yields and crude prices, which has been increasing of late.
3) Investors are piling into medium and longer-term U.S. bonds with increasing conviction that borrowing costs will stay low forever. The biggest exchange-traded funds that focus on such notes have experienced a surge of new money this year, with the volume of short interest on the ETFs' shares falling. This has helped fuel a 4.9 percent surge in Treasuries maturing in seven to 10 years so far this year, according to Bank of America Merrill Lynch index data.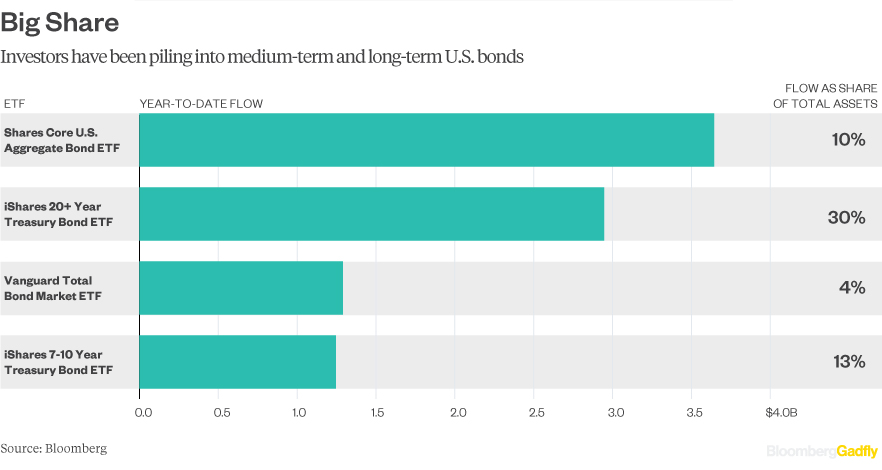 4) The demand hasn't only come from ETFs and mutual funds. Big institutions and hedge funds have also bought more U.S. government bonds, particularly those maturing in the next decade, as they seek safe spots to park cash in the face of global economic uncertainty. 
This has caused the gap between yields on those notes and two-year Treasuries to narrow to almost the least since December 2007.
Demand for this debt could recede in the face of increasing consumer and business confidence, while the biggest buyers, such as the Fed, foreign nations and commercial banks, also cut back their purchases, Dimon wrote.
"If this scenario were to happen with interest rates on 10-year Treasuries on the rise, the result is unlikely to be as smooth as we all might hope for," Dimon wrote.

Perhaps this is just more hand-wringing by big banks or even wishful thinking by financial institutions that stand to gain from increasing yields. But with market sentiment piled on the other side, a big shock awaits if Dimon turns out to be right.
This column does not necessarily reflect the opinion of Bloomberg LP and its owners.
To contact the authors of this story:
Lisa Abramowicz in New York at labramowicz@bloomberg.net
Rani Molla in New York at rmolla2@bloomberg.net
To contact the editor responsible for this story:
Daniel Niemi at dniemi1@bloomberg.net