It's understandable why some sovereign-debt investors fret about living in a world that's devoid of yield. If they live in Japan or Europe, they're increasingly being forced to pay for the privilege of owning government bonds.

But if investors turned their attention to the rest of the globe, there's tons of yield to be had, or so it may seem at first blush.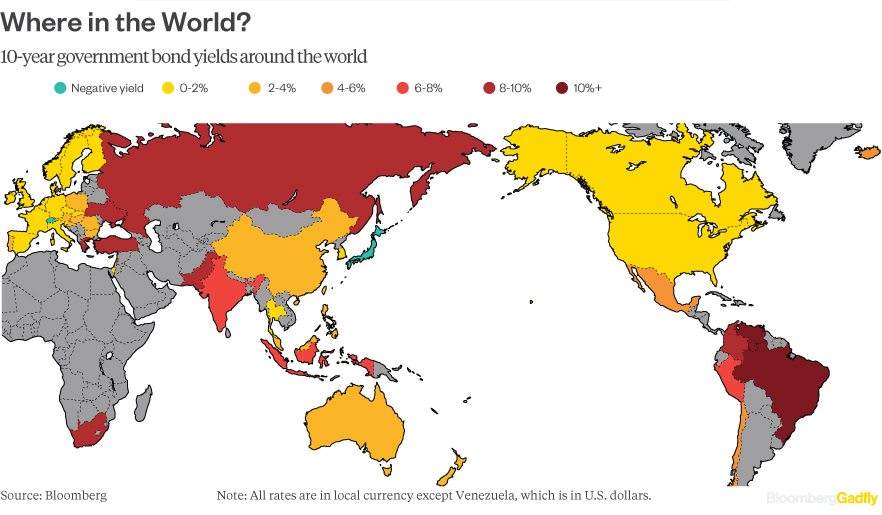 Just look at India, where yields on 10-year government notes are a fat 7.4 percent, or Colombia, where rates on such debt are 8 percent. That's real yield compared with the ridiculous negative yields that are invading many developed nations. 

So why wouldn't investors in some yield-starved nations, such as Japan and Switzerland, race to lend to these countries? Sure, these nations are riskier in many ways, but how likely is it that they're going to default within the next 10 years?

It seems logical for developed-market investors to simply buy the higher-yielding government bonds and enjoy their hefty interest payments for as long as possible.

There is a catch, of course, and it's a big one. Investors can't transfer their money out of a place like Japan or Europe and into one of these higher-yielding nations without converting their money into the local currency or entering into a currency-swap wager. At that point, they're either making a risky currency bet or else they're forced to enter into an expensive currency hedge that may render the bet uneconomical.
Currency markets are incredibly efficient and they're increasingly correlated to benchmark bond rates in some developing nations. In other words, the generous 5.5 percent gain on South African government bonds this year would have been largely offset for Japanese investors by the 3.1 percent drop in the rand versus the yen. This is making it challenging for traders to exploit any small differentials among nations' rates.
Foreign investors could have won big by wagering on Japanese government bonds, for example, simply because of the yen's drastic appreciation over the past year. And even if foreign buyers of South African bonds had ended up with a positive return because of generous interest payments, they could have easily lost it all when they sought to cash out back into their own currencies.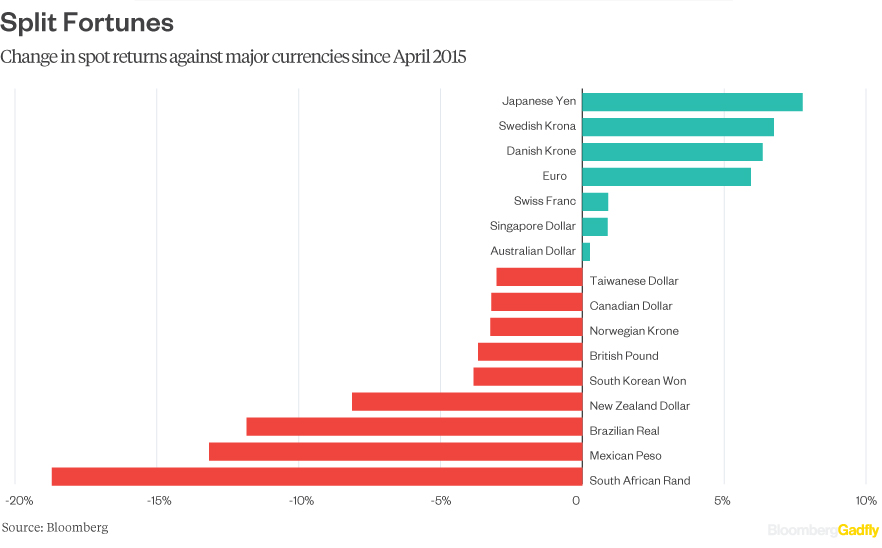 Moving away from emerging markets, it's interesting that more money isn't flooding into the U.S. from Japanese and European investors. After all, yields on 10-year Treasuries are a massive 1.8 percent compared with the seemingly impossible negative 0.08 percent rate on similar-maturity Japanese debt.
But many foreigners are apparently deciding it isn't worth the effort of investing in U.S. debt after hedging out for currency moves. And some are wary of how much the dollar can rally.

So is it a low-yield world? It depends on where you live. And if you reside in a nation mired in record low rates, good luck trying to escape them.
This column does not necessarily reflect the opinion of Bloomberg LP and its owners.
To contact the authors of this story:
Lisa Abramowicz in New York at labramowicz@bloomberg.net
Rani Molla in New York at rmolla2@bloomberg.net
To contact the editor responsible for this story:
Daniel Niemi at dniemi1@bloomberg.net