In the space of less than a week, Tesla Motors threw bones to both its most adoring fans and its fiercest critics.
Last Thursday, chief executive Elon Musk unveiled the Model 3, Tesla's mass-market car due to launch late next year. There was, of course, much whooping from the crowd at the event. But even naysayers must contend with the fact that at least 276,000 potential buyers have put down $1,000 on a vehicle they barely know and likely won't get their hands on for years.
Introducing the vehicle, Musk gave a wry smile as he expressed he was "fairly confident" the Model 3 would launch on time. And so, as if to confirm the joke, Tesla late on Monday said it had missed its target for deliveries of its existing models in the first quarter by almost 1,200, or about 7 percent. 
Tesla's stock is defined by this tension between the dream of enormous future sales and today's more mundane, and tangible, challenges of growing sales by orders of magnitude without screwing up or burning through too much cash.
And the Model 3's real advantage for Tesla -- more than the styling, the lower price, or the fancy software -- may be in how it addresses this tension. Musk says Tesla's earlier models, such as the Model S, provide the cash to make the Model 3 possible. But in a way, the Model 3 could be what provides the cash to keep Tesla going. Fittingly enough, this comes in three ways.
The most obvious example is the deposits themselves. Like an elaborate Kickstarter campaign, the amount received to date equates to nearly $300 million of interest-free financing. That deposit is refundable if an order is canceled, of course, but the risk of this happening at a broad scale appears pretty small for now. And given that Tesla's cash burn in the fourth quarter was $441 million, even with some improvement, every cent helps.
It also helps to distract from the occasional ding to Tesla, such as those missed deliveries in the first quarter.
Tesla's $33 billion market capitalization, putting it in the top 10 of global car manufacturers despite relatively tiny sales, demands big promises the company can struggle to keep. Having promised to deliver 80,000 to 90,000 vehicles this year, that weak showing in the first three months sets up an even bigger challenge through the rest of 2016. To hit the mid-point of that promise, Tesla's deliveries will have to rise by 73 percent, year over year, a faster pace than over the past two years and off a bigger base.
It is a lot easier to tell shareholders that, once again, snafus at the shop led the company to miss guidance if you can keep tweeting about the tens of thousands of orders for Tesla's next big thing.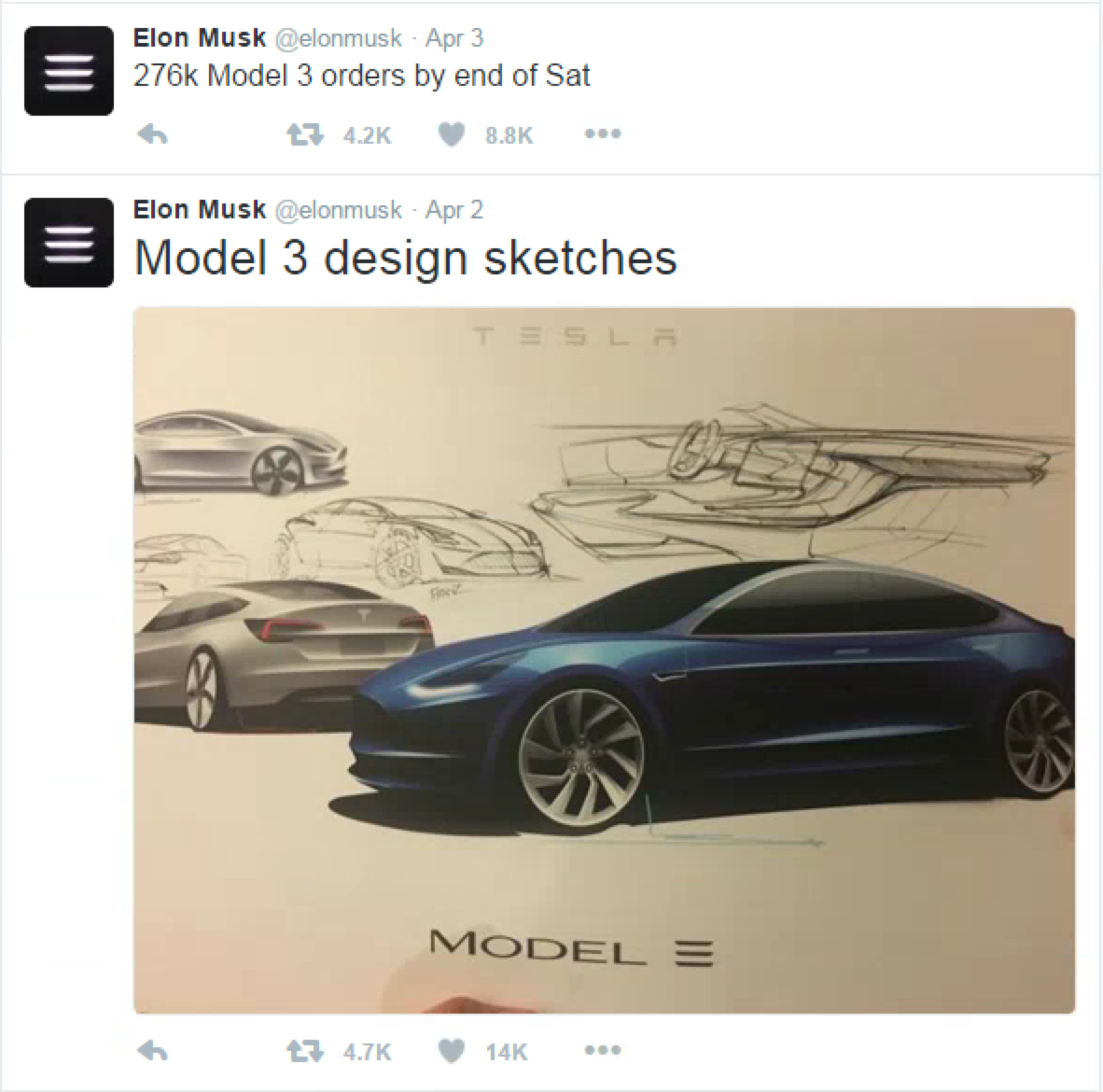 Certainly, the 2 percent drop in Tesla's price on Tuesday morning barely counts as a slap on the wrist for a stock as volatile as this.
That gets to the third and potentially most important benefit the Model 3 may bring Tesla, way ahead of it actually taking to the road in droves: cover to sell more equity.
Announcing its annual results back in February, Tesla talked up its renewed focus on cash flow and said it wouldn't need outside funding this year. It is true that analysts forecast Tesla to burn through only about $800 million this year, roughly a third of 2015's rate. On the other hand, Tesla's usually bullish analysts also tend to underestimate this, as this chart of 2015 and 2016 free-cash-flow forecasts shows: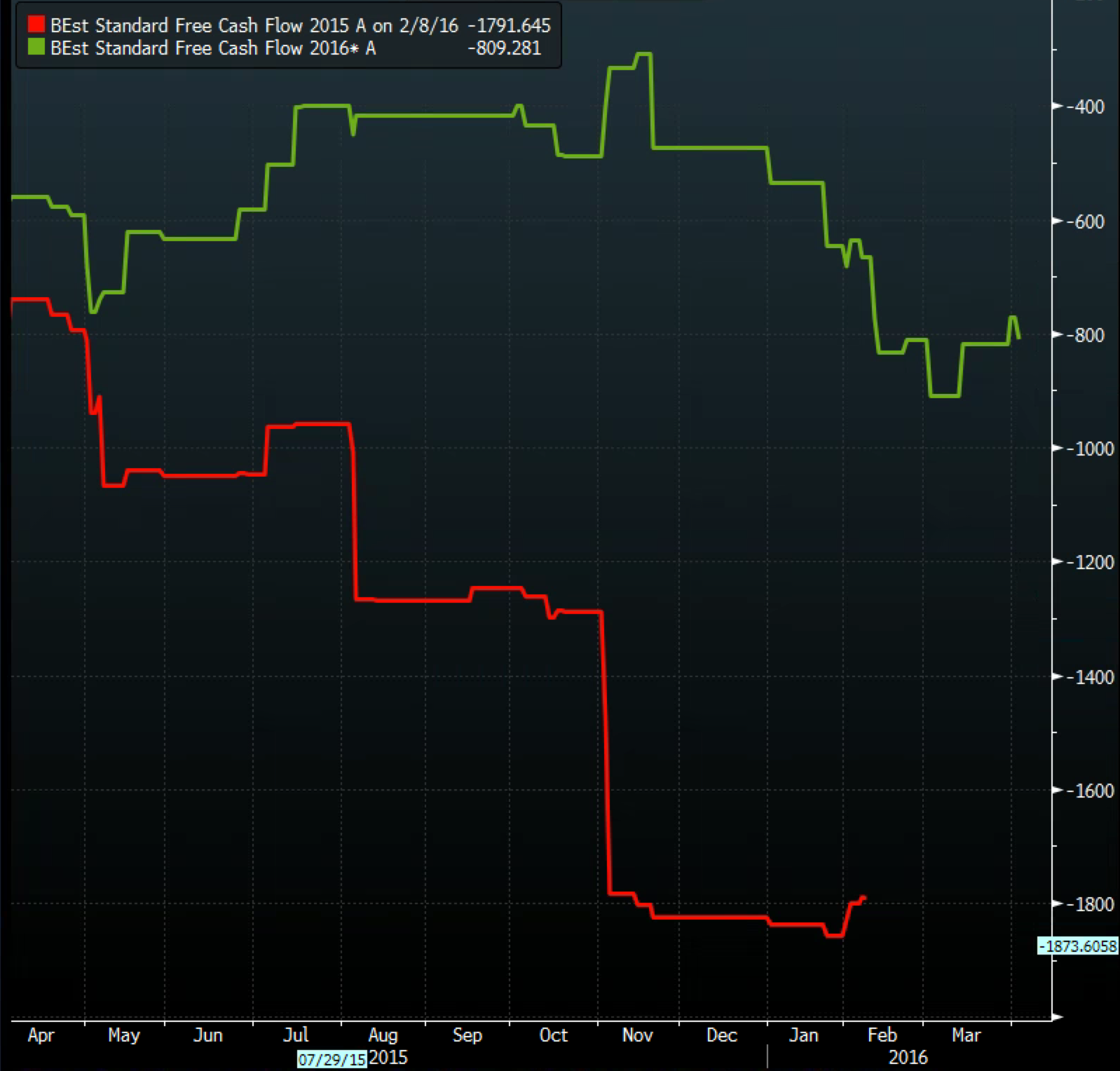 Tesla's last share issue was in August, when it raised $750 million at a price of $242 a share -- pretty much exactly where it trades now.
Sure, selling new shares would contradict the message given only two months ago. If it was framed as securing capital to deliver on the sheer popularity of the Model 3, though, it is a fair bet that forgiving investors could be found. The new car doesn't solve the challenge Tesla faces in living up to the hype embedded in its valuation. But it sure could help Tesla monetize that hype in the meantime, if it chooses. 
This column does not necessarily reflect the opinion of Bloomberg LP and its owners.
To contact the author of this story:
Liam Denning in San Francisco at ldenning1@bloomberg.net
To contact the editor responsible for this story:
Mark Gongloff at mgongloff1@bloomberg.net