Westlake Chemical may need to pay a sliver more in order to snag building-products producer Axiall. 
Early Monday, Westlake bumped its unsolicited cash-and-stock offer for Axiall to $23.35 per share, only to be quickly rejected by the maker of vinyl siding. Westlake still plans to launch a proxy fight to replace its target's board and described Axiall's expectations as "unrealistic," but garnering sufficient shareholder votes may be difficult.
For starters, Axiall's investors appear to want more. The $1.57 billion company's largest shareholder, Shapiro Capital Management, told Bloomberg last month that it believes Axiall is worth above $30 a share. Another shareholder, Brigade Capital, described the previous $20 offer as inadequate but hasn't weighed in on the revised proposal.
Shapiro and other major shareholders such as Blackrock, Fidelity and Vanguard, may be hesitant to vote in favor of Westlake's slate of directors in fear that they could sell off the company at an arguable bargain , especially when they are fully aware that Westlake's firepower ($1.2 billion in cash and minimal debt) means it can afford to pay more. 
Here's what seems to be a sticking point in the valuation -- a case of "he says, she says." Axiall says annual synergies from the deal could be $270 million, while Westlake is sticking to an estimate of more than $60 million. It would help if both explained how they arrived at their figures but analysts at Cowen have previously cited $100 million as a "reasonable, albeit still conservative" estimate. 
Assuming $100 million in synergies, Westlake could pay upwards of $30 a share and still have deal be accretive to fiscal 2017 earnings, according to data compiled by Bloomberg. That would represent a transaction value of 10.8 times Axiall's 2016 earnings before interest, taxes, depreciation and amortization, which is lower than the median multiple of 13.9 applied to recent chemicals deals. 
Axiall hasn't named its price but nonetheless, left the window open to a deal:
We are not opposed to a strategic transaction provided that it delivers full and fair value to Axiall shareholders...If you are not willing to substantially increase your proposed value and engage in further discussions, we are prepared to explain to Axiall's shareholders why your proposal does not fairly reflect Axiall's intrinsic value and does not adequately compensate Axiall's shareholders for the growth in shareholder value that we are confident we are poised to deliver.
Ironically, most analysts that cover the stock aren't projecting outsize growth in shareholder value. To put that in exact terms, Wall Street's average price target of $22.89 (which is below Westlake's revised offer) sees the stock rising just 3.3percent over the next 12 months as a stand-alone company. That gap would obviously increase if Axiall's shares were to reverse course toward its low of $9.19 before Westlake entered the picture, but it lends some credence to Westlake's view that Axiall's assumptions are unrealistic.
Right now, Axiall has the upper hand. It's already set the wheels in motion to shed its core building-products business -- and if anyone other than Westlake buys those assets, that would scuttle any deal for the whole company. But it may be doing shareholders a disservice if it doesn't attempt to strike an agreement with Westlake should the company come back with a third, sweetened offer.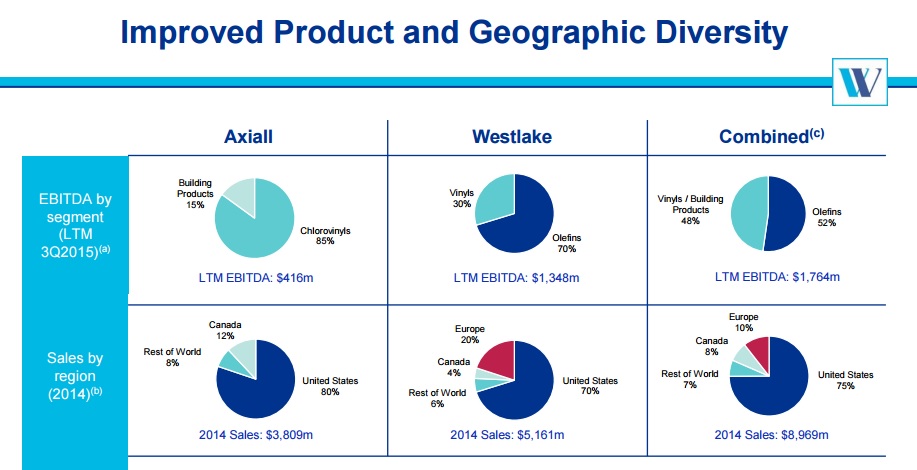 Just two deals this year have made the leap from "unsolicited" to "friendly," according to data compiled by Bloomberg. There's no reason Westlake and Axiall can't be the third. 
This column does not necessarily reflect the opinion of Bloomberg LP and its owners.
To contact the author of this story:
Gillian Tan in New York at gtan129@bloomberg.net
To contact the editor responsible for this story:
Beth Williams at bewilliams@bloomberg.net