It looks like the Saudi Arabian Deputy Crown Prince's comments about the slushy supply freeze may have delivered the coup de grace to the spring oil rally. Friday's 4.2 percent decline in West Texas Intermediate crude was the biggest one-day drop since February 11, when it slumped to its lowest close for the year, $26.21 a barrel.
Oil is nearer to $37 today. But if the rally really is over for now, then it will have not merely been much shorter than last year's spring oil rebound -- it won't even have taken oil back up to that rally's starting point. This chart explains it: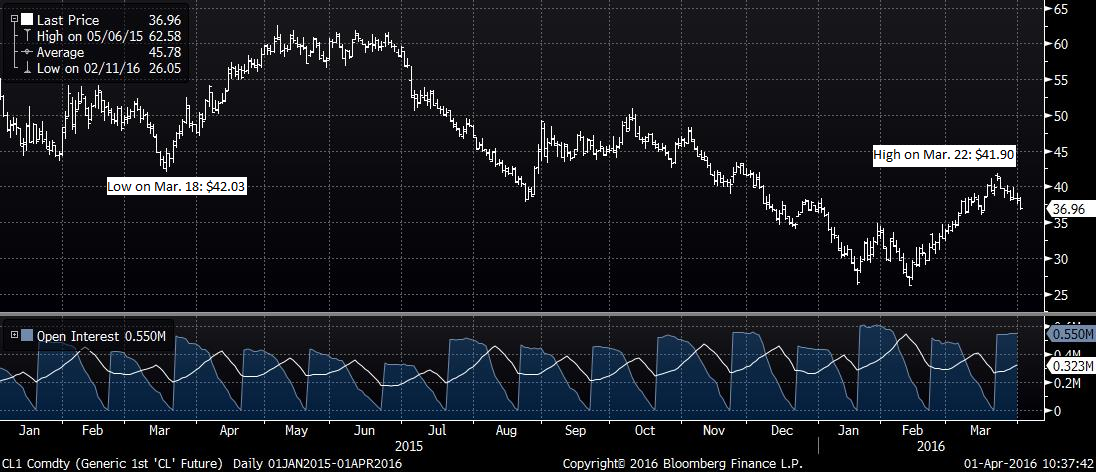 In the latest rally, the highest intra-day price was on March 22, hitting almost $42 a barrel. Go back a year, though, and the spring rally actually got going at a level just above that, $42.03.
It's possible that oil is just pausing for breath. Though it's unlikely to achieve anything tangible, the freeze meeting is still scheduled for later this month, and the rhetoric will be amped up the closer it gets. And seasonal gasoline demand could offer a lift. If prices just go sideways from here, though, then oil's spring will have sprung like a busted watch.
This column does not necessarily reflect the opinion of Bloomberg LP and its owners.
To contact the author of this story:
Liam Denning in San Francisco at ldenning1@bloomberg.net
To contact the editor responsible for this story:
Mark Gongloff at mgongloff1@bloomberg.net