It has been more than 15 years since the debut of music-sharing service Napster, which marked a beginning of profound changes in how people listen to music, watch TV and movies, play games and read books and news.
With ever more on the Web and phones to read, watch and zone out with, longstanding media and entertainment companies lost their grip on people's time and money and on advertisers' wallets. Mostly that has meant shrinking revenue for once-mighty industries -- albeit at different rates depending on when and how quickly digital changes hit their neighborhood.
There is no turning back the digital tide, although the media and entertainment industries are still sorting out how to live with lower revenue and develop new initiatives that cater to changing consumer habits.
Newspapers
The rise of the Web meant newspapers lost their position as one of the few spots to advertise the local jewelry store or car dealership. A downward revenue spiral followed. From 2000 to 2014, newspaper-industry advertising revenue fell 59 percent, according to data from the Newspaper Association of America and Pew Research.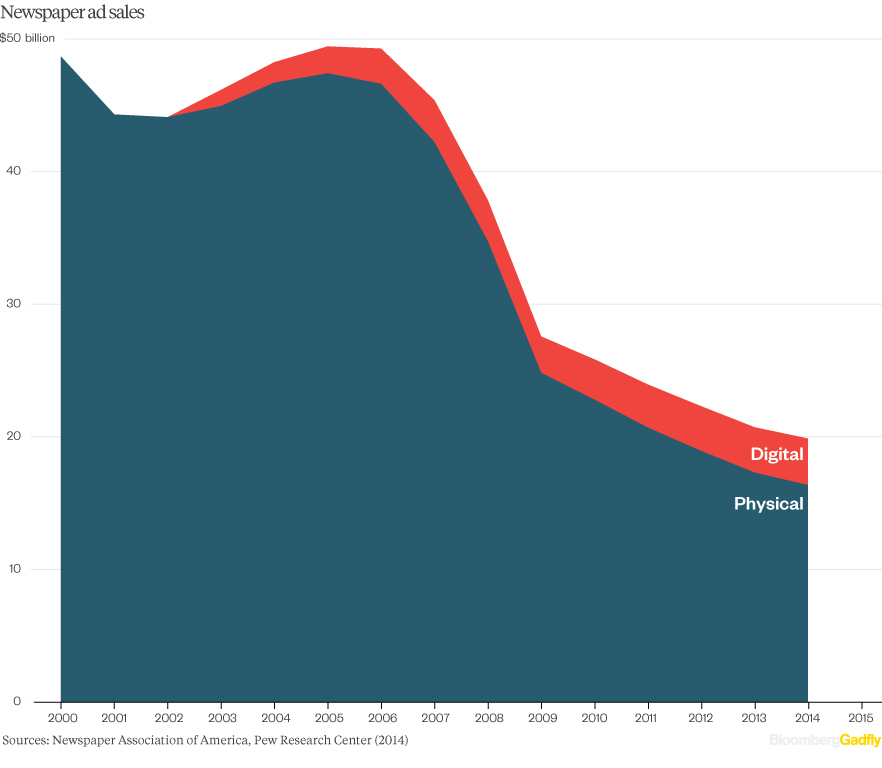 Music
Sales of music through digital downloads and streaming services such as Spotify and YouTube now account for 70 percent of revenue for the U.S. music industry. Digital sales helped the U.S. music labels report an increase in total revenue in 2015 for the first time in more than a decade. Still, the industry's revenue is one-third the size it was during the peak of CD sales in 1999, according to inflation-adjusted data from the Recording Industry Association of America.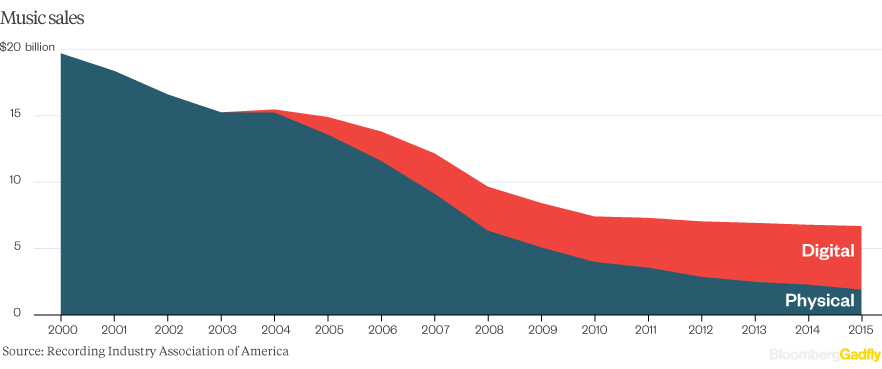 Video games 
Not every industry is feeling a chill from the digital ice age. In video games, the boom of smartphones ushered in new kinds of low-cost mobile games like "Candy Crush" that stretched the audience way beyond those interested in war games for pricey consoles. Industry revenue from video-game sales has more than quadrupled since 2000, according to SuperData Research.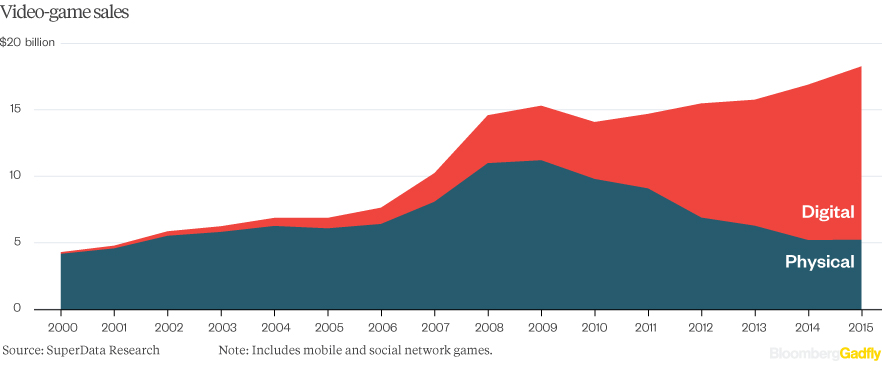 Books
Some of the large U.S. book publishers have said recently that e-book sales are shrinking and that physical book sales are rising. This surprised people who think digital media always wins over old media forms. However, it is not clear whether the reports of a few book titans really means more people are switching off their Kindles and opting to go back to dead-tree versions.
Overall, U.S. book sales -- including e-books, textbooks and professional books -- have increased modestly since 2010, and the trend is expected to continue, according to consulting firm PwC.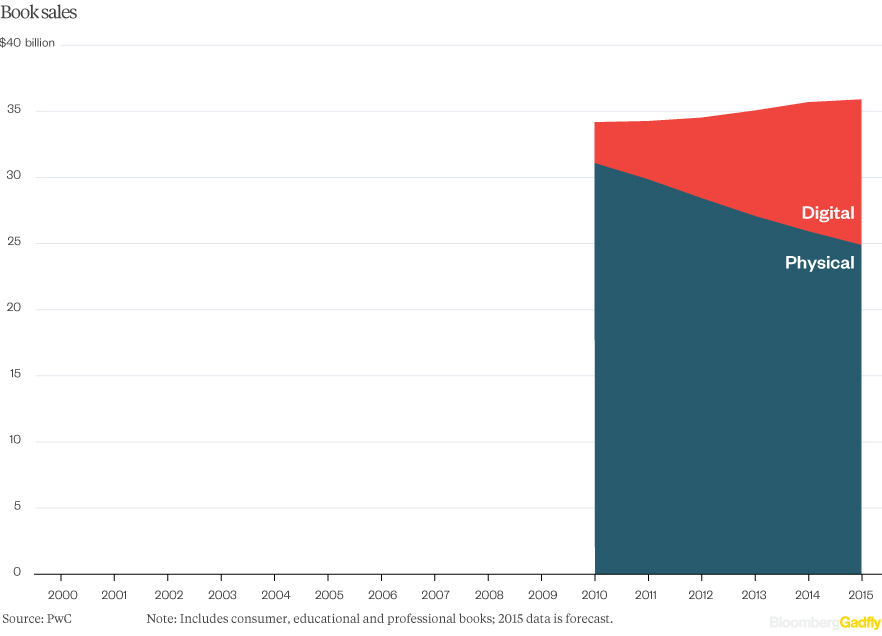 Video 
Sales of movie tickets in the U.S. have stayed roughly constant since 2010, according to consulting firm PwC. At home, the booming dollars people spend on streaming-video services like Netflix haven't made up for dwindling sales of high-margin DVDs, which had been lifeblood to TV and movie companies.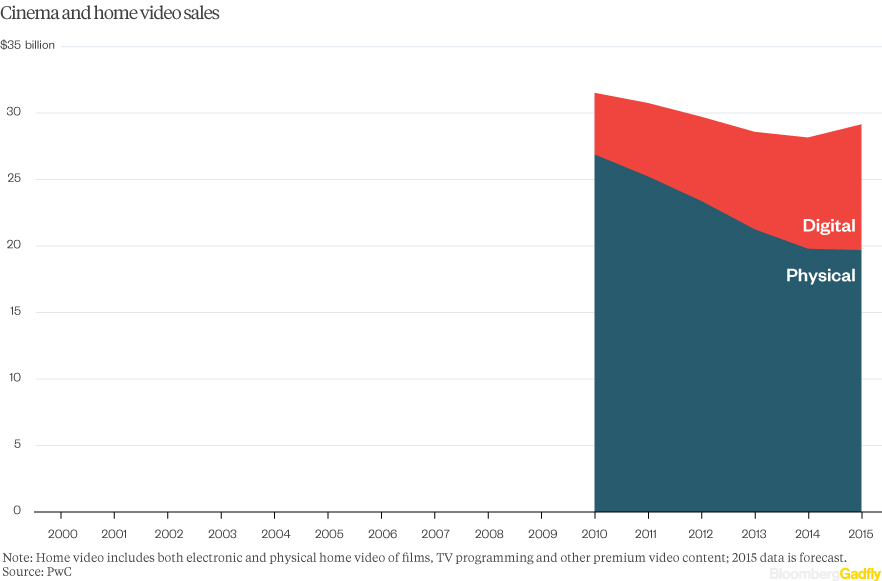 Television
Television may be the most resilient American media industry. There is an intertwined network of entertainment giants, cable TV companies, sports leagues and others motivated to keep a lucrative business model going. TV is also one of the few remaining places where large numbers of people still gather at once for the Super Bowl and prime-time TV shows, even if the numbers are shrinking. 
As a result, the overall revenue pie for TV in the U.S. continues to grow, although the rate of revenue growth has slowed to 2.8 percent in 2015 from nearly 8 percent in 2012, according to PwC estimates. Selling commercials on TV programming online is helping, too, although the TV companies face stiff competition from Google and Facebook for video ad dollars.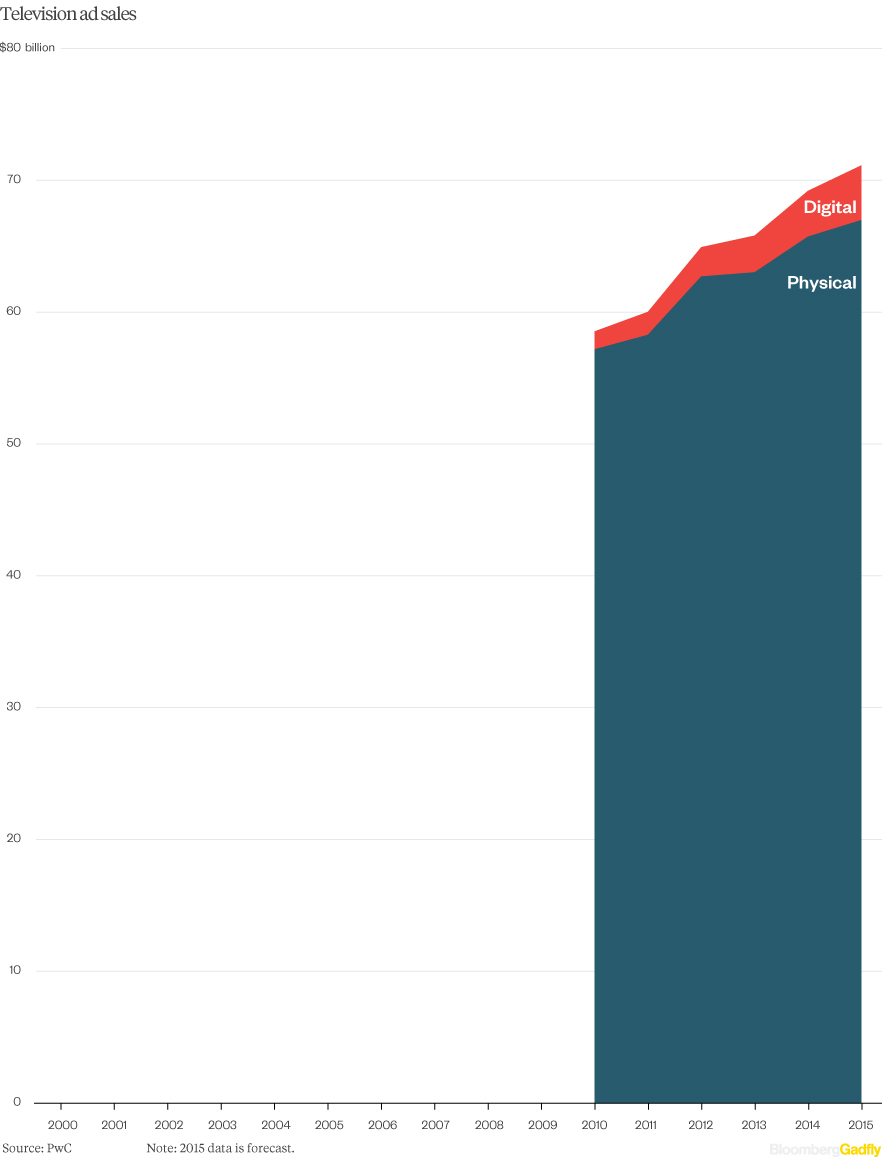 Here's a look at all six charts at a glance: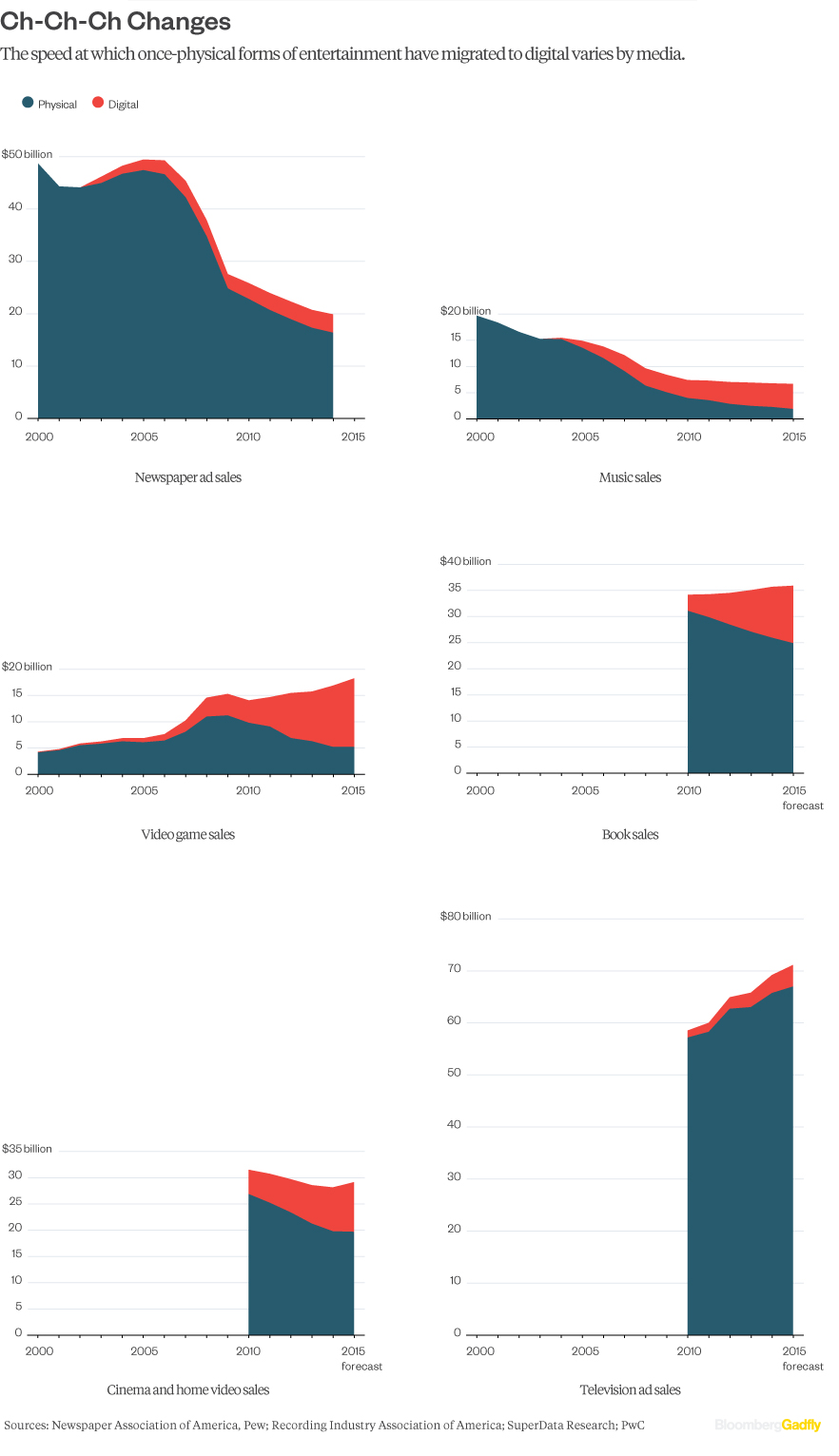 This column does not necessarily reflect the opinion of Bloomberg LP and its owners.
To contact the authors of this story:
Rani Molla in New York at rmolla2@bloomberg.net
Shira Ovide in New York at sovide@bloomberg.net
To contact the editor responsible for this story:
Daniel Niemi at dniemi1@bloomberg.net