If anyone doubts that the credit cycle is souring quickly, just have a look at the mounting tally of defaults in the world's biggest corporate-bond market.
The volume of defaulted U.S. junk bonds is expected to climb to $90 billion this year, the most since the aftermath of the worst financial crisis since the Great Depression, according to Fitch Ratings. The degree of distress in the corporate debt market has surprised many, including analysts at the biggest credit-rating companies, who have been increasing their forecasts for defaults.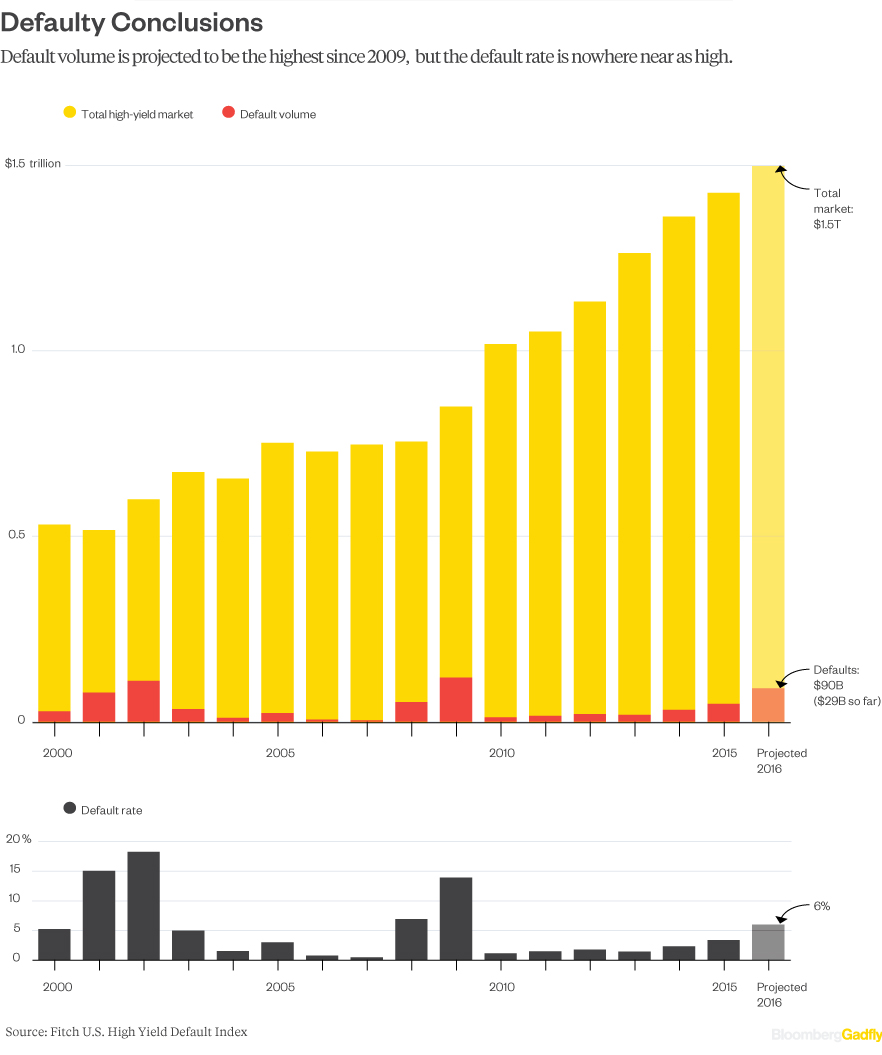 This has served as a cold reality check on the frothy years when easy Federal Reserve policies prompted investors to buy riskier U.S. debt, sometimes ignoring the fact that they weren't being sufficiently compensated for the risks they were taking. And it serves as a warning to Europe, which isn't quite as far along in its credit cycle and where central bankers are doing their best to push asset managers into more-speculative assets.
The good news is that the default rate is still substantially lower than the highs seen in 2009, mainly because the U.S. high-yield bond market has swelled by 66 percent since the end of that year, to about $1.4 trillion.
The bad news is that it's hard to tell just how many more defaults will occur in the next year or two, and the pain is being felt widely among all sorts of investors, from foundations and hedge funds to mom-and-pop investors who bought shares of mutual funds. For example, investment firms including AllianceBernstein and Loomis Sayles have been among the biggest bondholders of the distressed oil-rig company Paragon Offshore, which is reorganizing under Chapter 11 with almost $1 billion of debt, according to the latest filings compiled by Bloomberg. Franklin Advisers and Invesco Advisers have been some of the biggest holders of the $1.7 billion of Verso Paper's debt, the data show.

It's pretty clear that there's more pain ahead. What's unclear is whether this period will be considered the beginning, middle or end of this phase of defaults.
This column does not necessarily reflect the opinion of Bloomberg LP and its owners.
(Updates holders of Verso Paper's debt in fifth paragraph.)
To contact the authors of this story:
Lisa Abramowicz in New York at labramowicz@bloomberg.net
Rani Molla in New York at rmolla2@bloomberg.net
To contact the editor responsible for this story:
Daniel Niemi at dniemi1@bloomberg.net