Reading Daniel Loeb's letters is the finance nerd's equivalent of watching pro wrestling.
Most business language is so bland that Twitter's chief executive officer can describe himself as speaking plainly when he characterizes 336 job cuts as ``moving forward with the restructuring of our workforce." So a New York hedge fund manager accusing an S&P 500 company's board of ``whimsy and emotion" and spilling the beans about the boss's son-in-law bunking off from the office to play golf can inspire the sort of frisson usually evoked by a villain in spandex body-slamming a champion.
The latest grenade from Loeb's fund, Third Point, cites ``rumors swirling" through Seven & i, owner of the 7-Eleven chain of convenience stores, that 83-year-old CEO Toshifumi Suzuki is planning to elevate his son to the top job. Loeb goes on to accuse the board of being on the brink of actions ``grounded in nepotism" and dangles the possibility of ``a public dispute at a future annual general meeting" if his complaints aren't heeded.
All good fun. But any pleasure derived from watching Loeb trying to shake up the culture of corporate Japan should be tempered with an awareness of the shortcomings of Wall Street's own culture.
Loeb's diagnosis of what ails Seven & i has a lot of merit. The company's profitable convenience-store chain is mostly being used to prop up its lackluster supermarkets and department stores, where capital spending exceeds operating incomes that barely run ahead of costs.
His prescription -- a promotion of Seven-Eleven Japan President Ryuichi Isaka -- is less sound. Whatever Isaka's virtues, it's going to take more than a visionary chief executive to turn around Seven & i.

Take Rupert Soames, chief executive of the British outsourcer Serco. His appointment in February 2014 from his previous role atop generator rental business Aggreko caused Serco's shares to rise 12 percent, while Aggreko's fell 4.3 percent. You could scarcely get a clearer endorsement of an executive. How did that bet hold up? Not so well: 
That's not meant as a crack at Soames, but as an acknowledgement that getting a company to perform is about more than having a Great Man, or Woman, at the helm. The good and the bad in a company are often too deeply entrenched for one superstar executive to make much of a difference.
Look at Harvard Business Review's annual ranking of the best chief executives and you see the same pattern. Check the first-day share price performance when companies announced the appointment of bosses who've subsequently been put at the top of the ranking , and you see no sign that the market has a clue which will succeed and which will fail. Four of the top 10 were greeted by declines in the share price, and one of the six gainers was Mike Pearson, of Valeant.
Boards don't seem much better at spotting the link between executive talent and shareholder value. As this 2014 analysis by Bloomberg Businessweek shows, there's essentially no correlation between CEO pay and stock returns: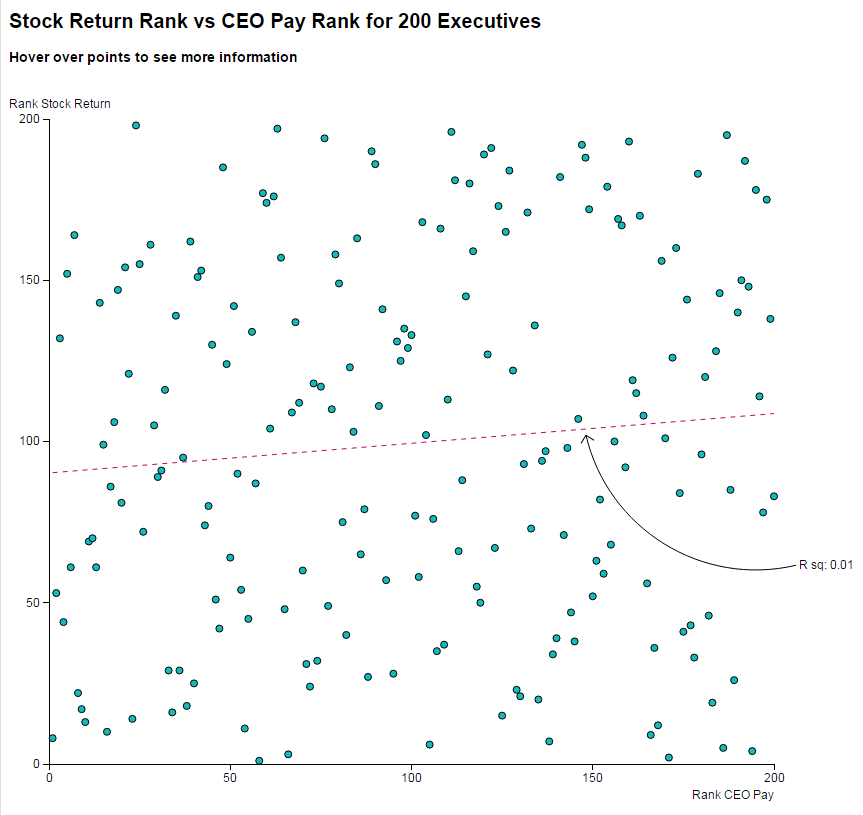 Seven & i's problem is that it never really became a single company since it was created from the merger of Seven-Eleven and its controlling shareholder Ito-Yokado in 2005. The 15-person board continues to be dominated by Ito-Yokado, with five veterans of that company alongside Suzuki's son Yasuhiro and Zenko Ohtaka, who heads the York-Benimaru supermarket chain. There are just four alumni of the pre-deal Seven-Eleven, equal to the number of external directors.
Four years ago, Loeb caused similar waves by shaking up Yahoo! After muscling his way onto the board, he picked a former Google executive, Marissa Mayer, to lead the company to a brighter future. Unfortunately, the problems at Yahoo ran too deep for a single executive to fix, as Gadfly columnist Shira Ovide has pointed out. While the company's shares are up since Mayer's appointment, its earnings have drifted into losses and there's no solution to the question of what the company should actually be doing.
Certainly, Japanese companies tend to overrate the importance of retaining dynastic control over storied businesses. But Western investors have a similar problem recognizing the limitations of chief executives with a will to power.
This column does not necessarily reflect the opinion of Bloomberg LP and its owners.
We've used the 2014 list, since the 2015 one is weighted for environmental, social and governance factors that shareholder activists may not rate so highly.
To contact the author of this story:
David Fickling in Sydney at dfickling@bloomberg.net
To contact the editor responsible for this story:
Paul Sillitoe at psillitoe@bloomberg.net