Rainmaking 2.0
Private Equity Finds Another Way to Win
Teaming up with corporate buyers on deals has its merits.
By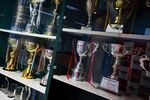 ALLSCRIPTS HEALTHCARE SOLUTI
+0.15
At Closing, January 19th
At a time in the M&A cycle when private equity is struggling to compete against corporate buyers, one firm has found a solution: If you can't beat them, join them.
GI Partners announced  Wednesday that it was teaming up with Allscripts Healthcare Solutions to buy health-care software and services provider Netsmart Technologies from Genstar Capital for $950 million. Allscripts will merge its smaller rival business, known as Allscripts Homecare, into the joint venture. 
Buyout firms have become accustomed to losing out to so-called strategic buyers (companies that snap up competing businesses) because these acquirers can pay more for targets due to cost savings from the complementary nature of the businesses and they have a lower cost of capital. In some cases, private equity firms can triumph if they offer existing owners more lucrative rollover alternatives, such as keeping a stake in the business. Or they can combine a target with a business they already own in order to extract synergies -- in which case, they're effectively acting as a strategic themselves. 
But even beyond quelling the competition, there are benefits to joining forces with strategics. 
Private equity firms can afford a higher valuation multiple because they're splitting the purchase price with a buyer that can justify spending more because of aforementioned synergies. They can also stretch to do larger deals than would be possible if they relied solely on capital from their funds and so-called co-investors (mostly pension or sovereign wealth funds). And to make it sweeter, if a strategic partner has a strong credit rating, the joint venture should have access to debt financing at a lower cost and better terms. 
For strategics, there are also merits. They don't have to foot the entire bill themselves and can lean on private equity partners for operational expertise, deal sourcing for add-on acquisitions and, where suitable, the introduction of proven executives to run businesses. It's even more relevant if a company's suffering stock means it no longer has strong currency for an acquisition but still wants to pursue acquisitions for growth. Allscripts, whose stock has shed roughly 20 percent in the year to date, fits the bill. 
The Allscripts joint venture, if successful, hands GI Partners an easy exit path -- the most likely outcome is that Allscripts eventually buys its stake. That's also expected in the case of Tenet Healthcare's joint venture with Welsh Carson Anderson and Stowe, which saw them each contribute outpatient surgery centers towards a combined entity rather than buy a separate target. 
As we've noted, firms have partnered with strategics in the past, but rarely have efforts come to fruition. Blackstone and Danaher made a joint bid for Johnson & Johnson's diagnostics unit and Ashland's water technologies business, but ultimately lost both auctions to rival private equity firms. 
While the competition between financial and strategic buyers won't dissipate completely, bridging the gap may make possible a smattering of deals that would otherwise fall by the wayside. It's a safe bet that private equity firms, which have plenty of capital to spend, will be driving conversations. 

That means we'll probably see more collaborations. 
To contact the author of this story:
Gillian Tan in New York at gtan129@bloomberg.net
To contact the editor responsible for this story:
Beth Williams at bewilliams@bloomberg.net
Before it's here, it's on the Bloomberg Terminal.
LEARN MORE