The world uses about 95 million barrels of oil a day. But oil refiners see a world using only 82 million barrels a day. That's a lot of missing oil.
Before any oil bulls start looking for the nearest window ledge, that demand is still there. It just isn't met by oil refiners. Last year, 13 million barrels a day of demand was satisfied by a combination of biofuels, direct burning of crude oil, and by-products of natural gas production such as liquefied petroleum gases and ethane, according to data from the International Energy Agency. These bypass refineries.
It's an important distinction to make because, similar to the oil production business, global refiners are at risk from a supply glut of their own.
There's little sign of that now, at least among the U.S. refining stocks. 
Cheap oil kills E&P companies, but refiners love it, provided the problem is one of excess supply rather than sagging demand. Last year was definitely a case of the former. Oil consumption surged by 1.6 million barrels a day, with around 80 percent of that being refined products, especially gasoline as drivers took their cue from lower pump prices. That almost mopped up the entire increase in global refinery capacity of 1.33 million barrels a day. Refining margins jumped, even in the typically weak European market.
This year, capacity additions are low; the IEA expects just half a million barrels a day extra. With global consumption of refined products projected to rise by 900,000 barrels a day, that means demand will outstrip new refinery supply for the first time since 2013. Even so, the chart below looks pretty ugly from a refiner's perspective:
Over the past decade, global oil demand rose by about 10 million barrels a day. But demand for refined products rose by just half that, while capacity increased by 8.7 million barrels a day.
Looking ahead, while demand is projected to rise by 5.9 million barrels a day through 2021, an extra 7.7 million barrels a day of net new refining capacity is expected to switch on. So after dipping this year to 3.6 million barrels a day, excess refining capacity could hit 5.3 million barrels a day by the start of the next decade. Most of the new capacity, almost three-quarters, is due to start up in Asia and the Middle East, aimed at satisfying growing local demand but also geared toward exports.
That will weigh on refining margins, with European operators particularly exposed. This slide from a recent presentation by Kristine Petrosyan of the IEA shows why Europe is already a dumping ground for the world's surplus diesel (the figures show how much of a diesel deficit or surplus each region had last year, in thousands of barrels a day). This, along with the mild winter, pushed stocks of distillate in Europe to a seasonal record in December.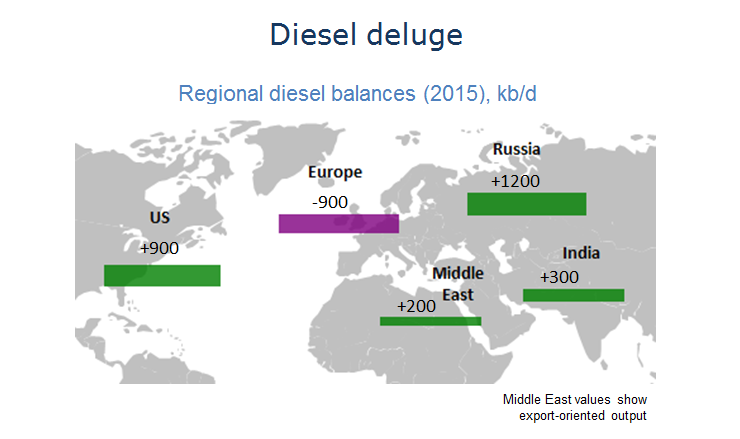 U.S. refiners are better positioned but not immune. Distillate inventories stateside are also above the upper limit of the seasonal range. Apart from being just another blob in the glut, that means refiners need even higher gasoline margins to offset the weaker pricing in diesel. How much? Gasoline spreads would need to rise by 28 percent compared with last summer for a typical refiner to have the same profit overall, according to Credit Suisse. And as the next few years progress, U.S. export refineries will be competing in an increasingly oversupplied international market.
One saving grace could be the same thing that made 2015 such a banner year: low oil prices. Cheap crude would help preserve margins while also encouraging demand.
In addition, if the current rally in oil fades or stabilizes at a low level, it is a fairly safe bet that at least some of the money earmarked for new refineries the Middle East, the rest of Asia, and South America won't turn up. A big increase in demand would float all boats. Failing that, refiners could live with low oil prices keeping their suppliers weak and new rivals out.
This column does not necessarily reflect the opinion of Bloomberg LP and its owners.
To contact the author of this story:
Liam Denning in San Francisco at ldenning1@bloomberg.net
To contact the editor responsible for this story:
Mark Gongloff at mgongloff1@bloomberg.net