Booming SUV sales are driving down average gas mileage, as Americans opt for fuel-intensive trucks in lieu of cars. But that doesn't mean the end of the road for fuel efficiency targets.
The Environmental Protection Agency and the National Highway Traffic Safety Administration want the average fuel economy for vehicles in the U.S. to be around 40 miles per gallon in real-world conditions by 2025. Since carmakers receive credits for beating targets based on a particular vehicle's size and type, only 40 percent to 60 percent of vehicles would have to hit or beat their 2025 targets for carmakers to be compliant, according to estimates in the EPA's 2015 trends report.
As of 2015, hybrids and electric vehicles were the only autos that met 2025 standards. So far, most carmakers aren't inclined to beat emissions requirements a decade before they have to -- and instead usually choose to ratchet up fuel-efficiency annually as the rules tighten. Even so, 26 percent of 2015 cars already reached benchmarks coming due in 2018.
To eventually meet the 2025 standards, automakers will have to embrace a mix of increased electrification and other existing fuel-saving technologies. They also will have to invest more money in research and development, which may result in higher sticker prices on cars. Here are several technology-adoption scenarios which the EPA believes car companies could embrace in order to reach emissions targets: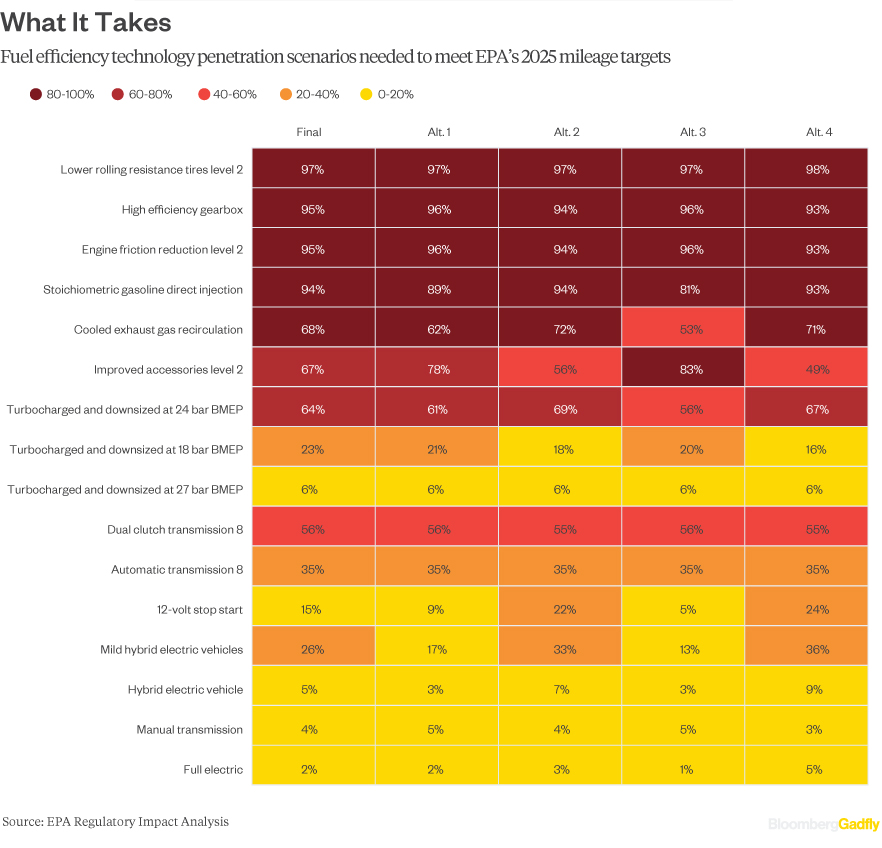 In January, 2.9 percent of new U.S fleet sales included electric or hybrid electric technology, according to HybridCars.com data. The EPA scenarios expect hybrids and electric cars to increase to 4 percent to 14 percent of the entire fleet within a decade. The Auto Alliance, a trade group representing major automakers, estimates that 39 percent of the 2025 fleet would need to be full hybrids to reach fuel efficiency standards -- a feat they say that gasoline vehicles alone couldn't pull off.  
In the interim, the EPA is signing off on fleets that feature mild hybrid electric vehicles: internal combustion engines with electric capabilities that add fuel efficiency but cost much less than full hybrids. The estimates assume 13 percent to 36 percent of the 2025 fleet, cars and trucks alike, will be mild hybrids (though currently this technology is little used outside China).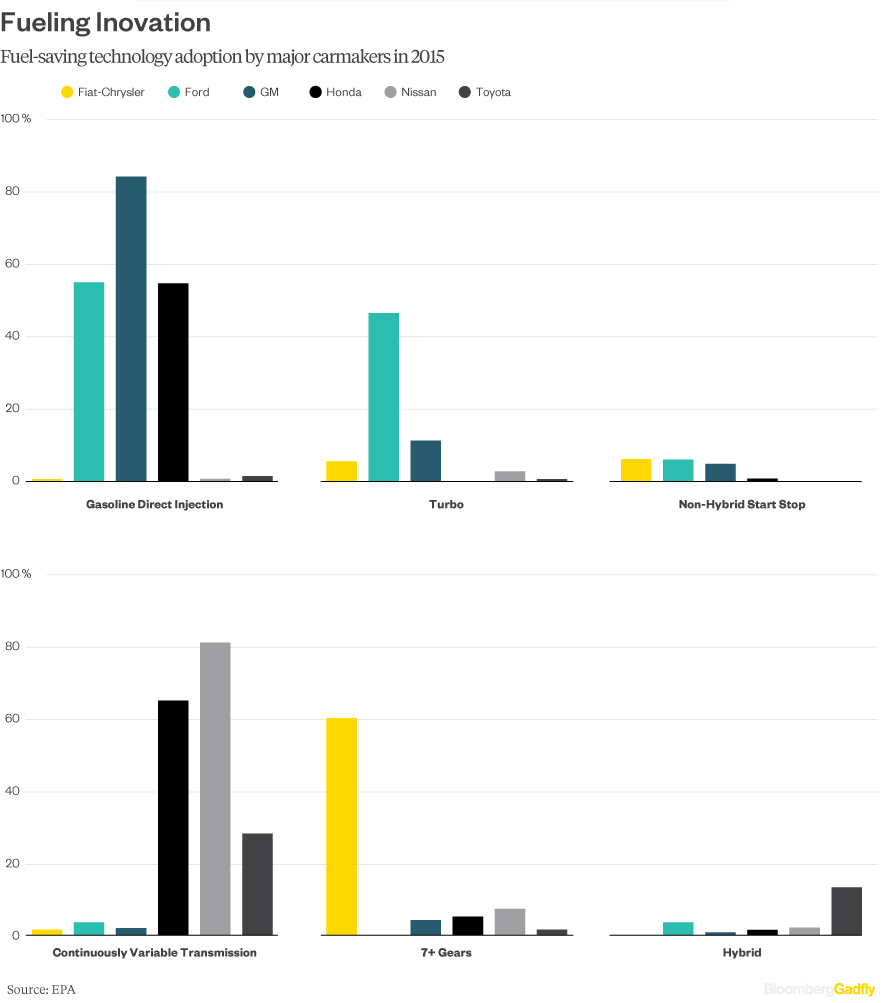 Most of the changes required to hit 2025 emissions standards would land on gas-powered cars, according to the EPA. As you can see from the 2015 production data above, there are a number of fuel-saving technologies available for gas cars that haven't been widely implemented across carmakers. Stop-start systems, cylinder deactivation and continuously variable transmissions, for example, are missing in many models. A gas-powered car would have to utilize a variety of such technologies to keep up with future fuel standards.
With fuel costs hovering above $2-a-gallon nationwide, carmakers will have a hard time weaning people from big SUVs. Nonetheless, fuel-efficiency deadlines are looming.
This column does not necessarily reflect the opinion of Bloomberg LP and its owners.
To contact the author of this story:
Rani Molla in New York at rmolla2@bloomberg.net
To contact the editor responsible for this story:
Timothy L. O'Brien at tobrien46@bloomberg.net