Too Early
Witty's Glaxo Long on Ideas, Short on Return
He may be right about the industry, but too early.
By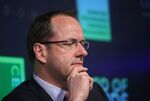 GLAXOSMITHKLINE PLC
+4.80
At Closing, January 19th
Say what you will about Sir Andrew Witty's soon-to-end tenure as GlaxoSmithKline's CEO, it has not wanted for audacity.
While most pharmaceutical companies responded to a wave of drug patent expirations with combinations of R&D finger-crossing and acquisitions, GSK radically reshaped its business to be less subject to the inherently boom-bust nature of drug development. It has focused on building smoother and more globally distributed revenue sources with expanded vaccine and consumer health divisions. After a series of sales and marketing scandals, the company disconnected sales volume from pay for its drug reps and later stopped paying doctors to promote drugs. 
Well before pricing came under a public microscope, GSK made drug affordability a priority, and a belief that pharma's pricing power would moderate motivated the company's shifting business model.
But the gap between this ambitious vision and the company's actual performance was big enough to cost Witty his job; he plans to step down in March 2017. His long-term ideas are appealing on paper and might be right, if ahead of their time. But this is a short-term world, and the 8-year return on Witty's leadership hasn't been good enough. 
Witty's strategy was a major bet on the idea that pricey specialty medicines aren't the future of pharma. He has suggested prices are getting so high that backlash is inevitable from governments and the private sector in developed markets. Better then to focus on volume and making medicines accessible to large and growing populations around the world, instead of focusing entirely on crowded rich markets and premium pricing. 
The biggest move in support of that strategy was GSK's $20 billion swap in 2014 of its cancer drug portfolio for Novartis' vaccine business, along with a controlling stake in a joint venture combining their consumer businesses. In the process it exchanged pricey drugs and drug candidates for heftier vaccine and consumer businesses.
Witty's approach is arguably being proven correct in some respects; the drug-price backlash is starting to happen. In the U.S., in China, in Japan, and in the U.K., prices are under greater scrutiny and pressure. 
Trouble is, he was also too early. Pricey specialty medicines may not be the long-term future of the industry, but they are absolutely its present.
Smaller companies that have eclipsed GSK in market cap recently, such as biotechs Amgen and Gilead, are pure-play drug companies that depend on expensive medicines. Some, including Gilead's hepatitis C drugs, are so expensive, with a list price as much as $94,500 for a course of treatment, that governments and insurers have restricted access to only the sickest patients. That hasn't stopped the drugs from being exceptionally profitable -- the $19 billion in revenue from Gilead's hepatitis franchise last year came close to matching the $21.6 billion from GSK's whole branded drug portfolio.
GSK's vaccine and consumer businesses have been unable to counter the ebb of the pharmaceutical business, still its largest. The company has been battered by competition for its blockbuster respiratory drug Advair, which has lost sales much more rapidly than the company expected. The drug produced more than $8 billion in revenue in 2013, dropped to $5.6 billion last year, and is expected to come in closer to $4 billion this year. Viiv, its HIV-focused joint venture with Pfizer and Shionogi, has been a success story; and some of its other new drugs are starting to pick up sales.  But it's too little, too late for Witty. 
For all the intellectual appeal of his strategy, it's hard to say it's been proven yet, given the numbers. It has also not been well-executed.  The company has made a number of R&D missteps. It spent heavily on a heart drug candidate called darapladib and a cancer vaccine, only to see both fail in late-stage trials. It made big bets on a new generation of respiratory drugs that have been slow to pay off. Only Pfizer and Sanofi have had less-productive R&D operations recently, according to a Bloomberg Intelligence analysis. GSK touts a broad pipeline of potential new products, but they are mostly still far from the market.
Witty may still be vindicated, as long as GSK can resist investors' calls for a breakup. But he won't be around to enjoy it. 
To contact the author of this story:
Max Nisen in New York at mnisen@bloomberg.net
To contact the editor responsible for this story:
Mark Gongloff at mgongloff1@bloomberg.net
Before it's here, it's on the Bloomberg Terminal.
LEARN MORE