Perhaps this will be remembered as the Great Credit Migration of 2016.

A swelling number of North American companies are losing their coveted investment-grade distinctions, which are crucial to securing cheaper financing in debt markets, after Moody's Investors Service and Standard & Poor's cut their ratings to junk. These so-called fallen angels are showing up at the fastest pace since at least 2009 at Moody's in particular, with the downgrades largely concentrated in the oil, metals and mining sectors. The more their revenues fall on the heels of plunging commodity prices, the more onerous their outstanding debt loads appear, making them less creditworthy.
The U.S. has been the center of the latest rash of fallen angels for a variety of reasons. Its energy companies borrowed record amounts of debt to compete with other oil-producing nations amid the height of the shale-drilling boom. The nation's low-interest rate policies were put into effect before other central banks adopted similar measures, leading the U.S. to be further along in this credit cycle. And the nation is home to the world's biggest bond market, so there's just more debt at stake.

Just for comparison's sake, take a look at Western Europe, where far fewer companies are falling to the credit-ratings dark side. 
The wave of downgrades will most likely accelerate throughout the year, with Bank of America analysts forecasting $65 billion of net downgrades from investment grade to high yield this year, according to a January report by strategists Hans Mikkelsen, Yuriy Shchuchinov and Ujjwal Pradhan. They subsequently increased that prediction to a net $113 billion of fallen angels in 2016 because of a surprisingly large number of Moody's downgrades in February, which was the third largest since at least 1997 and the second largest since the financial crisis, Bank of America analysts said. 
Nearly $10 billion of debt is on the cusp of a downgrade to junk by S&P and Moody's, according to data compiled by Bloomberg.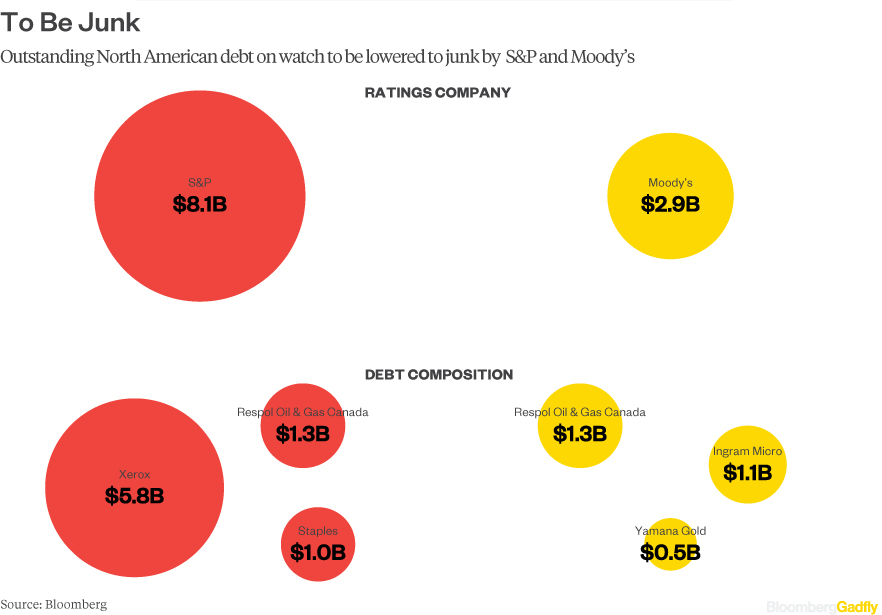 It's not all bad, however, and in some cases these fallen angels look pretty golden to bond investors. A $196.4 billion index of such debt has returned 5.4 percent so far this year, almost twice as much as the broader U.S. high-yield index and almost three times the return on investment-grade rated debt, according to Bank of America Merrill Lynch index data. 

How can this be? These companies are usually bigger with more stable lines of revenue, making them look more appealing when compared with smaller leveraged companies. Also, bond buyers who focus on investment-grade credit often sell such bonds at a substantial discount leading up to any downgrade, making more room for potential gains later on.

At the same time, should oil, metals and mining prices keep falling, some of these companies will be forced to completely rethink their business models. Either way, a big shift is underfoot, and it is shaping the way debt markets will look in coming years.
This column does not necessarily reflect the opinion of Bloomberg LP and its owners.
To contact the authors of this story:
Rani Molla in New York at rmolla2@bloomberg.net
Lisa Abramowicz in New York at labramowicz@bloomberg.net
To contact the editor responsible for this story:
Daniel Niemi at dniemi1@bloomberg.net