Nine months into a food-borne illness scandal that has battered Chipotle, executives still haven't figured out how to bring customers back to the burrito chain. 
"It's just not something people can really answer," executives said during an investor conference Wednesday.
For now, Chipotle is hoping that giving customers time to forget about the food safety issues will do the trick -- and that blanketing the country with offers for free burritos (which come with an expiration date) will speed the process. The idea is that if people walk into a Chipotle restaurant and see it's busy, and people are eating again, then consumers will think "it must be okay," executives said. In other words, Chipotle needs to get back to "normal."
The only problem is, normal is what got Chipotle into this mess in the first place. And when you're having problems giving away stuff for free, just going back to the way things were might not be good enough -- even if the company is sinking millions of dollars into making its burritos safer by changing the way it sources, prepares and serves its food.
While the 5.3 million coupons for free burritos it sent last month helped drive 3.5 million people into its restaurants, it's unclear how many of those people would have eaten at the chain anyway. Or how many of them will return when they have to actually pay for the food.
And despite the free offers and millions of dollars of marketing spent on luring customers back into restaurants, the number of transactions (free or paid) were still down more than 10 percent from the year before during the weeks after the coupons began. Paying customers? Down more than 30 percent from the year before.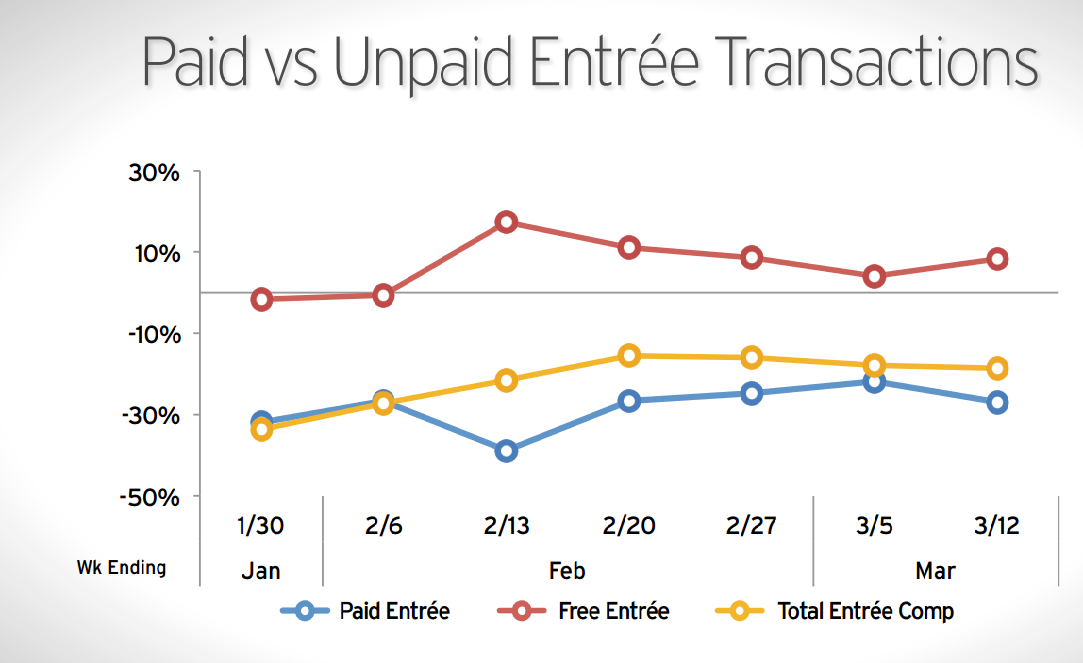 The lost customers and variability of traffic also translates into higher costs for over-staffing and uneaten food, the company said Wednesday. And so, for the first time since the company went public in 2006, it expects a loss in the first quarter of at least $1 a share. 
Chipotle's stock fell as much as 6 percent Wednesday, but began to recover as the day went on. At around $500 a share, the stock is at a crossroads: It's nowhere near the $265 bottom called for by some bearish investors. But it also shows no sign of getting to the $700 it must reach for executives to earn their bonuses this year. 
And with Chipotle shares trading at 63 times forward earnings, compared to a multiple of 29 at Starbucks and 22 at McDonald's, it's still priced as if none of the food scares happened. 
So far Chipotle says it has recovered about a third of its sales. But restaurants and retail are fast-moving businesses, and consumers are flighty. So while Chipotle struggles just to turn back the clock, competitors are skipping along. They are launching new products (Taco Bell's Quesalupa anyone?) and flashy deals; Burger King, McDonald's and Pizza Hut have all recently launched new bargain menus, in what restaurant watchers are calling the fast-food price war of 2016. 
Chipotle's focus on just getting back to where it was nearly a year ago might not be enough for customers who now expect more. 
This column does not necessarily reflect the opinion of Bloomberg LP and its owners.
To contact the author of this story:
Shelly Banjo in New York at sbanjo@bloomberg.net
To contact the editor responsible for this story:
Mark Gongloff at mgongloff1@bloomberg.net