Does the world have too much copper, or too little? Producers globally will push out about 22 percent more metal this year compared with 2011, a flood of supply that helps to explain why prices dipped to their lowest level in seven years in January.
Codelco, Glencore and BHP, three of the four biggest producers, cut back on output last year in the face of declining ore quality, challenging mining conditions and shrinking margins. That would be bullish for the copper price if their peers didn't see the pullback as an opportunity: Freeport-McMoRan, Grupo Mexico, Southern Copper, Rio Tinto and Antofagasta are all forecasting production increases this year that will collectively outweigh the other miners' reductions.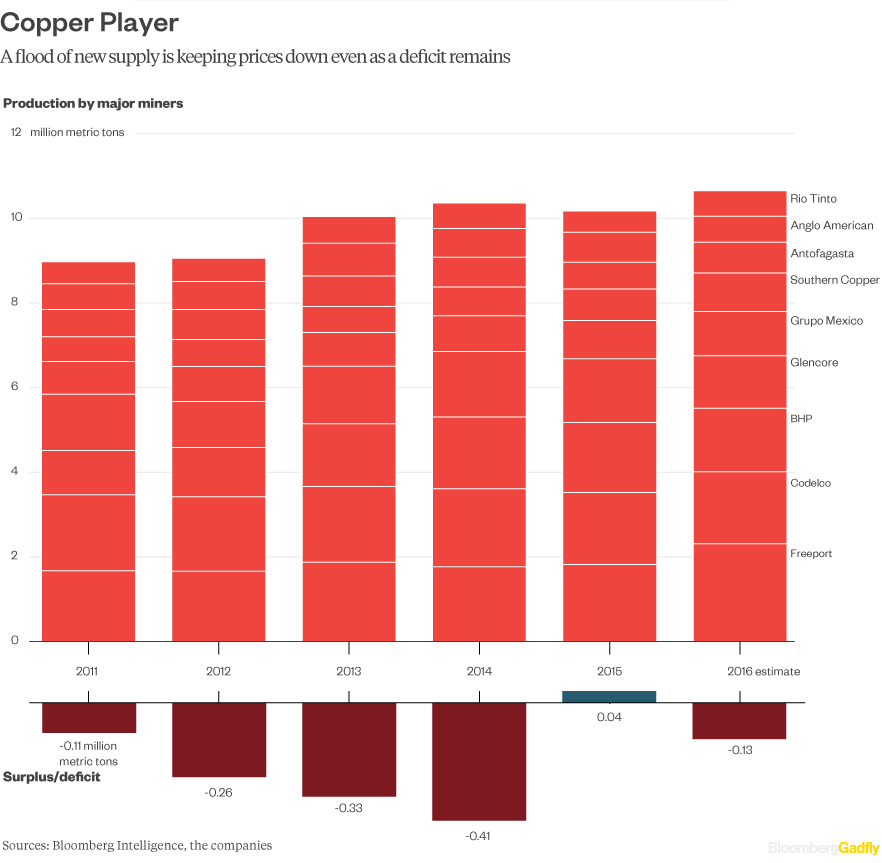 Even an increase in copper output can be absorbed provided demand is sufficient. That's the problem: China, which consumes about half the world's copper, is using so much that it's hard to understand where it's all going. The country uses far more per unit of GDP than any other major economy -- only Zambia, whose tiny economy is deeply dependent on copper mining, comes close, according to figures from the International Copper Study Group. Each million U.S. dollars of Chinese GDP requires about one metric ton of the metal, compared with about 535 kilograms in Turkey, 232 kilograms in Japan, 100 kilograms in the U.S., and just 15 kilograms in Australia.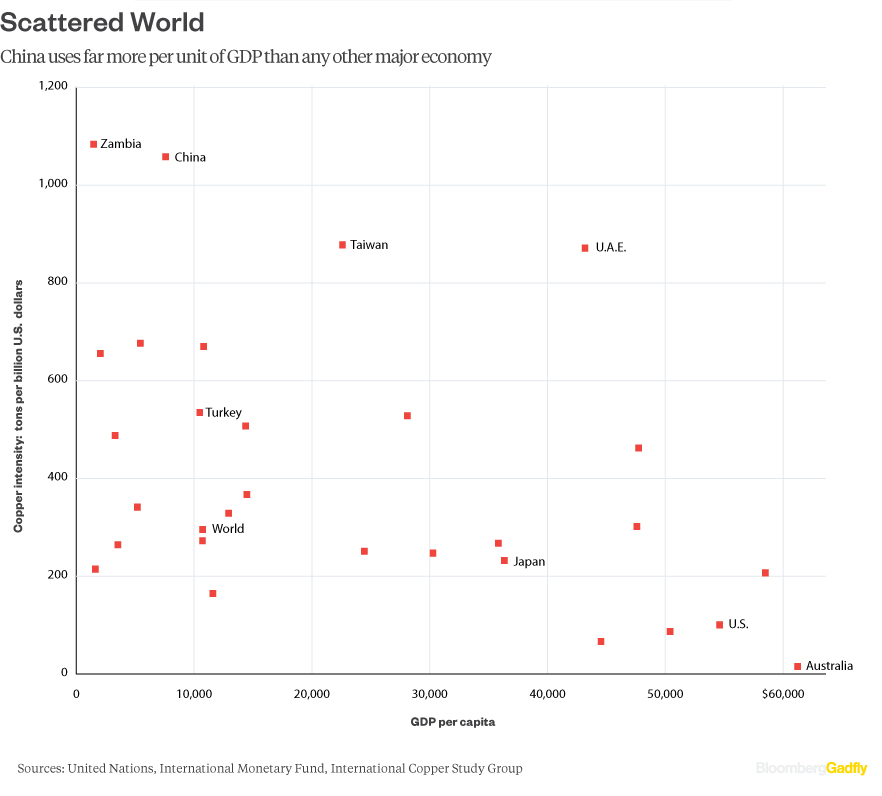 There are two possible explanations. One is that higher consumption is baked into China's economic model. Construction and electronic and electrical goods account for about three-quarters of copper demand worldwide, and China's economy is unusually focused on major building and infrastructure projects and assembly of manufactured goods for the rest of the world. The alternative is that the copper is disappearing into shadow uses such as the metals-finance trade, where it is used as collateral against loans.

China's data give a mixed picture. Construction is stagnant, with the floor space of new buildings increasing by just 1.3 percent in December. Manufacture of electrical goods, growing at a 4.5 percent annual rate, is little better, but automobile sales and spending on the country's electrical grid have been buoyant.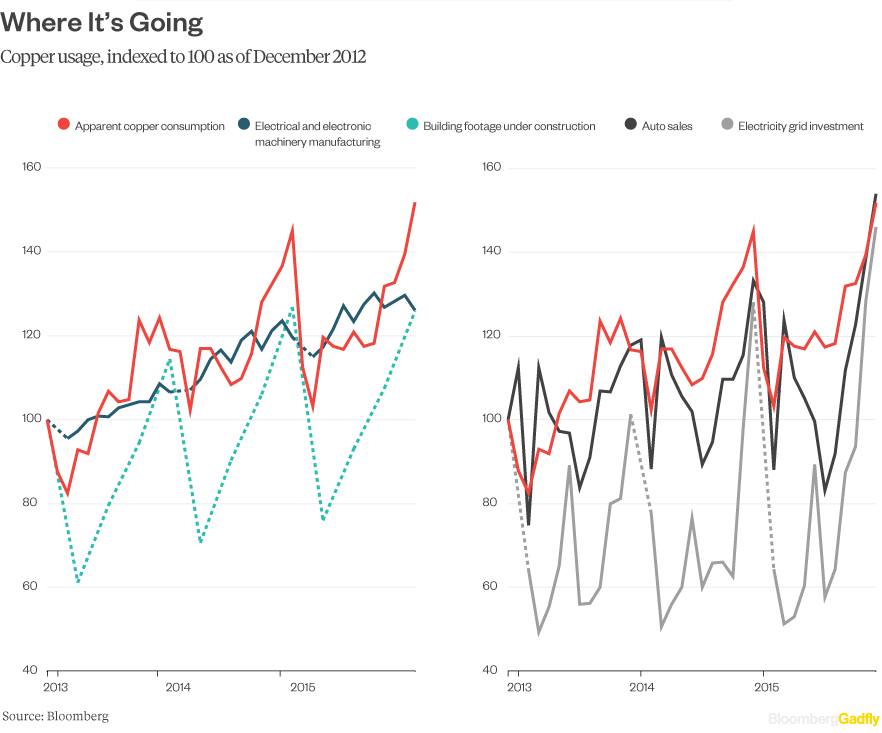 The trouble is, the stronger sectors are the ones that traditionally consume less copper, so it's hard to see how their better performance can make up for the slowdown in key areas. If China's copper demand is explained by its status as the workshop of the world, what does it mean when U.S. dollar-denominated exports fall 25 percent from a year earlier, as they did in February?


One thing is clear -- the amount of copper sitting around in Chinese warehouses is increasing. Shanghai inventories overtook volumes in the London Metal Exchange's global network in February for the first time, and have increased since. That represents almost half a million tons of metal that can return to the market at the first sign of stronger demand -- a backlog which should keep a lid on prices for some time to come.
This column does not necessarily reflect the opinion of Bloomberg LP and its owners.
To contact the authors of this story:
David Fickling in Sydney at dfickling@bloomberg.net
Rani Molla in New York at rmolla2@bloomberg.net
To contact the editor responsible for this story:
Matthew Brooker at mbrooker1@bloomberg.net