Bottom Line
The Internet Ate Nordstrom's Profits
The luxury retailer says costs are higher as online sales rise.
By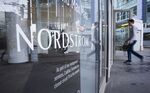 AMAZON.COM INC
+1.26
At Closing, January 19th
NORDSTROM INC
+0.78
At Closing, January 19th
Nordstrom has been having a rough go of it lately. 
The luxury retailer's shares have fallen 30 percent in the past year. After its fourth-quarter earnings missed analyst estimates last month, the company said it didn't expect a pretty year ahead, surprising investors who were expecting to see the company book more profits.
On Wednesday, CFO Mike Koppel explained what's hurting the bottom line. And what he had to say, shrouded in a bit of economic theory, actually holds some pretty big implications for the entire retail industry as retailers shift from running fleets of brick-and-mortar stores to also selling their goods online. 
He explained that the "old model" -- big physical stores located mostly in malls -- came with high fixed costs, but high leverage. In other words, you had to pour a lot of money into literal bricks and mortar to build stores and train staff, but once your sales reached a sort of break-even point, all the rest was gravy. In essence, the money from a banner sales year could flow straight down to the bottom line once those initial costs were paid for. And that became pretty easy to anticipate and plan against. 
Enter the Internet, where the promise of high profits came from the theory that a retailer could sell stuff without having to pay for the overhead expenses of operating locations and hiring lots of labor. Not exactly, said Koppel. 
Indeed, online sales came with low fixed costs, but the price tag was high variable costs. Meaning that the more Nordstrom sells online, the more it has to shell out to pick, pack, and deliver those goods. And right now, "business has been flattening in malls and growing in e-commerce, and so the two strong trends are impacting operating margins," Koppel told analysts Wednesday at the UBS Consumer Conference. 
Nordstrom's capital spending peaked in 2015 and will taper off soon, he said. But the company has faced additional cost pressures as its lower-margin, off-price Nordstrom Rack business grows. After it launched a separate website for Nordstrom Rack, it quickly saw customers shift some purchases online. Nordstrom has also been more promotional than usual as it tries to compete with competitors including Amazon.com, which Koppel estimates is already running a $10 billion apparel business. 
Nordstrom isn't alone -- retailers such as Michael Kors have said that e-commerce isn't as profitable as business at physical stores. And Koppel made a plea Wednesday to "anyone out there" who has figured it out, because "we have a lot of work to do." 
But he also made clear the company isn't backing away from e-commerce. And as the business model changes, so will the company. Nordstrom now expects online sales to make up 30 percent of its business by 2020, up from 8 percent in 2010. The good news is that customers who shop both online and in stores spend three to four times as much at Nordstrom than those who shop just one channel. 
To contact the author of this story:
Shelly Banjo in New York at sbanjo@bloomberg.net
To contact the editor responsible for this story:
Mark Gongloff at mgongloff1@bloomberg.net
Before it's here, it's on the Bloomberg Terminal.
LEARN MORE