The battle over set-top boxes -- the black gizmos from the cable company that deliver news, sports and entertainment to your TV -- might not end up having much to do with the hardware itself. It may simply come down to which companies gain access to American cable users and all of the data they generate. 
The Federal Communications Commission is proposing liberating U.S. customers who rent such boxes from cable companies and pay, on average, $231 a year to lease them. That amounts to nearly $20 billion in domestic revenue annually for the cable industry. The FCC proposes allowing consumers to buy their own boxes or alternatives and would open up what is now a largely closed market, according to research from Bloomberg Intelligence analysts Brad Barker and Woo Jin Ho.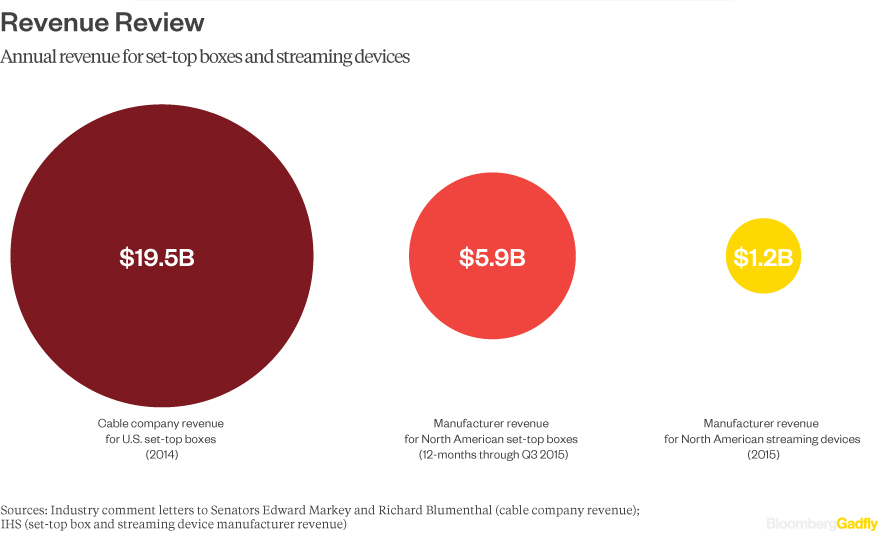 So what's at stake?
Certainly the $20 billion in leasing revenue for companies such as Comcast and Time Warner Cable, as well as the $6 billion that set-top box makers such as Arris get from selling those devices to those cable companies in the first place. Tech companies such as Google, Apple and Amazon make online streaming devices so users can stream web video -- but not usually live cable programming -- onto their TVs. The total North American market revenue for those companies is about $1.2 billion, according to data from industry research firm IHS. That revenue could increase, of course, if those companies get better access to cable programming.
But hardware revenue from set-top boxes is pocket change for a company like Google, which made $34.8 billion in U.S. revenue last year, mostly from advertising sales.
What's really at stake in the FCC proposal -- and what has tech and cable companies jockeying for position -- is who gets to come between customers and content providers, especially as the number of cable customers erodes.
Whoever controls the gateway to web and cable entertainment in American homes will have unprecedented access to users' data and, by extension, advertising and marketing dollars that can, in theory, be wedded to that data. Media research company Magna Global expects U.S. digital and TV advertising spending to each exceed $67 billion in 2016.
So if the FCC succeeds in easing cable companies' hammerlock on the set-top box business, consumers could expect more and better choices for the conduit for their programming while cable, tech and media companies would experience a reordering of the revenue pie.
This column does not necessarily reflect the opinion of Bloomberg LP and its owners.
To contact the author of this story:
Rani Molla in New York at rmolla2@bloomberg.net
To contact the editor responsible for this story:
Daniel Niemi at dniemi1@bloomberg.net