Sales data  shows that last month was the best February for auto sales in 15 years. And an annualized sales rate of 17.43 million vehicles puts 2016 on track to be a record sales year. That's good news for automakers -- but not necessarily for their bottom lines.
Carmakers are ramping up discounts to swipe market share from rivals -- with sales boosted by the most generous incentives since 2009 (a year when new car sales were in the dumps and carmakers were doing anything they could to move inventory).
Buyers saved an average of $2,975 per car in February, according to estimates from TrueCar, a vehicle pricing research firm. That average savings was up 11 percent from the same month last year. 
Lately, buyers have favored more expensive vehicles -- like fully-loaded SUVs -- so incentives don't make as big a dent in profits from those sales as they would in cheaper vehicles. Currently, incentives make up 9 percent of vehicles' average transaction price -- lower than during the recession, but higher than in more recent years.
Carmakers have traditionally and routinely discounted the sticker price of cars on their lots. But more recently they have maintained the list price and allowed lenders to offer more attractive financing packages for purchases and leases. 
Aggressive financing has made car leasing very popular lately because monthly payments are more affordable for buyers. Leasing also allows drivers to avoid ownership, matching nicely with younger drivers' preferences not to own. Leasing also appeals to buyers who want to swap in and out of new models more frequently, while keeping up with all of the latest auto technologies.
In January, leases made up 32 percent of car sales for the month, up from 21 percent for the same month in 2012. That trend is expected to continue, because buyers who lease tend to be more loyal to a particular brand than car buyers, according to IHS Automotive, a market data company.
Even with all the sales help that incentives provide, the outlook for U.S. car sales overall isn't robust, according to forecasts by IHS. Sales within North America are expected to peter out in the next year after hitting near-record highs. Exports, on the other hand, are expected to rise -- so the net effect will be 2 percent growth in total North American sales in 2016 compared to 6 percent the year before.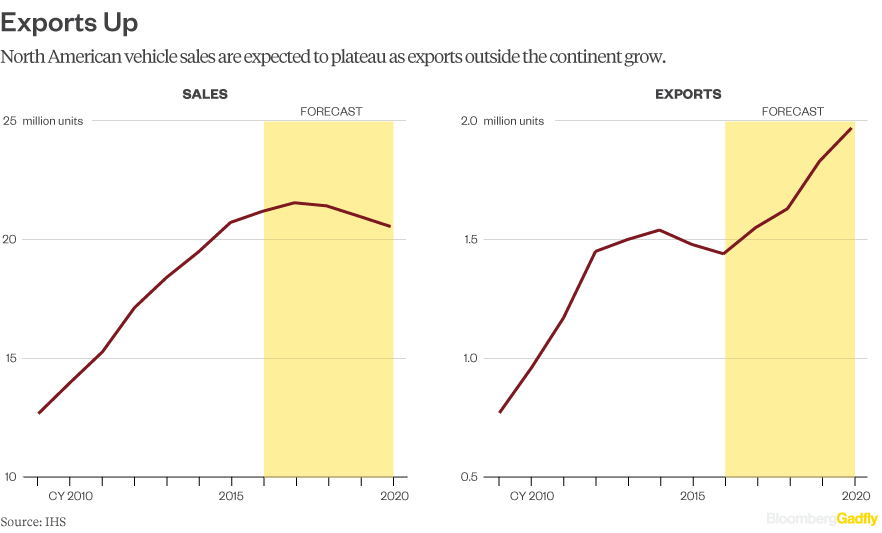 This column does not necessarily reflect the opinion of Bloomberg LP and its owners.
To contact the author of this story:
Rani Molla in New York at rmolla2@bloomberg.net
To contact the editor responsible for this story:
Timothy L. O'Brien at tobrien46@bloomberg.net