Welcome back, Mike! Now fix everything. 
It's been a long two months for Valeant CEO Mike Pearson and his company. He's taking the reins back after a lengthy medical leave, the company announced Sunday night. Citing the timing of his return, Valeant withdrew its forward earnings guidance and delayed (again) its fourth-quarter earnings call. Valeant needs a command performance from Pearson to stem share losses, reduce uncertainty and convince investors Valeant can move beyond the debt-and-M&A-fueled model with which Pearson built the company. 
Pearson may just need time to get settled and reacquaint himself with the numbers. But any uncertainty about Valeant lately leads the market to assume the worst about the company. Throwing out guidance that was reaffirmed just a month and a half ago creates the sort of vacuum investors can populate with terrible and many-clawed financial nightmares. Shares were down 7 percent on Monday.
The company also appears to have lost one of its staunchest social media defenders. An anonymous Twitter account, @ValeantTruth (and its blog), frequently challenged journalists who wrote negative stories about the company, claiming the company's problems were overstated and its future bright. Not anymore, according to a tweet posted Monday afternoon: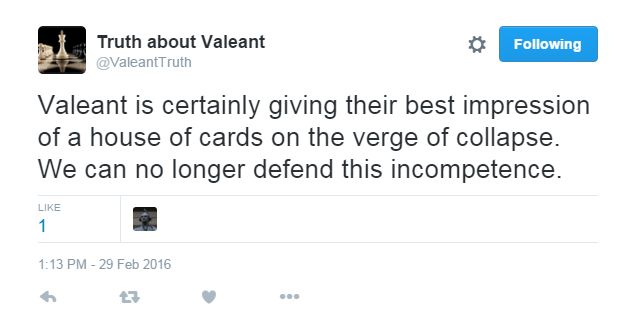 The obvious fear is the company might cut its forecast, which was generated while Pearson was still in charge.. The last big update from the company came at JPMorgan's health care conference on January 13th. At the conference, the company asked investors to measure its 2016 performance against six benchmarks: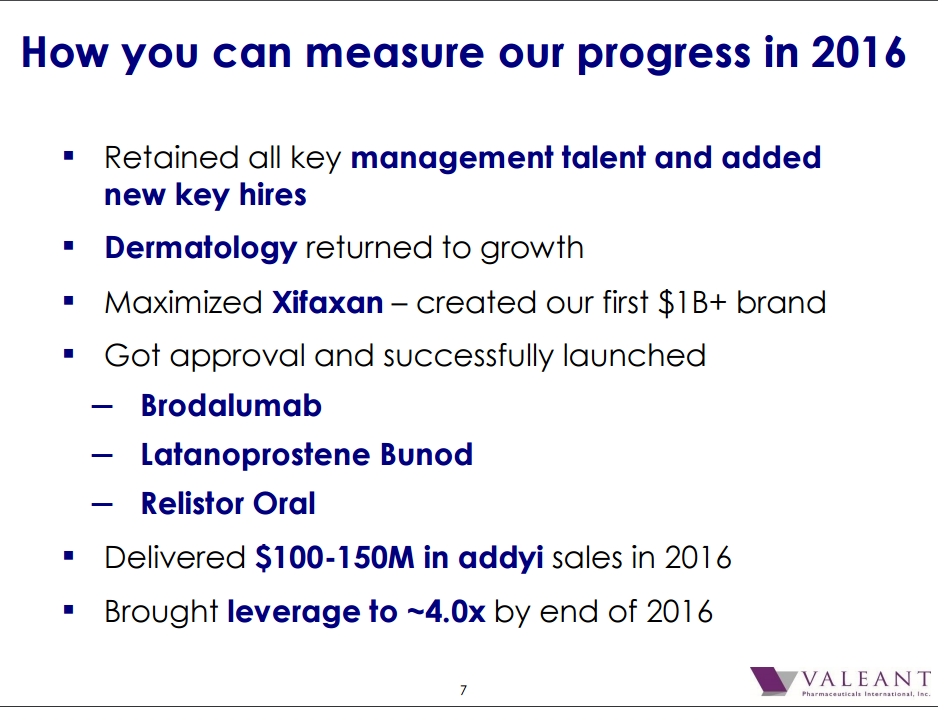 Most of these goals aren't looking great for Valeant. 
The company is running into difficulty with its foot fungus treatment Jublia. Though Valeant has spent heavily on advertisements featuring a peppy cartoon toe, CVS announced a plan to restrict use of the $1,000-a-vial treatment. Rival pharmacy benefit manager Express Scripts looks to be following suit. This adds to the question of whether the company can actually shift from its model of price hikes and M&A and grow revenue by simply selling more of the drugs it already owns. 
Allergan has filed with the FDA for permission to make a generic version of Valeant's irritable bowel disease drug Xifaxan, the strongest patent for which has expired. Valeant will likely be able to delay competition for a while. But this is a looming threat to what's expected to be its best-selling drug. 
Valeant spent about $1 billion dollars last year to acquire Sprout for its female libido drug addyi. Initial sales weren't so much disappointing as nearly non-existent, and bad news continues to pile up. A Dutch study released Monday further questioned the effectiveness and safety of the drug, which was twice rejected by the FDA before its eventual approval. 
Perhaps the biggest worry about a potential forecast cut is how it might affect the company's commitment to repay debt, of which it had $30.9 billion in September. At an investor day on December 16, Valeant pledged to spend at least $2.25 billion and the "lion's share" of its cash flow paying off debt in 2016, and it recommitted to reducing leverage on Sunday. Less cash flow means less debt gets paid off.
Valeant's debt load was already a concern; the company's bonds prices plunged to their lowest level of the year last week on the day the restatement news broke. Prices have recovered since then, but are falling once again today: 
Pearson will have to answer all of those questions and more when the company finally reports earnings. Even then, uncertainty will linger until the company files a 10K and actually executes on its many promises. 
Pearson also needs to convince the world he's not just a swashbuckling deal-maker, R&D staff-cutter, and drug-price-hiker, but someone who can clean house at Valeant, steer it through these troubles, and grow revenue in a different way.
Hedge fund manager Bill Ackman was essentially deifying Pearson just two years ago, but now the shine is off. The Philidor scandal happened on his watch, as did the company's massive debt run-up. Wells Fargo analyst David Maris, an outspoken critic of Valeant, points out in a research note that it has "lost more market value than it has created" under Pearson. The company's market cap is around $25 billion, down from a peak near $90 billion. 
Those happy about Pearson's return are likely holding out hope the company's shares will return to their high-flying former state. First things first. Just steadying the ship will be a Herculean task.
Update: Just after this story published,  Moody's announced it was reviewing Valeant's credit ratings for a downgrade over concerns its performance might be weaker than expected, which might slow the company's deleveraging efforts. The stock was recently down 9 percent.
Update 2:  Pearson's day got substantially worse later in the afternoon, when news broke that the company was under investigation by the SEC. It's unclear what the probe is about, but it is unrelated to an existing and disclosed investigation into Salix, which Valeant acquired last year. Shares ended the day down more than 18 percent.
Update 3: An earlier version of this story incorrectly referred to Wells Fargo analyst David Maris as Bill Maris.
This column does not necessarily reflect the opinion of Bloomberg LP and its owners.
To contact the author of this story:
Max Nisen in New York at mnisen@bloomberg.net
To contact the editor responsible for this story:
Mark Gongloff at mgongloff1@bloomberg.net