It's clear now that Honeywell CEO Dave Cote isn't backing off from his pursuit of United Technologies.
While United Technologies' rebuff of Honeywell's advances and the sounding of antitrust alarms had raised questions of whether a combination would remain more idea than reality, Cote showed Friday that Honeywell is committed to keeping it real.
The company released a presentation detailing its acquisition proposal, which consists of $42.63 in cash and 0.614 of a Honeywell share for each United Technologies share, or about $107 based on Thursday's prices. That's a more than $100 billion offer in total, including debt -- a monster deal by any measure and more than Honeywell's own market value of $80 billion.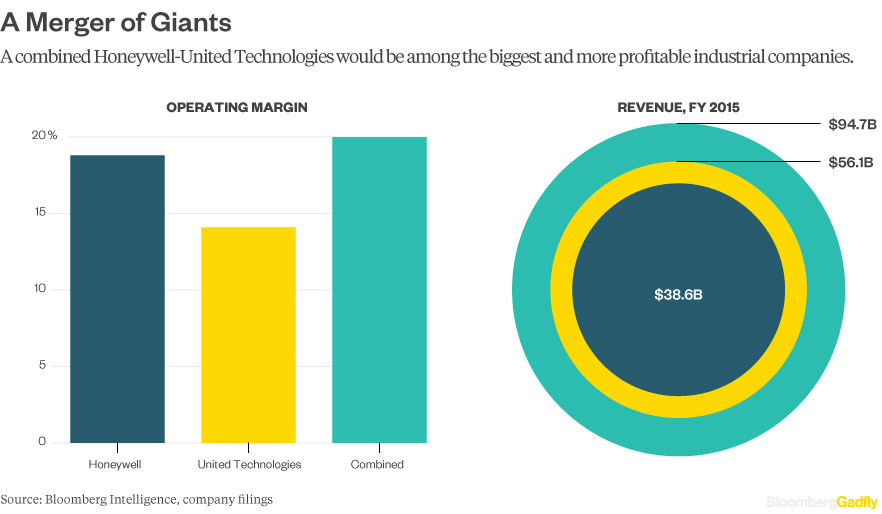 United Technologies rejected the proposal Friday afternoon, saying that it grossly undervalues the company. Honeywell is essentially trying to undertake a leveraged buyout that takes advantage of United Technologies' own strong balance sheet, the target said in a filing.
Let's unpack the numbers anyway: Honeywell's bid represents a premium to where United Technologies' stock is trading, even after it climbed this week on news of the potential merger.  The offer is also higher than where analysts saw United Technologies' shares going over the next year before M&A was a possibility: Their average price target was $105. That said, Honeywell will have to increase its offer to convince United Technologies to strike a deal.
Honeywell, a New Jersey-based maker of products ranging from airplane parts to fire-safety systems, made its approach after United Technologies had lost almost $40 billion in market value and was trading near its lowest price in three years. United Technologies, which for its part makes elevators and climate-control systems among other things, was slumping for a reason -- it repeatedly had to lower its own earnings guidance for 2015 after underestimating the impact of a slowdown in many of its markets. But shareholders aren't going to like the idea of selling near a low, particularly when a deal is this transformational and has such significant integration, as well as antitrust, risks.
Honeywell's bid equates to about 11 times United Technologies' Ebitda in the last year, in line with the median for the biggest industrial deals. But all of the comparative examples are much smaller. Even GE's failed bid for Honeywell back in 2001 was for around $50 billion, chump change next to this proposed behemoth.  
An offer of about $115 a share could be enough to get a deal done, says Sterne Agee CRT analyst Peter Arment. That would be a 30 percent premium to United Technologies' unaffected share price and not that far off from the company's all-time high of $124.11 reached about a year ago. If Honeywell offers $115, United Technologies holders should take it because there's no telling when it will get back to that level on its own in this slow-growth environment.
For Honeywell's part, a bid at that price is doable. It has the debt capacity to pay the $36 billion cash component of its current proposal, according to Bloomberg Intelligence. It may be able to push the limits of its balance sheet a bit further to add more cash. Accelerating the implementation of cost savings could help it, as could selling some assets, which in turn might help with regulatory approval. Arment of Sterne Agee estimates Honeywell could pursue as much as $10 billion in asset sales in order to raise its offer and satisfy regulators. Indeed, the company has reportedly already been exploring a sale of least one business.
Even at a higher price of $115 a share with a similar cash-and-stock breakdown to the current proposal, a takeover would add to Honeywell's earnings before accounting for cost savings,  according to data compiled by Bloomberg. The acquirer says synergies would amount to $3.5 billion and be fully realized in the fourth year after a deal closes. (United Technologies called that estimate "highly aggressive.")  The cost and revenue benefits of a combination could yield double-digit EPS growth and margins of about 20 percent, according to Honeywell. 
The ball is in United Technologies' court now and it owes its shareholders a proper negotiation. If he's not interested in selling, CEO Greg Hayes is going to have to prove to investors that he can create value on his own, whether that's through acquisitions or a breakup. One thing's for sure, this mega-deal isn't going away any time soon.
--Rani Molla contributed graphics to this story.
This column does not necessarily reflect the opinion of Bloomberg LP and its owners.
(Adds United Technologies' rejection of Honeywell's bid in the fourth paragraph, and details in footnote.)
Some of the discount to the offer price may be because of the significant antitrust scrutiny anticipated for a combination. In its filing on Friday, United Technologies detailed its concerns about likely pushback from regulators, as well as customers. Major airplane manufacturers that purchase parts from Honeywell and United Technologies have already started to voice concerns about a combination.  
To contact the author of this story:
Brooke Sutherland in New York at bsutherland7@bloomberg.net
To contact the editor responsible for this story:
Beth Williams at bewilliams@bloomberg.net