Everyone knows the energy patch is suffering, but it's difficult to reliably quantify the pain.

Here's a start: $123 billion.
That's the estimated amount of outstanding loans and lending commitments to the energy industry that big U.S. banks have on their books, gleaned from reports by analysts at RBC Capital Markets, Janney Montgomery Scott and Susquehanna International Group published this month. That number, previously hard to come by, is important because oil prices have plunged to less than one-third of what they were two years ago, and investors and regulators would like to have a sense of how much pain could spread if the energy industry could not pay back its obligations. If banks suffered severe losses tied to energy-related debt, it could magnify the damage to the broader economy.

That $123 billion is a remarkable amount, bigger than the annual economic output of Ecuador. What's even more remarkable, however, is that these banks, from JPMorgan Chase to Citigroup to Wells Fargo, have disclosed enough information for analysts to piece together these estimates. Their European peers have not, and they've been punished by stock traders for their opacity. 
U.S. banks, on the other hand, under significant pressure, have disclosed an increasing amount of energy-specific information, albeit not uniform or complete.

The results are informative. At Wells Fargo, for example, most outstanding oil and gas loans are to noninvestment-grade companies, CFO John Shrewsberry said this month at a conference. Other banks also have significant junk-rated energy exposure, such as Goldman Sachs, JPMorgan and Morgan Stanley. JPMorgan said on Tuesday that it would need to increase reserves for bad loans in the energy sector by $1.5 billion if oil prices hold at about $25 a barrel over 18 months.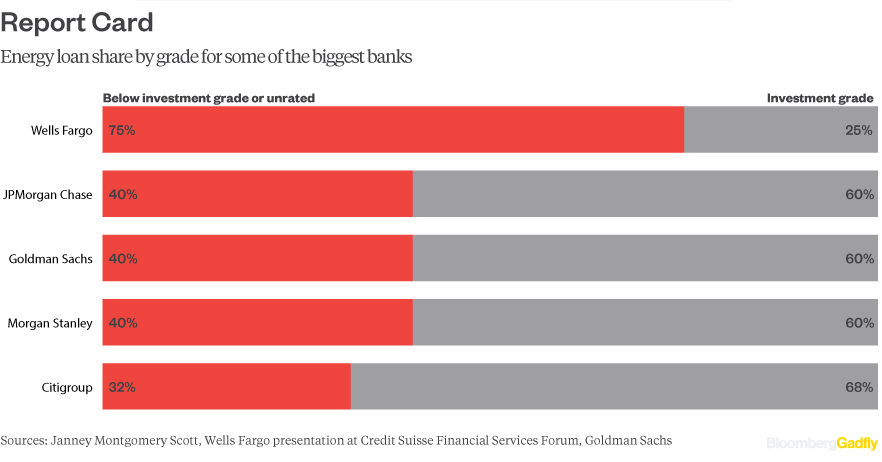 But all things considered, the loans still amount to a fraction of these banks' loan portfolios. The exposure at the top 20 banks "is manageable even in the most unthinkable scenario," RBC financials equity analysts wrote in a note this month.
This is what the U.S. financial system does so much better than its European counterparts: It tries to quantify problems with relative speed and then address them rather than let them simmer and hope they go away. That's what happened in the wake of the mortgage-debt disaster that is still burdening the balance sheets of some big European institutions. U.S. banks wrote down the debt much more quickly, allowing them to put it behind them sooner.
Perhaps the numbers don't fully reflect the risk, or, in some cases, substantially overstate it. But at least it's a crucial start. The more banks come clean about their potential oil-related losses, the more confidence investors will have that this won't be a repeat of 2008 for the U.S. financial system.
This column does not necessarily reflect the opinion of Bloomberg LP and its owners.
To contact the authors of this story:
Lisa Abramowicz in New York at labramowicz@bloomberg.net
Rani Molla in New York at rmolla2@bloomberg.net
To contact the editor responsible for this story:
Daniel Niemi at dniemi1@bloomberg.net