BHP Billiton is the latest big commodity producer to sacrifice its dividend to those merciless gods known as creditors. Like fellow miners Rio Tinto, Anglo American and Glencore and fellow oil producer ConocoPhillips, BHP has gotten religion on protecting the balance sheet rather than extending a 15-year progressive payout policy.
Even better, the company laid out precisely why the promise of ever-increasing dividends is one all-too-easily broken when you're in the business of selling raw materials. It's right here on slide nine of Tuesday's earnings presentation: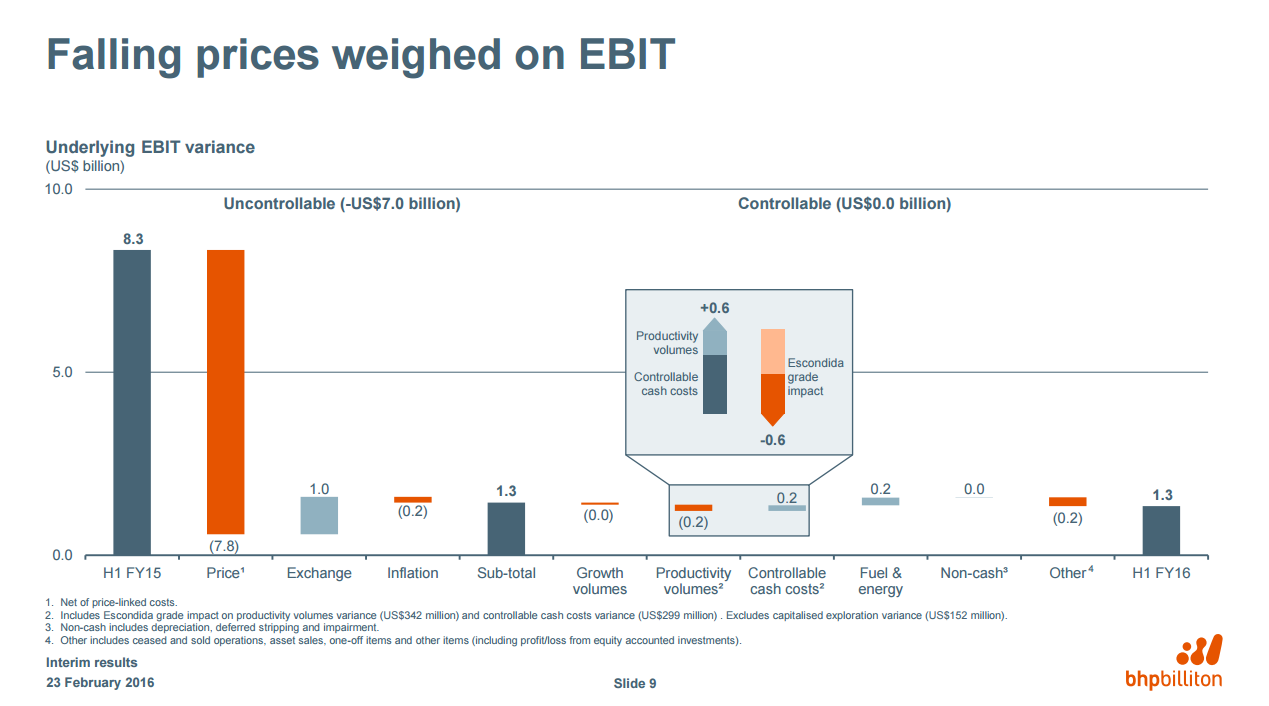 There is a lot going on there, but the slide is intended to walk investors and analysts through the shrinkage of BHP's underlying Ebit from $8.3 billion in the first half of fiscal 2015 to just $1.3 billion in the first six months of the current year. That big red bar toward the left is the main culprit, wiping out virtually all of last year's profit. BHP has helpfully labeled it ``Price'' and grouped it with some other factors like currency movements and inflation, all deemed ``Uncontrollable.'' Over on  the right-hand side, the ``Controllable'' elements net out to precisely zero.
BHP is correct, of course: Commodity markets have a life of their own and, hedging aside, producers are price takers. All they can do, as BHP has long said, is to focus on having better, lower-cost assets to absorb the inevitable cyclical downturns.
The flip side of this is that a promise of ever-higher dividends, while it may work for a while, always carries the risk of a savage cut when the cycle turns. BHP's annual dividend bill went from less than $900 million in fiscal 2003 to $6.5 billion by fiscal 2015, according to data compiled by Bloomberg.
The new dividend policy, which promises a floor of 50 percent of underlying profit rather than a rising figure, directly addresses the problem of that uncontrollable red bar on slide nine.
An analogy in the oil world is Exxon Mobil. The oil major most certainly hasn't cut its dividend. But like BHP, it is struggling to balance falling cash flows with investment plans and payout obligations. The difference is that Exxon has long relied more heavily than most rivals on share buybacks to distribute cash.
That Exxon has been forced to suspend these isn't a good sign, but it is a sensible lever to have to hand. Shareholders don't tend to react as badly to the scrapping of buybacks as to a straight cut to dividends once commodity markets turn. The need to factor the cycle into payout promises has come as a shock to much of the mining and energy industries, including highly leveraged pipeline companies now struggling to maintain them.
With BHP announcing a management shakeup alongside the cut, it feels as though the last vestiges of the mining supercycle's excesses are now being cleared. Investors shouldn't assume the worst is over quite yet, though. Companies such as BHP don't risk the ire of shareholders unless they absolutely have to and here, from the press release, is why they did:
While we were prepared for lower prices across our commodities, we now believe the period of weaker prices and higher volatility will be prolonged. From a position of strength, we have adopted a dividend policy that further protects our balance sheet and ensures financial flexibility.
In other words, BHP is bracing for further pain. Sensible, yes; bullish, no.
This column does not necessarily reflect the opinion of Bloomberg LP and its owners.
To contact the author of this story:
Liam Denning in San Francisco at ldenning1@bloomberg.net
To contact the editor responsible for this story:
Matthew Brooker at mbrooker1@bloomberg.net