Putting a `For Sale' label on a product and displaying it in your store window is pretty easy. Replacing it with a `Sold' sticker is much harder.
That's not likely to be news to Anglo American, which Tuesday fleshed out plans to sell coal, iron ore, nickel, niobium, phosphate and platinum mines to cut its $13 billion in debt. But it's good reason to question whether Chief Executive Officer Mark Cutifani will hit his target of raising some $3 billion to $4 billion from the assets this year: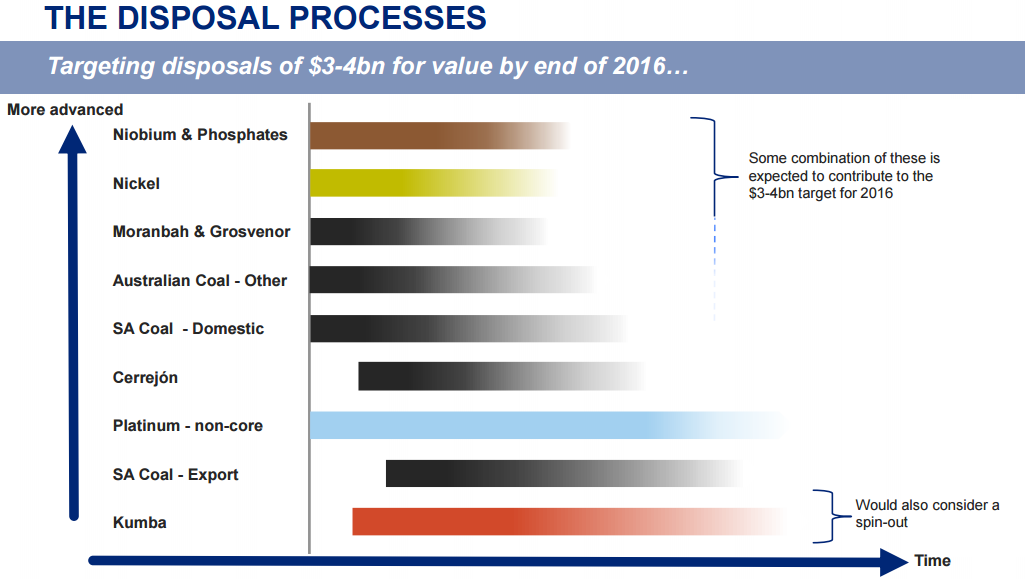 Mines can go unsold for an astonishingly long time. Anglo's niobium and phosphate assets, which Cutifani now expects to dispose of within two to three months, were first earmarked for sale all the way back in 2009. A suite of Rio Tinto's aluminum operations in Australia and New Zealand were put to market in October 2011. They didn't attract any acceptable bids and were finally reintegrated nearly two years later. BHP Billiton put up the shingle on its Nickel West unit in May 2014. There was so little appetite that the business didn't even make it into South32, the spin-off that BHP set up last year to hold its frumpier mines. It now languishes as a ``non-core'' unit along with a U.S. coal mine and half-a-dozen or so oilfield stakes.
It's always possible to sell something if you're flexible enough about price. That's the rub, though: If you want to raise as much as $4 billion of cash and avoid too many further writedowns, your room to maneuver may be limited. 
Take coal. Anglo is hoping to get rid of a group of South African, Australian and Colombian pits at a time when rivals are rushing for the exit. Mining companies in North America, Western Europe and developed Asian countries started or completed just 13 coal mine sales worth more than $10 million over the past 12 months, according to data compiled by Bloomberg. Anglo's Dartbrook was among them, and went for only A$25 million ($18 million) in cash, plus performance payments if the pit proves more profitable than expected.
Or try nickel, the second-most likely prospect according to Cutifani's presentation. Costs at Anglo's nickel unit during 2015 were $4.31 per pound, or $9,504 per ton. Meanwhile, refined nickel on the London Metal Exchange is selling for, er, $8,250 a ton. Any investor willing to brave the lowest prices in 13 years to indulge in a spot of M&A would be better looking at Vale's nickel business, which at least turns a slender profit with operating costs of $7,900 a ton and is being polished up for a potential initial public offering.
Let's not even talk about the platinum and iron ore assets Anglo is looking to shift. The former are mostly the ugly sisters of a group of mines that Cutifani has been trying to sell since he came into the job in 2013 (he wants to hang on to the good stuff as part of the new, leaner Anglo American). The latter lost money last year whenever iron ore dipped below $49 a ton, although Anglo is trying to reduce that to $40 a ton during 2016. With ore currently around $47 a ton, those cost cuts better come through.
Cutifani shouldn't rush it. As Gadfly's Chris Bryant has pointed out, Anglo doesn't have a huge mountain of debt to roll over this year and there's no shortage of assets for sale if you're feeling bullish on commodities. Say you're Mick Davis, one of the founders of mining-focused private-equity firm X2 Resources which was earlier this year said to be considering a bid for those Anglo American niobium and phosphate mines. At a time like this, Davis could pretty much create a whole new diversified business from the leftovers other companies don't want: fertilizer from Vale, copper pits from Glencore, oil from Freeport-McMoRan and BHP, and railways and ore ships from Fortescue and Vale. Plus coal from more or less everyone, not to mention the assets in Cutifani's junkyard.

The problem is that Davis already played that card during the early 2000s. As chief executive of Xstrata, he mopped up mines discarded by bigger companies for a decade before selling the whole shebang to Glencore at the top of the market in 2012. Those assets have since become a millstone for Glencore chief executive Ivan Glasenberg, whose entire company is now worth not much more than half the $41 billion of stock he gave up to buy Xstrata. 

Unfortunately for Cutifani, buyers' reluctance to purchase middling assets during a savage market downturn is as inevitable as sellers' enthusiasm to get rid of them. If the mines were the sort of high-quality properties nervous investors could get comfortable with buying, they wouldn't be for sale in the first place.
This column does not necessarily reflect the opinion of Bloomberg LP and its owners.
To contact the author of this story:
David Fickling in Sydney at dfickling@bloomberg.net
To contact the editor responsible for this story:
Katrina Nicholas at knicholas2@bloomberg.net