If Russia is, as Winston Churchill said, "a riddle wrapped in a mystery inside an enigma," then what to make of the motivations of its proposed oil freeze with cryptic frenemy, Saudi Arabia? The image that springs to mind is taking the enigma, locking it in a safe, shoving that in the trunk of a car and driving the thing off a cliff into the sea.
Which may actually be the best thing that can be said of it, at least from the perspective of oil bulls.
That is because the agreement, at least as revealed thus far on Tuesday, changes nothing in practical terms -- yet.
Russia, Saudi Arabia, Venezuela and Qatar say they will freeze oil production at January levels, provided others -- read: Iran -- agree to do the same. Written another way, you could say that four large oil producing countries just confirmed that they won't cut output, which was the same situation that prevailed last week, before oil prices rallied on news of talks between OPEC members and Russia.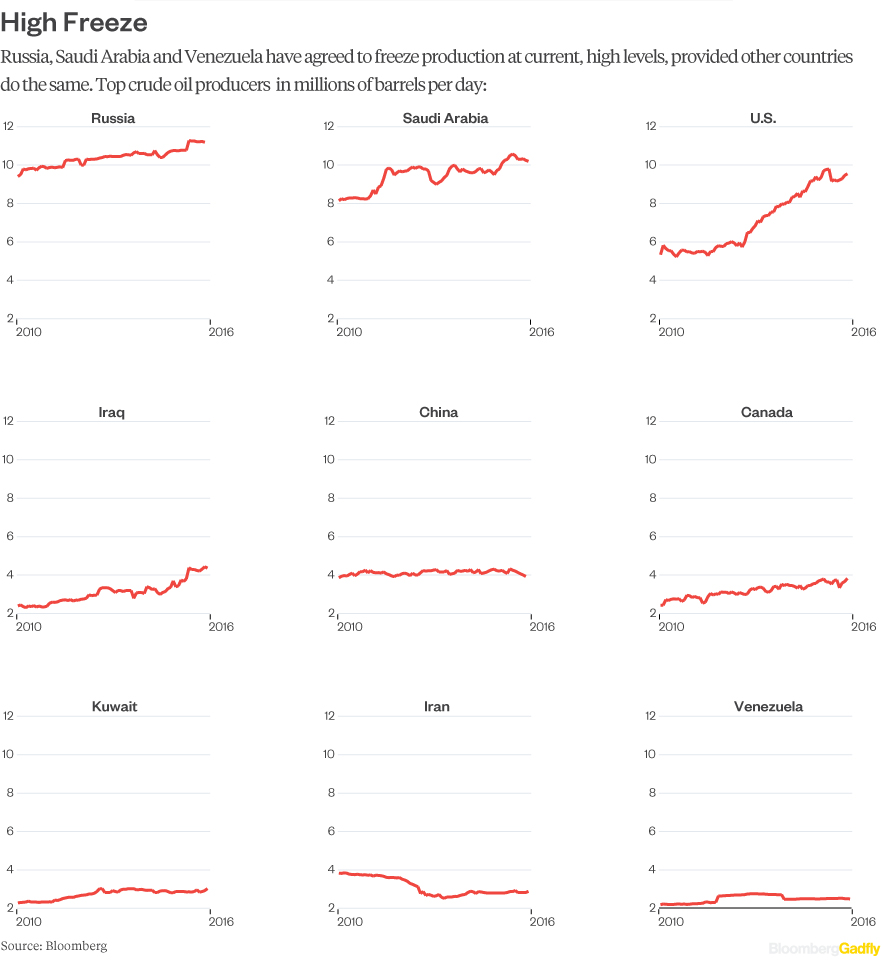 The freeze faces three big problems.
The first concerns Iran, which is seeking to regain market share after the lifting of oil sanctions. As I laid out previously here, current supply and demand projections from the International Energy Agency imply that, at OPEC's current level of production, commercial oil inventories in the OECD countries would rise from an already-bloated 3 billion barrels at the end of 2015 to north of 3.3 billion by the end of June. Assume that Iran's production climbs steadily from 2.9 million barrels a day in January to 3.6 million by the end of 2016, and inventories rise above 3.4 billion barrels by the time Christmas rolls around.
The central point here is that, even without Iran raising production, the glut in oil would still be formidable. What is needed are real cuts.
This raises a second complication. Saudi Arabia has maintained a policy of maximizing market share since late 2014 for the entirely rational reason that any production cuts it made would simply benefit an increasingly crowded field of competitors in the global oil market.
And that policy is on the cusp of bearing fruit. U.S. oil producers spend more time these days talking about saving themselves rather than conquering the world, with $30 oil playing havoc with balance sheets. The IEA projects U.S. oil output to be about 700,000 barrels a day lower in the third quarter of 2016 versus a year before. In signaling any hint of capitulation on its policy, Saudi Arabia risks throwing a lifeline to U.S. rivals just as they seem to be finally on the verge of slipping beneath the waves.
The third complication for the freeze concerns an issue that hasn't figured prominently in the oil debate over the past 18 months or so but is coming into focus now: demand.
Demand was healthy in 2015, rising by 1.6 million barrels a day, boosted in part by the initial slump in oil prices. The IEA projects growth of 1.2 million barrels a day this year, but the anxious start to 2016 puts that at risk. Growth projections center on emerging markets, which are suffering in part because of the slump in commodity prices and could face more pressure if the Federal Reserve continues to raise interest rates. China's latest trade data showed a 4 percent drop in oil imports in January, year over year, albeit after a big jump in December. Meanwhile, in the U.S., weak refining margins signal all may not be well in the world's largest gasoline market. Supplier action aimed at raising prices looks potentially counter-productive on this front, too.
Front-month oil futures have been jerked up and down by the rumors and news of supplier action over the past week, falling almost to $26 a barrel before rallying above $31. They have since fallen again to about $29.
The proposed big freeze does nothing immediately to lift the pressure that is pushing prices down. The best that can be said for it is that it injects some uncertainty into traders' calculations, which -- on pure supply and demand fundamentals -- should be pointing downwards for at least the first half of this year. The flip-side is that it sits at odds with Saudi Arabia's successful pursuit of the strategy it has held to for almost one and a half painful years.
If the intention is real, it may signal panic in OPEC's ranks that a resurgent Iran -- whose own relations with Saudi Arabia could charitably be described as frozen -- is about to make a terrible situation a whole lot worse.
This column does not necessarily reflect the opinion of Bloomberg LP and its owners.
To contact the author of this story:
Liam Denning in San Francisco at ldenning1@bloomberg.net
To contact the editor responsible for this story:
Mark Gongloff at mgongloff1@bloomberg.net