Big banks were a safe haven in a perfect storm.
In the past seven years, financial companies have more than doubled the amount of their dollar-denominated debt outstanding, including a growing chunk of securities that could buffer banks against losses should their reserves dwindle. All the while, they paid a shrinking fee for the privilege, with yields on their notes falling to a record low 2.3 percent in 2013.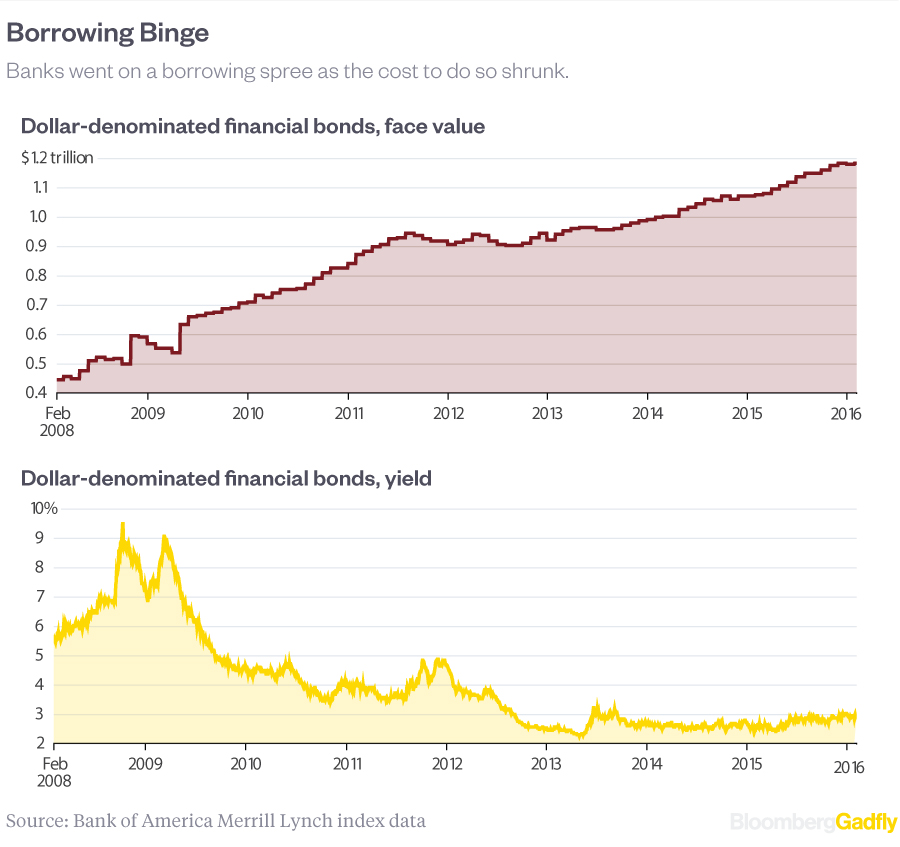 Investors seemed more than happy to lend to them -- after all, banks were becoming less risky, and everyone seemed to want to buy corporate debt in the wake of monetary easing by central banks.
Times have changed. The lowest-ranked financial-company debt is poised for the worst start to the year since 2009, with so-called contingent convertible capital notes losing more than 5 percent so far this year. Credit concerns are mounting in the face of slower global growth and potential losses on loans to Chinese and commodities companies.
So, are we seeing the start of another financial crisis, similar to what happened in 2008? Unlikely. Instead, the recent jitters demonstrate that investors are confronting a new era in which central banks have less control over markets and banks are more vulnerable than they once seemed. Investors want to earn more to give their money to a bank. They're suddenly worried about all the risks they had forgotten about during years of financial stimulus.
This column does not necessarily reflect the opinion of Bloomberg LP and its owners.
To contact the authors of this story:
Rani Molla in New York at rmolla2@bloomberg.net
Lisa Abramowicz in New York at labramowicz@bloomberg.net
To contact the editor responsible for this story:
Daniel Niemi at dniemi1@bloomberg.net