Coke Is Thirsty for an Activist
The beverage giant is thirsty for an activist investor.
By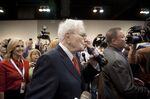 COCA-COLA CO/THE
+0.28
At Closing, January 19th
PEPSICO INC
+1.12
At Closing, January 19th
Wall Street isn't buying Coca-Cola's turnaround plan.
The world's largest soft-drink company on Tuesday reported a reasonably profitable fourth quarter, considering it's fighting the crushing impact of a strong U.S. dollar, increased regulatory attention from health officials around the world, and a declining global soda market. Still, the stock pretty much went nowhere, as cost-cutting measures, price increases, and moves to reconfigure its bottler network did little to excite investors. 
Come to think of it, Coke's stock has pretty much gone nowhere for a while now. 
While Coke is still more valuable than rival Pepsi by market capitalization, Coke's shares have risen by about 10 percent in the past three years, compared to a 34 percent rise in Pepsi's shares and a 56 percent jump in the S&P 500 food and beverage index. And at around 21 times forward earnings, Coke is still priced pretty high, generally in line with Pepsi and other beverage competitors. 
Maybe that's why Wall Street analysts tracked by Bloomberg are more negative on the stock than they have been in years, judging by the number of hold and sell ratings on the company. 
Decades of solid dividends and fairly predictable earnings have made Coke's underperformance more palatable for long-time shareholders. But investors are scratching their heads about how the company is going to juice up growth for the long term, as consumers move toward healthier fare and away from high-sugar drinks and salty snacks.
For now, Coke is trying to buy some of that future growth through equity stakes in companies such as Monster Beverage, Nigeria juice and dairy company Chi Ltd., Zico coconut water, and Honest Tea. But the recent poor performance of coffee-machine maker Keurig, in which Coke took a 16 percent stake in 2014, is a reminder that such tie-ups don't always go as planned. 
Coke's stagnant performance raises the question of why its sagging sales haven't invited overtures from activist investors, who have been crawling around packaged food and beverage companies and ushering in an era of consolidation.
Pepsi has been publicly brawling with billionaire activist Nelson Peltz for years, resisting calls to spin off its soda business from its better-faring snacks business (though the sparring calmed last year after Pepsi brought a Peltz lieutenant onto its board). Activist investors also pushed the breakup of Kraft Foods into Kraft and Mondelez, resulting in the subsequent $50 billion Kraft-Heinz merger led by billionaire investor Warren Buffett and Brazilian private equity firm 3G Capital. 
There's no doubt Buffett's outsized ownership of Coke -- Berkshire Hathaway owns 9 percent of its shares -- has deterred activist investors and given some protective cover to Coke CEO Muhtar Kent.
But Buffett is no stranger to the global food and beverage industry. He's been involved in companies through a series of mergers, spinoffs and brand sales that date back to the 1970s. In 2010, back when Kraft was called Kraft Foods, he tried to block its takeover of chocolate maker Cadbury and called Kraft's sales of pizza brands to Nestle in order to fund the deal "particularly dumb." Decades of deal-making around Kraft culminated with his involvement in engineering the fifth-largest food company in the world in the form of Kraft Heinz.
Maybe it's time for the Oracle of Omaha to wade back into the space and get more involved in Coke, one of his longest-held companies. That would sure get Coke's shares moving. 
To contact the author of this story:
Shelly Banjo in New York at sbanjo@bloomberg.net
To contact the editor responsible for this story:
Mark Gongloff at mgongloff1@bloomberg.net
Before it's here, it's on the Bloomberg Terminal.
LEARN MORE