Hyundai Motor is out to woo America. Last year it poached four-year sponsorship rights for the National Football League from General Motors, which had been paying about $25 million a year for the privilege. Today it's blitzing viewers of the Super Bowl with four separate commercials -- five if you include Kia's third-quarter spot.
If that charm offensive feels excessive, it's worth noting the commercial reality it belies: Hyundai's love affair with the U.S. doesn't extend to the dollar. In fact, the company wants America -- or at least its currency -- to be weak: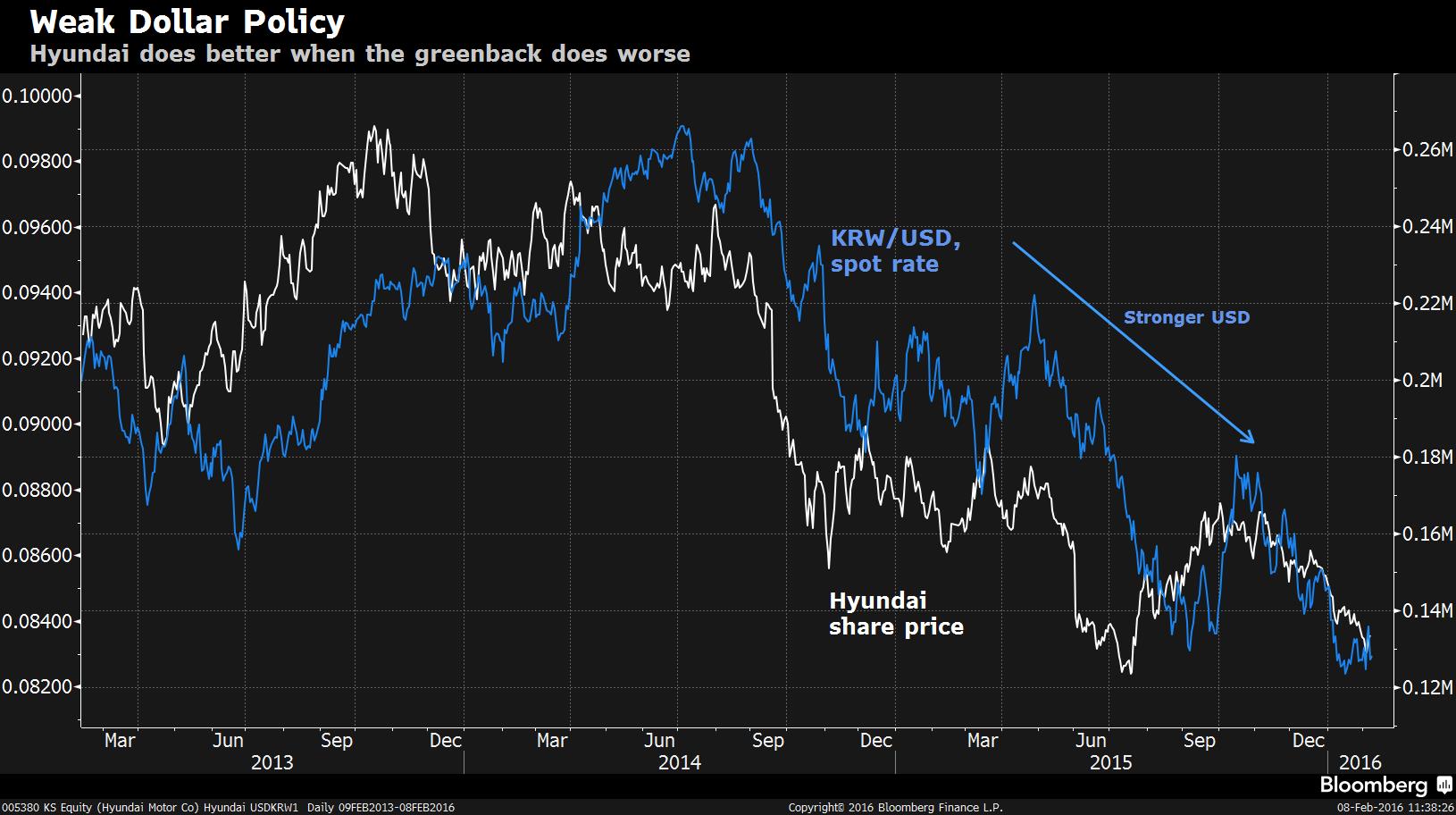 A falling greenback is traditionally seen as bad news for companies, like Hyundai, which export to the U.S. A stronger won makes Korean-made goods more expensive for U.S. consumers and it also converts any profits on those sales into a smaller pile of money once they're brought back home. So what's going on?
Comparing Hyundai's share price to another currency gives you a clue:

Hyundai isn't benefiting so much from the weakness of the U.S. dollar itself as it is from the tendency of drops in the greenback to drive up the value of all other currencies to which it's exposed. Just 15 percent of Hyundai's global unit sales were to the U.S. in 2014, and China has been a bigger market since 2008:
While a strong U.S. dollar is helping to drive down the price of the steel and aluminum Hyundai turns into cars, the export benefits are greater. And falling commodity prices can create their own problems: unfavorable exchange rates in Russia and Brazil, both major raw-materials exporters, contributed to the car maker's lowest annual profit in five years in 2015. The bigger worry at the moment is not that the greenback will weaken, but that China's attempts to prop up the yuan will fail to avert a sharper decline in the currency of its biggest export market.
Hyundai produces some good cars -- overtaking Japanese rivals in one widely watched quality-control measure last year -- but its share price has been a laggard for ages. With the trade-weighted U.S. dollar hitting its highest level since 2002 last month and the Bank of Japan pushing negative interest rates to further weaken the yen, that's not changing any time soon. 
This column does not necessarily reflect the opinion of Bloomberg LP and its owners.
To contact the author of this story:
David Fickling in Sydney at dfickling@bloomberg.net
To contact the editor responsible for this story:
Katrina Nicholas at knicholas2@bloomberg.net