If you haven't seen Energy Transfer Equity's share price today, try looking down. Around your feet.
And if you want to know the reason for that roughly one-third plunge, you could start with this snapshot of Energy Transfer's home page taken at 9.47 AM Eastern: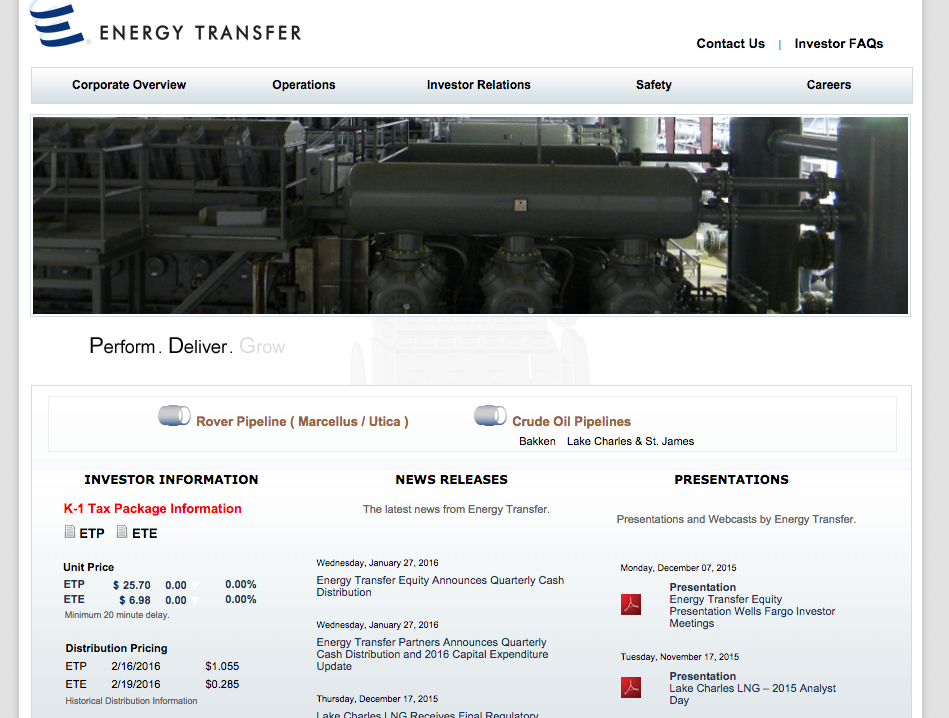 The most notable thing about this page is what isn't on it: namely, that Energy Transfer's chief financial officer is leaving the company. Or isn't quite leaving. It is hard to tell.
On Friday evening, the company announced -- a generous description of an after-hours filing of an 8K form, but hey -- that its CFO, Jamie Welch, would be replaced by Thomas E. Long, currently the finance chief for Energy Transfer Partners (a separately listed affiliate). No reason was offered, not even the boilerplate spending-more-time-with-family stuff.
Perhaps realizing that this wouldn't quite suffice, a second, "follow up" 8K dropped on Monday morning. This one said Welch may not be entirely out of the picture, having begun discussions to take on a consulting role with Energy Transfer. Furthermore, Energy Transfer now assures investors that the reshuffle in no way reflects any internal disagreements about the company's finances or book-keeping. As the home page shows, or rather doesn't, that seems to be it in terms of disclosure.
At the best of times, Energy Transfer's reticence would be alarming. Alas, this really isn't the best of times for the MLP sector. The added twist is that Energy Transfer also happens to be in the midst of a fraught acquisition of The Williams Companies.
The latter's own shares plunged by almost 40 percent first thing Monday before recovering to a mere loss of more than 24 percent. They now trade at a discount of about 16 percent to Energy Transfer's implied offer of cash and stock, roughly double the spread at Friday's close.
In the vacuum created by Energy Transfer's scant disclosure, it is fair to speculate that maybe, just maybe, Welch's departure reflects a touch of buyer's remorse here. Besides the skepticism implied by the discount in Williams' stock, there are ample reasons to question the logic of this deal as it stands.
First, in a sector struggling to show it can live within its means and work off excess borrowing, the roughly $6 billion cash component of the offer sticks out like the sorest of thumbs. At the announcement back in late September, it represented just 16 percent of the offer overall. Now, it accounts for more than a third and, according to Andrew DeVries at CreditSights, takes Energy Transfer's balance sheet "right to the brink of its own ratings."
Second, acquiring Williams would raise Energy Transfer's exposure to the more volatile gathering and processing business and -- due to Williams' ill-timed acquisition of Access Midstream in 2014 -- Chesapeake Energy in particular. Coincidentally, Chesapeake's own shares fell by more than half at one point on Monday morning on a news report that it had hired restructuring advisors ahead of possible bankruptcy, something the company swiftly denied.
Even so, with oil and natural gas prices having fallen by roughly a third and a sixth, respectively, since the deal was announced, Energy Transfer's terms clearly were set in a very different world than today's.
Based on current prices, and netting out the value of Williams' stake in separately-listed Williams Partners, Energy Transfer is paying roughly 12.5 times the general partner's incentive distribution rights income stream. That compares with the single-digit multiples commanded by other listed general partners.
Ideally, Energy Transfer would walk or at least renegotiate terms, but according to several analysts the agreement gives it very little wiggle room on that score. Only two weeks ago, Williams reaffirmed its commitment to the merger -- and why wouldn't it with that increasingly generous-looking cash payment on offer?
Still, Williams' investors also would own roughly half of the resulting entity's equity, so they have an interest in making sure the Energy Transfer paper they end up taking is worth having. It is just possible they will now decide that it isn't -- in which case, CFO Welch's mysterious sort-of-departure could perversely end up helping Energy Transfer get out of a bind of its own making. 
This column does not necessarily reflect the opinion of Bloomberg LP and its owners.
To contact the author of this story:
Liam Denning in San Francisco at ldenning1@bloomberg.net
To contact the editor responsible for this story:
Timothy L. O'Brien at tobrien46@bloomberg.net