Dunkin' Donuts plans to open more than 400 new U.S. restaurants this year (and around 8,000 in what it deems the "long term") as it expands westward from its East Coast base. Before it spreads its Dunkaccinos and Munchkins donut holes even further, it should first consider getting its current house in order.
The company on Thursday reported its first sales decline at established U.S. Dunkin' Donuts locations since it went public back in 2011, surprising analysts who had expected a slight increase. The company now expects comparable store growth to range from flat to 2 percent in 2016.
Executives said they were disappointed by the drop and committed to reversing the slide, but didn't actually sound super worried about it. (Neither did the market -- the stock initially traded lower, but was up 3 percent after lunch).
Nor did executives sound alarmed by the prospect of McDonald's all-day breakfast eating into their sales. No, said CEO Nigel Travis, it actually helps because it brings more awareness to the fast-food sector.
Not sure I buy that. But even if you don't think McDonald's all-day breakfast, specifically, is taking a bite out of Dunkin's sales, the Golden Arches' relaunch of a national value menu and aggressive moves to lower its prices across the board likely will.
Take McDonald's coffee, for example: It's $1 a pop for a small cup of joe, compared to $1.59 at Dunkin' Donuts. And Dunkin' just doesn't have the same reputation for quality as, say, Starbucks, which can charge a whopping $1.85 for roughly the same offering. (Note: As fast-food prices are largely set by franchisees, they vary by location. One analyst noted that in Boston, for instance, a cup of regular coffee is actually 10 cents higher at Dunkin' than it is at Starbucks.)
Part of the problem is that minimum wage hikes have led Dunkin' franchisees to raise prices, which has dampened sales, the company said Thursday. Dunkin', which operates very few company-owned restaurants, said it is working to win the "hearts and minds" of its 1,100 franchisees and convince them that adding lower-priced offerings will drive store traffic for value-minded customers.
The company also admitted its speed of service has been slowing, people have been buying its single-serve coffee at supermarkets instead of its stores, and that it hasn't yet gained traction in its mobile ordering to the same degree as Starbucks. 
Dunkin's newer stores in California, Colorado, and Texas are already less profitable than its traditional stores. They have been more expensive to build and operate, while generating returns of 18 to 20 percent, compared to 25 percent from its traditional stores. The company has acknowledged that building out market areas too fast and cannibalizing current stores are rising concerns among investors. Another worry is how Dunkin's financial results will be impacted by new stores, which typically generate outsized sales when first opening but slow down after that. The company said Thursday it will start counting new stores in its measure of comparable sales after 78 weeks, as opposed to 54 weeks, to smooth out sales comparisons.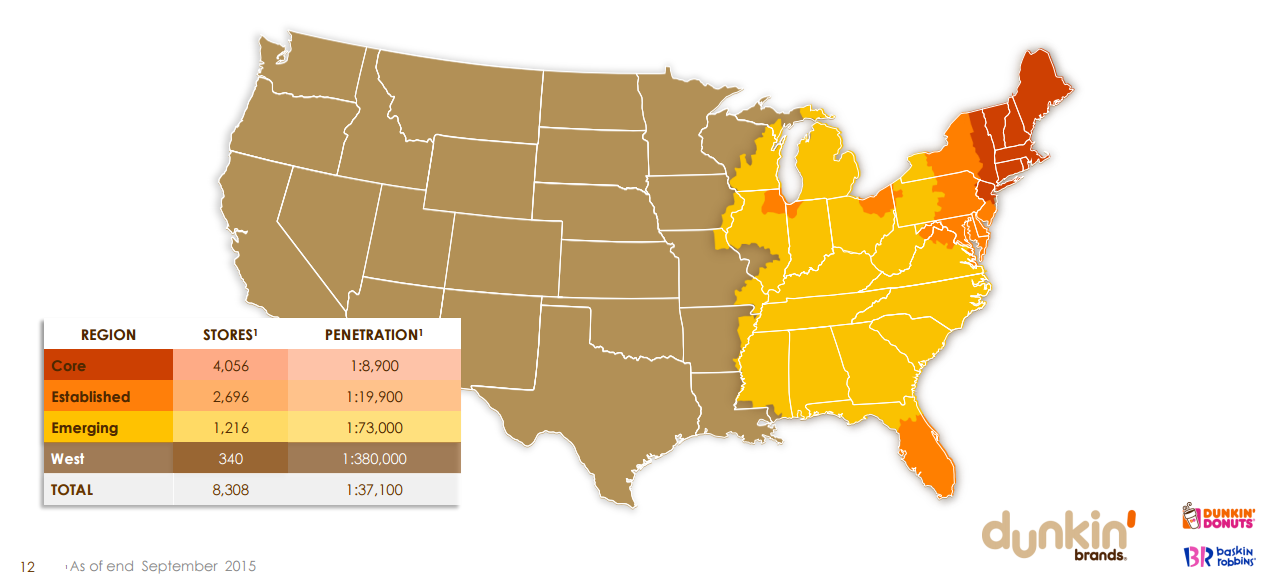 So why not slow down and get things right in current stores before building out more? Dunkin' said Thursday that "the best way of advertising the brand is to have more units" and that it didn't want to pull back on a predetermined pipeline, even if signs point to a traffic slowdown. The donut chain may want to rethink that approach, before it digs itself into an even deeper hole.
This column does not necessarily reflect the opinion of Bloomberg LP and its owners.
To contact the author of this story:
Shelly Banjo in New York at sbanjo@bloomberg.net
To contact the editor responsible for this story:
Mark Gongloff at mgongloff1@bloomberg.net