The world's largest search engine and the world's largest online retailer are letting the sunshine in. In their latest annual earnings reports, Amazon and Google offered investors a first-time look at the profitability of their business segments -- which had long been opaque, and objects of fascination.
Would Google's profits be higher if it weren't for all of its spending on moonshot projects such as Google Fiber and Google X? How much of Amazon's growth could be chalked up to its thriving cloud business, Amazon Web Services?
Now we know.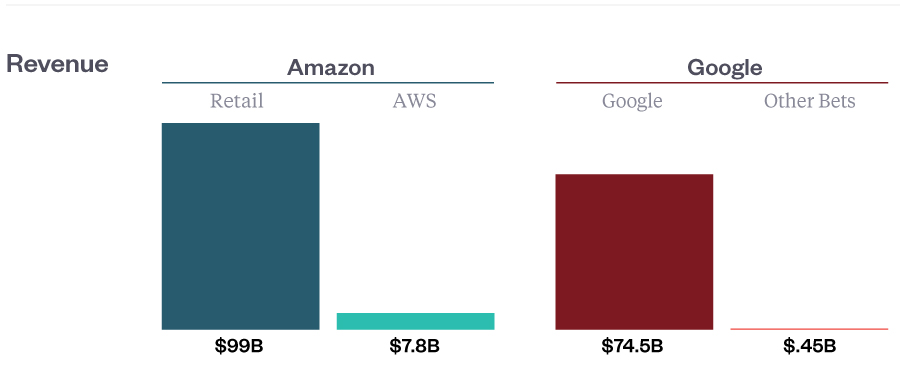 When Google isn't bogged down by what it classifies as "other bets" -- Google Fiber, Calico, Nest, Verily (formerly Google Life Sciences), Google Ventures, Google Capital, Google X -- its core businesses like search, advertising, YouTube and Android are even more profitable than previously believed.
Amazon Web Services is growing a lot faster than its retail segment. The cloud service contributes only 7 percent of Amazon's sales, but it made up 41 percent of its operating profit in 2015. 

These disclosures give investors more insight into the companies, but they also allow Google and Amazon to push flattering narratives.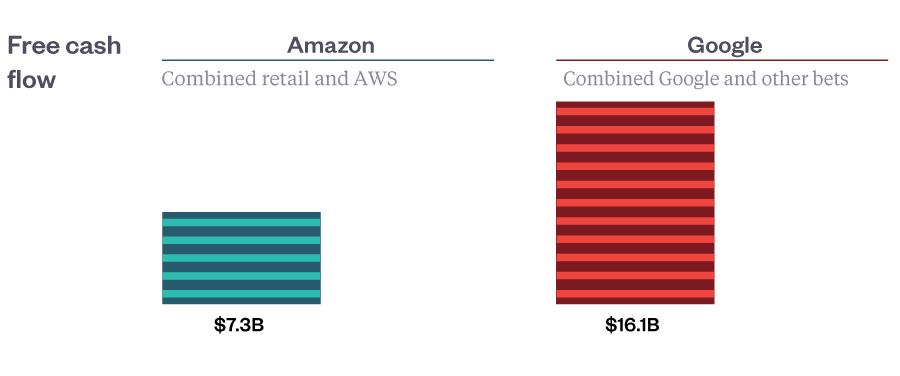 Amazon deftly manages its receipts and payments to help it maintain an enviable cash flow (which it uses, along with a very heavy debt load, to fund new services -- all of which contribute to the company's weak profitability).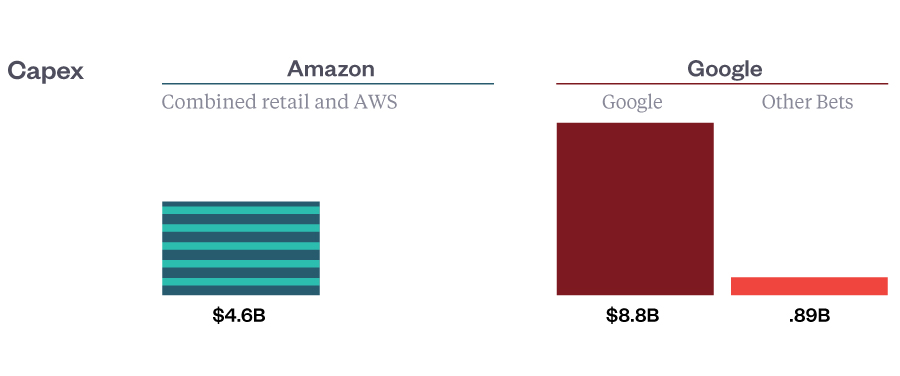 Google successfully shrunk its capital expenditures in 2015, in order to show investors that it could be more disciplined around costs. During Google's earnings call yesterday, its chief financial officer, Ruth Porat, emphasized that the "vast majority of capex supports" Google's core business rather than "other bets" (and Google is spending that money on real estate, server farms and technology upgrades).
Most of Amazon's capital expenditures are going into technology infrastructure it's deploying in its fast-growing cloud business.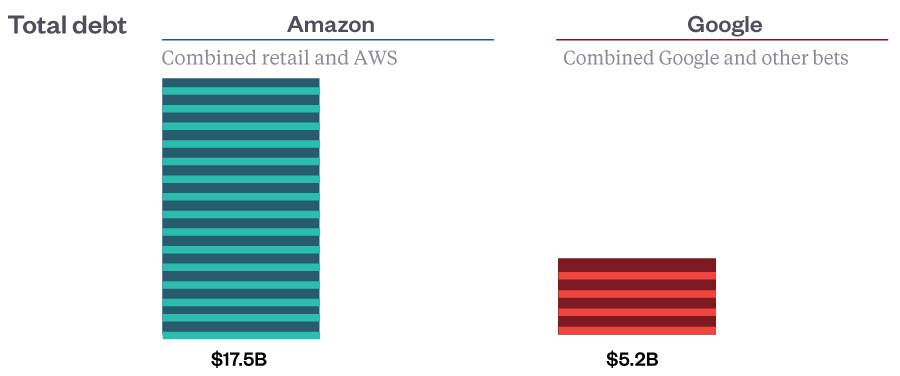 The difference between these two tech titans comes down to profits. Thanks to huge margins, as well as tempered spending, Alphabet is now ranked by the stock market as the world's most valuable company. Amazon's strategy has long been to forgo current profits in exchange for growth. But if it wants to snare an Alphabet-sized valuation it's going to have to continue focusing on its bottom line.
Sources: Bloomberg, company filings
This column does not necessarily reflect the opinion of Bloomberg LP and its owners.
To contact the author of this story:
Rani Molla in New York at rmolla2@bloomberg.net
To contact the editor responsible for this story:
Timothy L. O'Brien at tobrien46@bloomberg.net