Resurrections don't always take. In the early days of 2016, the best stock in the beaten-down Nasdaq Biotech Index had been the second-worst performer of 2015. That comeback story ended on Monday.  
Drugmaker Zafgen fell 79 percent in 2015 after two patients died of blood clots in their lungs while in a clinical trial of its weight-loss drug beloranib. Though it's unclear the drug caused the clots, the FDA halted the trial. But a new year gave new hope; the company gained as much as 84 percent last Wednesday after publishing positive weight-loss data from the trial, stoking hopes that the FDA might restart the approval process. That revival was interrupted on Monday by a report from short seller Kerrisdale Capital, which announced a short position and stoked fears that beloranib is too dangerous. Shares fell more than 10 percent on Monday.
Short sellers are transparently biased, but this one makes a point: Beloranib is a risky bet. 
There's certainly a need for such a drug. Prader-Willi syndrome, the rare genetic disease beloranib aims to treat, causes insatiable appetite, massive weight gain and dangerous overeating. It has a high death rate, usually related to obesity and its complications. 
Beloranib appears to work; patients on the highest dose of the drug lost 5.3 percent of their body weight, on average, over the course of the trial. Patients on the placebo gained 4.2 percent. The company also reported a decline in dangerous overeating activity. The drug may be helpful in other types of obesity, as well. 
Approval for treatment of a rare disease such as Prader-Willi alone would let beloranib command high pricing and make it a potential blockbuster; other approvals would be gravy. That's why the company's shares were above $50 at one point last year, compared to less than $8 now. And there is still tantalizing upside. 
The issue here, which Kerrisdale highlights, is the implicit trade-off. Is a 5 percent weight loss worth a possible earlier death? And can the FDA justify putting more people at risk in order to find out?  
Kerrisdale argues forcefully that increasing the risk of death for a modest weight loss "is a monumentally bad bargain." The short seller, led by Sahm Adrangi, has a flair for the dramatic; it teased the report with a tweet on Friday that did everything but name Zafgen, following a hype-generating playbook it's used before.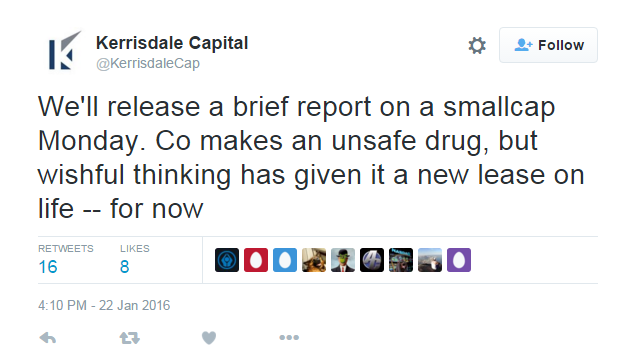 Zafgen's other problem is uncertainty. It simply doesn't know if or why the drug might cause clots. It may not; the company's chief medical officer has said it has no evidence the drug stimulates clotting. Still, seven patients had non-fatal clotting events in addition to two that died. There were no clotting events or deaths for those that took the placebo.
Zafgen said it will figure out a strategy to keep a closer eye on potential clotting or other negative drug effects in patients. But as Kerrisdale points out, the company increased scrutiny in October after the first patient died, and a second one still died months later.
Zafgen has some relatively neutral supporters. Analysts at RBC and FBR raised their view of the stock and its chances of approval in the aftermath of the positive weight-loss data. RBC's Simon Simeonidis tripled his price target. Even SunTrust analyst Edward Nash, who advises investors to wait on the sidelines for more information, saw the new data as impressive.
And there is the fact that the disease has a 3 percent-per-year death rate on its own, and no real treatment options. That means the FDA may be willing to accept some risk and figure out a path forward for Zafgen. 
Beloranib isn't in the grave. But until there is a good account of why these deaths took place, or a much better plan than watching patients more closely, the drug has one foot in it. 
This column does not necessarily reflect the opinion of Bloomberg LP and its owners.
To contact the author of this story:
Max Nisen in New York at mnisen@bloomberg.net
To contact the editor responsible for this story:
Mark Gongloff at mgongloff1@bloomberg.net