Johnson & Johnson's fourth-quarter earnings update on Tuesday was less a showcase for its (pretty good) numbers than an organized forum for analysts to badger executives about its M&A plans. 
That tends to happen when a company is sitting on nearly $39 billion in cash and short-term investments. J&J won't stay on the sidelines this year. It pledged to be active and expects half of its growth to come from M&A. A struggling device business might seem the most obvious candidate, but the company might double down on its booming pharmaceutical business instead.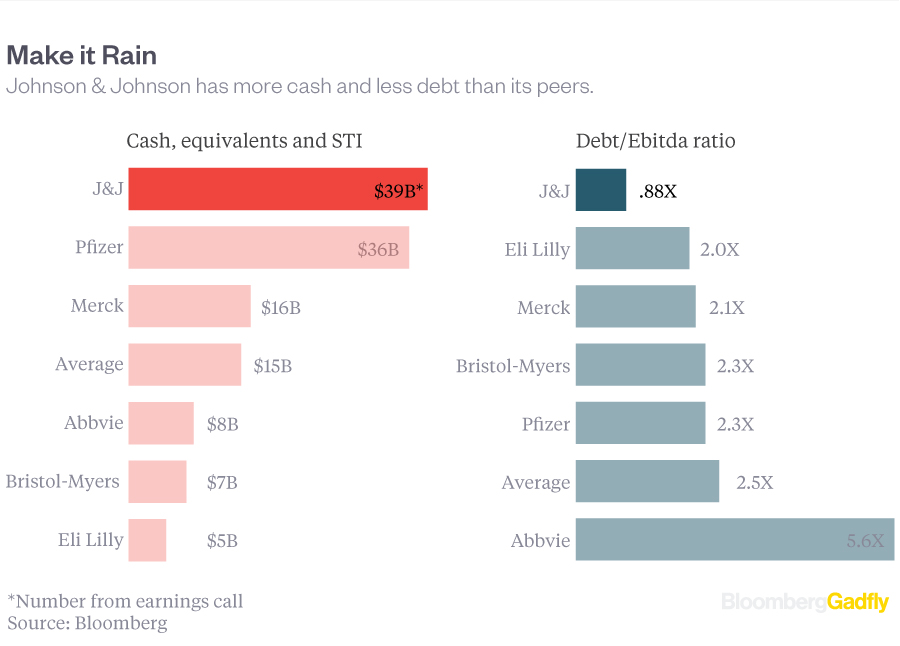 Asked directly about his sector preferences on the earnings call, Johnson & Johnson CEO Alex Gorsky said diplomatically that he saw opportunities in all three businesses. He also mentioned that valuations in 2015 were "premium priced," which may have contributed to the company sitting things out even as the rest of the industry went deal crazy: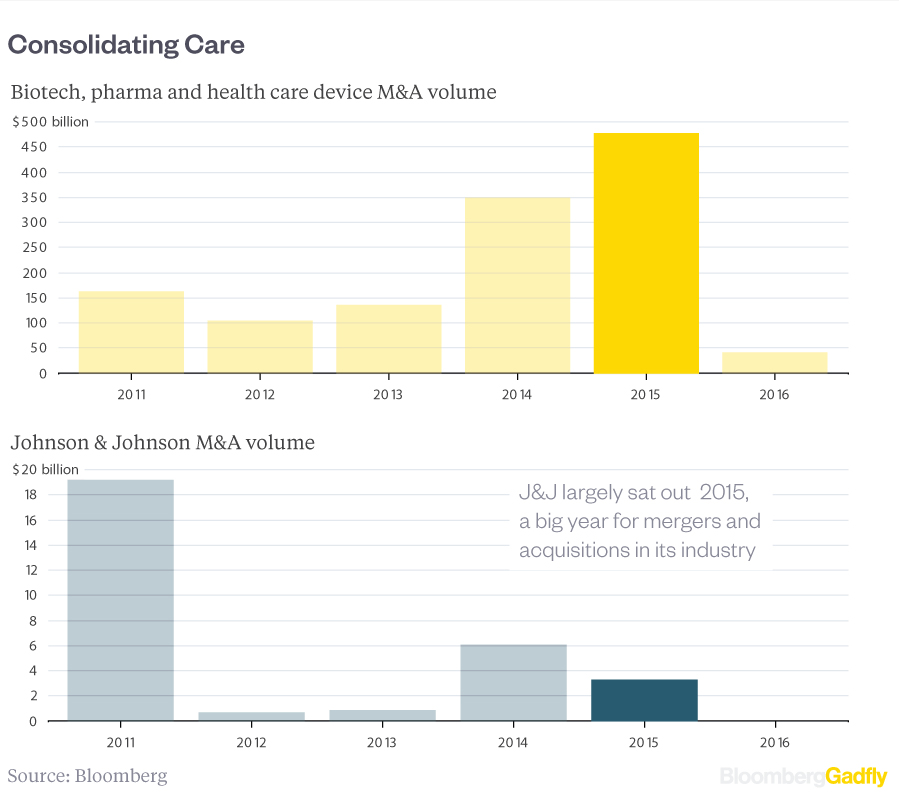 Takeover valuations in biotech and pharma soared last year. According to Bloomberg data, the median Ebitda multiple for targets was 19.59, calculated from trailing 12 month Ebitda. Many early stage biotechs don't have products for sale yet, creating some extremely high deal multiples. But comparing deals within the sector alone gives a sense of how pricey things got. 
The recent slump in biotech stocks might mean a return to sanity, making deals in the sector more attractive. After five years of outperformance, the Nasdaq Biotech Index had a bad 2015 and a worse start to 2016, putting the sector well behind the broader market and even further behind device companies: 
Small biotechs with no marketed products and early stage drug candidates have been hurt particularly badly.
Those are the sort of companies J&J is more inclined to acquire. Gorsky said he preferred smaller, more straightforward "tuck-ins" in both pharma and devices, with the caveat that the right big deal isn't off the table. He added that the company's model for pharma acquisitions in particular focuses on very early drug candidates. 
That preference for "tuck-ins" might make a consumer deal less likely. In the drug industry, those deals tend to focus on whole units of a larger company or portfolios of brands. 
The company's pharmaceutical business is booming, but its consumer and device businesses are struggling in comparison. The company might hold off on acquisitions in those areas until they're on more solid footing. Gorsky mentioned that underperformance due to market forces wouldn't stop him from pursuing M&A in a given sector, but if it's a question of execution, "we want to make sure we've got the knitting where we need it before we add on to that particular opportunity."  
The company just announced a significant restructuring of the device business, including layoffs and a shift in product focus. This may slim down the segment, free up cash and suggest areas for future investment, but getting to a point of stability seems like exactly the sort of incomplete knitting that would lead the company to hold off on a device deal for now. 
The consumer business is still recovering from a quality issues. J&J's over-the-counter products are only now returning to shelves in full, and the company may want to see all of them in place before adding new brands. 
Excluding foreign exchange, pharma sales grew 4.2 percent last year, substantially outpacing the device and consumer businesses. The company created or expanded the market for several drugs, which should continue this year. But a biosimilar version of J&J's best selling drug Remicade has already been approved in Europe. That will erode sales, and a U.S. version looms in 2018 at the latest. New competitors for rapidly growing immune drug Stelara are expected to hit the market as well. So as always, the pipeline needs stocking. 
If a reset in biotech valuations kicks off a buying spree, count on Johnson & Johnson to be in the thick of it. 
This column does not necessarily reflect the opinion of Bloomberg LP and its owners.
To contact the authors of this story:
Max Nisen in New York at mnisen@bloomberg.net
Rani Molla in New York at rmolla2@bloomberg.net
To contact the editor responsible for this story:
Daniel Niemi at dniemi1@bloomberg.net