Medicines Co. is exploring a sale, and the drugmaker's timing is debatable.
The $2.3 billion company surged the most in months after Bloomberg News reported it was working with advisers and reaching out to potential buyers. But Wednesday's climb wasn't enough to reverse what has otherwise been a slumping start for the stock in 2016. 
The company -- like many of its biotechnology peers -- has had a rough few months. The once high-flying sector has experienced a selloff amid fears of tighter drug-price regulation and a growing show-me-the-money mentality among investors looking for results to back up high stock prices. Indeed, before news of the sale, Medicines Co. was trading near its lowest price since the last big market selloff back in August.
The only biotechnology companies that should be cashing out right now are those that need money to keep developing new drugs. Medicines Co. doesn't fall into that camp. Just last month, it agreed to sell three hemostasis drugs -- which help control bleeding -- to Mallinckrodt for as much as $410 million. That transaction helped shore up the balance sheet (which already included more than $500 million in cash) and should have eliminated the need for financing in 2016, Jessica Frye of JPMorgan wrote at the time.
To be fair, Medicines Co.'s biggest source of revenue -- the blood thinner Angiomax -- is shrinking as the drug faces generic competition. The company is set to report a more than 50 percent drop in total revenue for 2015, according to analysts' estimates. And that's been part of the reason for the stock's ups and downs over the past year.  
But Medicines Co. also has a lot of opportunities to create more value for its shareholders this year. Selling off those assets to Mallinckrodt was just the first step in doubling down on what analysts view as a promising pipeline. This year will bring several pivotal data reveals for treatments including the antibiotic Carbavance, an intravenous anesthetic, and an injected drug that treats "bad" cholesterol. The last one, known as a PCSK9 inhibitor and licensed from Alnylam Pharmaceuticals, could be particularly fruitful, with Jefferies analyst Biren Amin estimating earlier this month it could bring in $1.2 billion in risk-adjusted sales by 2025.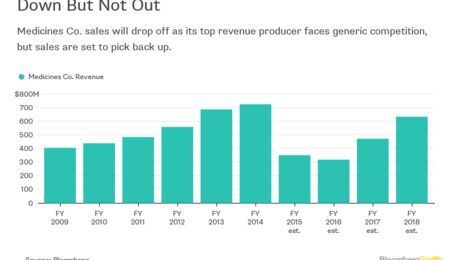 Plus, Medicines Co. may yet reap more out of Angiomax. In November, an appeals court agreed to rehear the company's patent case against Pfizer's Hospira unit. Medicines Co. had lost a previous legal bout over the issue, allowing Hospira to launch a generic version of Angiomax. The best case scenario is a rebound in Angiomax sales and the right to collect damages, according to JPMorgan's Fye.
Medicines Co. shares lost some of Wednesday's gains after Reuters reported that potential bidders were mainly interested in buying assets, though the talks could lead to a sale of the whole company. But how might a sale stack up versus staying as a stand-alone?
As of Tuesday, analysts were estimating an almost 50 percent rise in Medicines Co.'s shares over the next year.
If it can find a buyer willing to pay that steep of a premium (or really a premium to that potential gain), have at it.   But if not, Medicines Co. may be better off waiting out the biotech storm on its own.
This column does not necessarily reflect the opinion of Bloomberg LP and its owners.
To contact the author of this story:
Brooke Sutherland in New York at bsutherland7@bloomberg.net
To contact the editor responsible for this story:
Beth Williams at bewilliams@bloomberg.net