Italy's Banking Fiasco
Intesa should consider a takeover of Monte Paschi -- before regulators force a more costly solution on the whole industry
By
The new year is less than three weeks old, and Italy's banking crisis is back in full swing. At the epicenter is Banca Monte dei Paschi di Siena, known for its murky use of derivatives and later bailout.
The world's oldest bank has the highest proportion of bad debts relative to its assets in the industry, and is Europe's worst performing bank stock this year.
Monte Paschi's peers may need to find a way to rescue it -- but it will be painful.
The latest act in Italy's banking crisis was opened by the country's own financial regulators, who approved a plan to rescue four relatively small lenders in November. The move wiped out thousands of junior bondholders, while saving depositors and holders of the senior debt -- and prompted a national furor.
The Italian authorities have also so far failed to create a bad bank that doesn't fall foul of EU state aid rules (something Ireland and Spain both managed). This matters because Italy's lenders had a record 201 billion euros of bad loans in November -- and Monte Paschi would be the biggest beneficiary of any bad bank.
The European Central Bank has fanned the flames too: a probe by the Frankfurt-based regulator of the Italian banks' processes for recording and dealing with bad debts -- confirmed by some lenders on Tuesday -- does little to reassure investors.
It's less than two months since Paschi said its capital exceeded the ECB's requirements, an exercise that was supposed to put to rest any investor concerns about the quality of lenders' balance sheets.
The result of all this is a wave of ill-will toward the industry, and there are troubling signs depositor money is on the move. Banca Mediolanum, an asset manager that also takes deposits, saw December net inflows of 956 million euros, its best ever month. Fineco, another asset manager that provides banking services, saw new deposits of 1.9 billion euros last year, 58 percent more than the previous year.
Monte Paschi CEO Fabrizio Viola said on Tuesday the level of deposit withdrawals at his bank is still less than in February 2013, when it received a 4 billion-euro bailout. The bank's capital position surpasses ECB requirements and liquidity at the year-end was very positive, he added.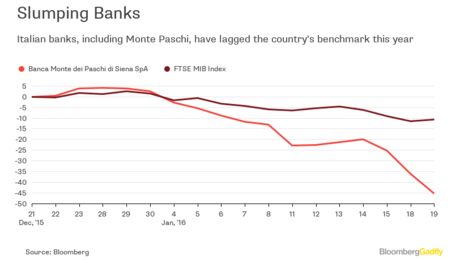 Yet investors are scurrying for safety. Bank of Italy data released this week show retail investors' holdings of Italian bank bonds fell by more than a quarter, or 75 billion euros, in the year ended September, according to Bloomberg News. Meanwhile, the FTSE Italia All-Share Banks Index is down 17.7 percent so far this year, outpacing the 12.2 percent decline in the broader FTSE MIB index of Italian stocks.
Monte Paschi is doing even worse -- its stock is down more than 50 percent so far this year. The bank's 5 percent bonds due in 2020 have fallen to just 59 cents on the euro from about 94 cents on Dec. 31, according to Bloomberg data.

Bloomberg Intelligence's Jonathan Tyce points out that after raising $8.7 billion in two stock offerings since June 2014, Monte Paschi's market value today is less than 30 percent of all that equity it raised.
While the bank's management says it's sound, the risk of a deeper downturn in sentiment can't be ruled out. Monte Paschi's peers, though, can prevent that from happening -- by doing a deal.
Taking over a failed Monte Paschi, should it ever come to that, would be costly. The industry would be forced to pitch in for a rescue and get little in return. But a brave bank with a solid balance sheet could step in now at the right price and get at least something to show for its money.
Intesa Sanpaolo could fit the bill. It looks relatively robust with a Tier 1 capital ratio of 14.2 percent. Its market capitalization at 45.6 billion euros means it's big enough to digest an acquisition too. Intesa was also one of several banks that said this week that the ECB hasn't asked it for more information on bad loans.
It would be a tough sell to an acquiring bank's investors, and any deal would require the support, if not an active nudge, from regulators. But Monte Paschi would come with some positives, including one of the largest retail customer bases of any Italian bank -- it claims to have 6 million clients -- and rising profitability, excluding provisions for bad debt.
Intesa CEO Carlo Messina on Wednesday ruled out buying Monte Paschi. He said in a Bloomberg Television interview he is under "absolutely, no pressure from the government" to take over the lender. Those positions may both have to change, especially if what Messina called the "panic selling" in Italian stocks continues.
Investors -- and executives -- might well balk at the thought of taking on one of Italian banking's most troubled financial institutions. But at the right price, it could be better to buy Monte Paschi now -- and get your hands on the best bits -- instead of waiting to be hit by any possible contagion.
(
Updates to add Intesa CEO's comment ruling out a takeover of Monte Paschi.
)
To contact the author of this story:
Duncan Mavin in London at dmavin@bloomberg.net
To contact the editor responsible for this story:
Edward Evans at eevans3@bloomberg.net
Before it's here, it's on the Bloomberg Terminal.
LEARN MORE