Cheap fuel has lifted airlines' earnings but increases in labor costs could bring them back to earth. With jet fuel at its lowest price since 2003, employee wages and benefits have become the largest single operating expense for airlines. Many airlines will also have to re-negotiate labor contracts this year, and employees are going to want to be rewarded for their companies' successes.
Delta, which reported record fourth quarter earnings today, saw its labor costs increase by 9 percent compared with the same quarter in 2014, while fuel costs fell 65 percent.
A number of other factors will affect airlines' operating costs, of course, especially how effectively they hedge oil prices. Delta plans to pay $1.20 to $1.25 a gallon for jet fuel in the first quarter of 2016, down from $1.85 a gallon in last year's fourth quarter. 
As noted in the chart below, fuel costs as a share of revenue are similar across all airlines, while wages and benefits have wider variations. As of the third quarter of last year, Air Canada had the industry's lowest labor costs relative to revenue (15 percent); Southwest had the highest (32 percent).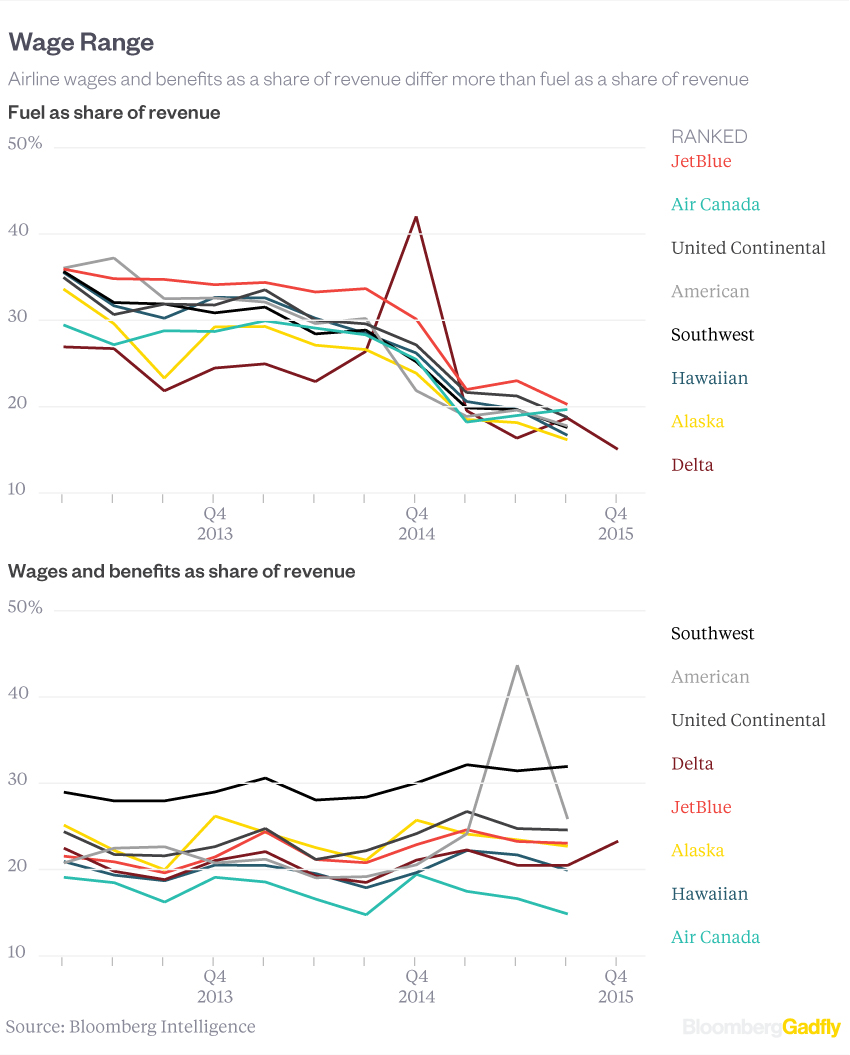 Any future wage increases will also undercut cost savings on fuel. Last July, Delta pilots rejected a contract that would have watered down profit-sharing provisions in exchange for higher salaries -- but the pilots have recently resumed talks. Most of Alaska Airlines contracts can't be amended until 2018, according to Credit Suisse, so its labor costs are unlikely to change before then. American Airlines labor costs are also likely to remain stable, since it recently signed five-year contracts with pilots and flight attendants. United Airlines and Southwest's future labor costs are less certain because both airlines have multiple contracts up for re-negotiation.
For now, Alaska Airlines boasts the industry's most enviable operating margin:
This column does not necessarily reflect the opinion of Bloomberg LP and its owners.
To contact the author of this story:
Rani Molla in New York at rmolla2@bloomberg.net
To contact the editor responsible for this story:
Timothy L. O'Brien at tobrien46@bloomberg.net