In a fight with pharmacy benefit manager Express Scripts, insurance giant Anthem is throwing its weight around.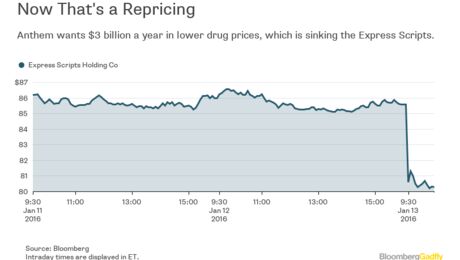 Express Scripts has a 10-year contract, expiring in 2019, to help cut drug prices for the people Anthem insures. The contract lets Anthem periodically review what it pays for drugs and negotiate new pricing terms. The companies had been talking quietly about adjusting those terms.
But at the JPMorgan health care conference on Tuesday, Anthem CEO Joe Swedish threw a wrench in those talks. He claimed that Express Scripts is overcharging Anthem by more than $3 billion a year for drugs. PBMs make money by negotiating lower drug prices from manufacturers on behalf of their clients and keeping a portion of that discount. Anthem wants an extra $3 billion per year of those discounts for itself.
Cutting annual drug costs by $3 billion would be a boon to Anthem and its clients, obviously. But it could carve 65 cents per share from Express Scripts' EPS this year, according to Evercore analyst Ross Muken. That represents as much as 10 percent of the company's 2016 EPS estimate. Express Scripts shares were down 6.4 percent on Wednesday on the news Anthem had changed its game to hardball.
Swedish said the price negotiation has nothing to do with any thought of extending its contract with Express Scripts. That raises the idea that Anthem will let the deal expire and look elsewhere. He said the language of the contract entitled Anthem to better drug pricing as of December 1st of last year and has never gotten an acceptable offer from Express Scripts.
Anthem is Express Scripts' largest customer, accounting for more than $14 billion in revenue and about 14 percent of total sales in 2014. If the insurer's proposed $48 billion combination with Cigna goes through, then it will be substantially bigger, giving it even more leverage.
If Anthem leaves Express Scripts, then it would most likely make a deal with CVS, the second-biggest PBM after Express Scripts and that company's bitterest rival. It's also possible that a combined Anthem and Cigna might try to build an in-house PBM. Matching the capabilities of an Express Scripts would be a major lift, though, and it's not clear that such a venture would be as effective at negotiating drug price discounts. Still, Swedish noted Anthem already handles some PBM services on its own. And Cigna's David Cordani has previously mentioned that his company has been growing its own PBM business. 
Express Scripts can scrap, too, though. The company has said it believes the deal doesn't mandate specific price adjustments and that Anthem is not entitled to $3 billion in annual savings. 
And the deal's price negotiation terms are more two-sided than Anthem wants them to be. The language of the contract does give Anthem the ability to propose new pricing, but requires that Express Scripts sign off. The PBM could also launch a legal battle, which could substantially prolong Anthem's run of overpaying for drugs. 
But at the end of the day, Express Scripts is backed into a corner. To continue to go to the mat on pricing would hurt the chances of a contract extension. There isn't a spare $14 billion in sales waiting to be scooped up elsewhere, especially if there are only three major health insurers left after a mega-merger frenzy. UnitedHealth has an in-house PBM. A combined Aetna and Humana have talked about having their own. 
Express Scripts is going to need to make concessions. Maybe not the full $3 billion, a number that may be a negotiating position from Anthem. But staying on Anthem's good side seems worth a big price cut, even if it hurts. 
This column does not necessarily reflect the opinion of Bloomberg LP and its owners.
To contact the author of this story:
Max Nisen in New York at mnisen@bloomberg.net
To contact the editor responsible for this story:
Mark Gongloff at mgongloff1@bloomberg.net