Well, that didn't take long.
Macy's sales got creamed during the recent holidays, causing the department store to lower its fourth-quarter and full-year sales guidance on Wednesday and usher in big cost-cutting measures.
It said it would fire or relocate as many as 4,500 workers, close 40 stores, and shutter a call center, bringing annual savings of about $400 million, beginning in 2016.
More telling, however, was Macy's decision to cave to activist investors who have urged the department store chain to make more money from its valuable real estate. Executives had long argued against the strategy, but it gained traction after a July presentation by Jeff Smith, CEO of activist investor Starboard Value, who called for the company to form a REIT. 
Activist investors are definitely having a moment, from meddling with the salt in Olive Garden's pasta water to ousting executives that aren't willing to follow their advice. It's understandable Macy's CEO Terry Lundgren would give Starboard what it wants before the activist can build on its 1 percent stake (as of September) and start calling for his ouster.
In November, Macy's said it wouldn't form a REIT because it didn't create enough value for shareholders but would continue to explore other real estate options. Just two months later,  the company said it had hired real estate investment bank Eastdil Secured to work with Credit Suisse and Goldman Sachs to form "partnerships or joint ventures" for the company's mall-based properties, along with its once-sacred flagship stores in San Francisco, Chicago, Minneapolis, and Manhattan -- the latter of which Starboard said could fetch $4 billion alone. Macy's also said Wednesday it will hire a senior-level real estate executive to oversee and manage the real estate ventures. 
The decision follows similar moves by Saks and Lord & Taylor operator Hudson's Bay, which pushed some of its real estate assets into a joint venture with mall operator Simon Property Group. 
The question is whether the move will go far enough to assuage Starboard.
Starboard's Smith said in July he believed Macy's stock, trading around $66 at the time, was worth $125. He said splitting off Macy's flagship locations and its 400 or so best mall properties into a separate company would unlock $21 billion of its $29 billion in enterprise value.
He also said Macy's could boost operating margins by squeezing $500 million from its current operations, without going into the mechanics of how exactly to cut those costs.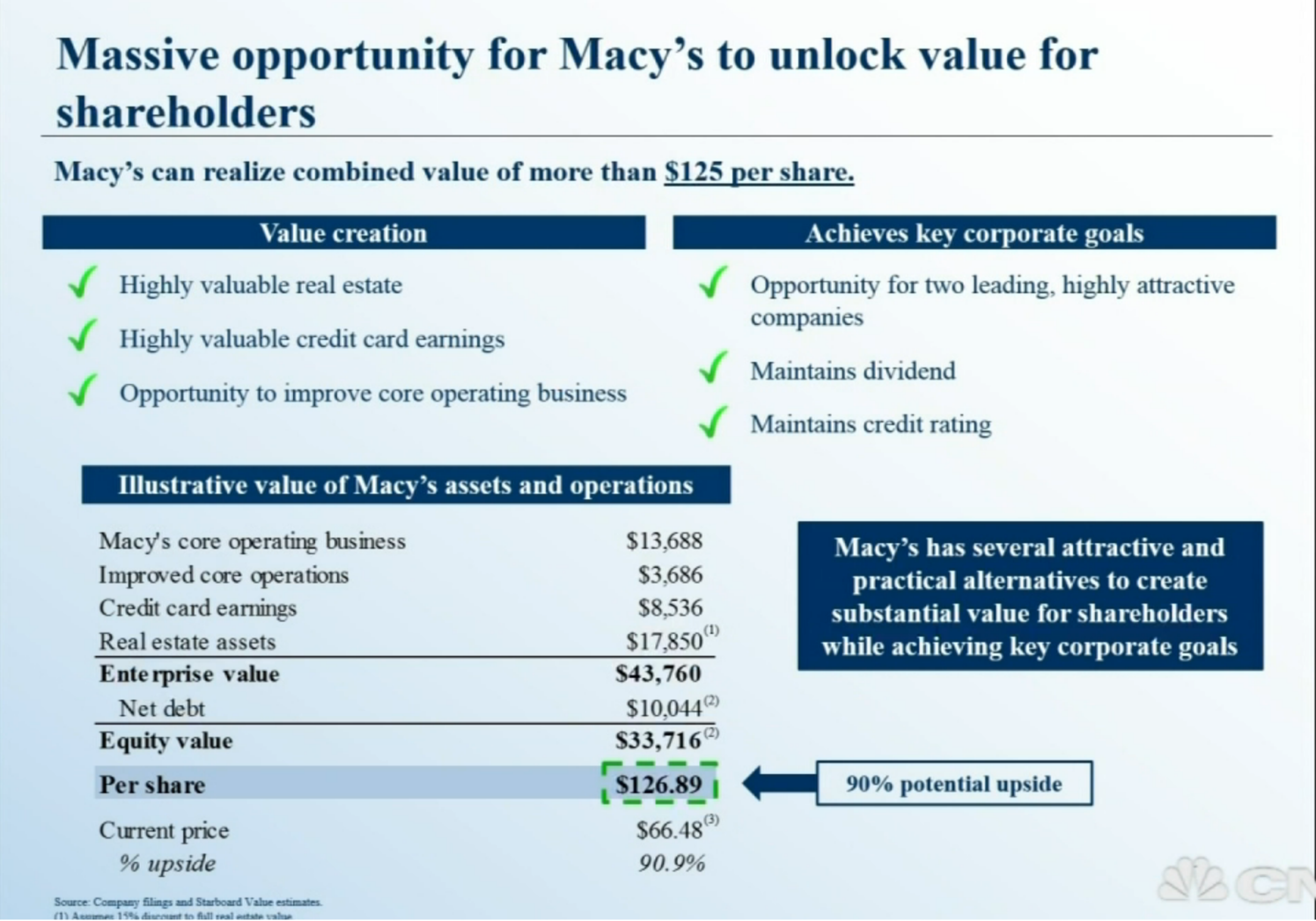 Macy's enterprise value is now down to $19 billion, according to data compiled by Bloomberg. The company's shares closed at $36 on Wednesday, making Macy's worth around $11 billion by market capitalization -- or roughly 30 percent less than what it paid to acquire May Department Stores back in 2005, a merger that transformed it into America's largest department store.
Shares rose by as much as 4 percent in after-hours trading Wednesday on the news of Macy's store closures and layoffs, two of Wall Street's favorite pastimes.
But Macy's is going to have to do a whole lot more to keep in the good graces of its investors and get Starboard's target off its back.
It still plans to build another 100 or so stores in the next two years -- 50 of its new, "Backstage" off-price stores, 40 Blue Mercury makeup boutiques, and a handful of  traditional Macy's and Bloomingdale's locations. Shuttering 40 stores this year won't make up for the fact that there are way too many Macy's stores to match its declining sales numbers. 
The fact that Macy's is turning to selling real estate, after years of trashing the idea, just goes to show how desperate the company's executives have become to improve sales and appease investors. 
Correction: An earlier version of this story incorrectly said Macy's flagship location in Manhattan might fetch $4 million. The correct figure is $4 billion. 
This column does not necessarily reflect the opinion of Bloomberg LP and its owners.
To contact the author of this story:
Shelly Banjo in New York at sbanjo@bloomberg.net
To contact the editor responsible for this story:
Mark Gongloff at mgongloff1@bloomberg.net