Banks are known for offering to lend you an umbrella when it isn't raining. Investors should think about Pioneer Natural Resources' plan to sell up to $1.6 billion worth of new shares in the same way.
Pioneer is tapping the public equity market for cash rather than borrowing from banks, of course, but there is a parallel nonetheless. Pioneer is raising the money to fund its spending budget for 2016. As so often with exploration and production companies -- especially with oil prices slumping again on Wednesday -- Pioneer's drilling plans exceed its operating cash flow. James Sullivan at Alembic Global Advisors estimates a shortfall of around $1 billion across this year and next.
If Pioneer's offer is successful -- and the fact that the company has upsized it suggests it will be -- then that is great for the company but potentially worrying for the broader oil market.
For why, cast your mind back to last spring. The oil crash was taking a hiatus, E&P stocks enjoyed a brief rally, and the companies took advantage by selling shares. A lot of shares.
That not only enabled the sector to weather the next storm in oil markets, it likely contributed to it: New funding meant E&P companies could keep drilling, making U.S. supply more resilient to low prices than was expected, extending the glut.
The renewed pressure on oil closed the equity window by the fall. That's why the sight of Pioneer coming back to the market is potentially so worrying for oil bulls and for any buyers hoping to pick up distressed assets after a relatively quiet 2015 for oil M&A. 
Here's why they probably shouldn't fret too much (at least not about this): Pioneer can likely raise more money because, relative to many of its peers, it doesn't need it as badly.
The chart below shows 43 U.S. E&P companies with a market capitalization of more than $500 million, depicting how levered their balance sheets were at the end of their latest quarter and how that leverage had changed over the prior four quarters.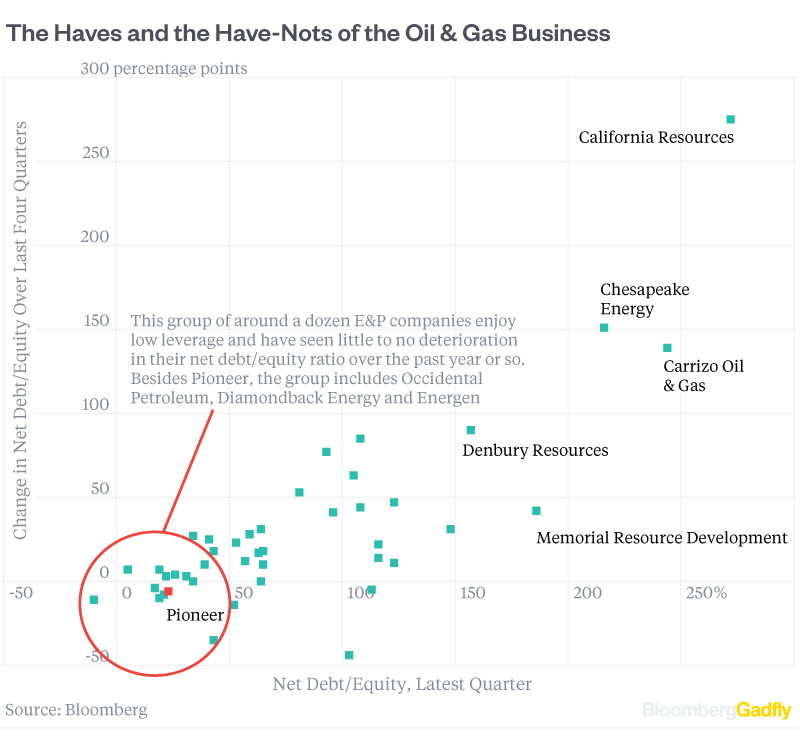 Essentially, you want to be in the bottom left -- low leverage and little or no deterioration in the balance sheet -- rather than the upper right's toxic combination of high and rising leverage. In other words, you want to be like Pioneer and a pretty select group clustered around it.
Besides low and stable leverage, Pioneer also stands out for the relatively high certainty of its cash flow over the next two years. More than four-fifths of its oil production this year is hedged at an average price of around $60 a barrel -- more than 50 percent higher than the futures curve -- according to Citigroup. It is even partly hedged for 2017.
So while Pioneer may open a path for a few followers, a repeat of last year's shale share sale spree looks unlikely. 
Leverage graphic by Rani Molla
This column does not necessarily reflect the opinion of Bloomberg LP and its owners.
To contact the author of this story:
Liam Denning in San Francisco at ldenning1@bloomberg.net
To contact the editor responsible for this story:
Mark Gongloff at mgongloff1@bloomberg.net