Just a decade ago, huge leaps in broadband penetration in U.S. homes made it look like the country was headed toward universal, high-speed Internet access. That growth may have plateaued, however, and may reorder how consumers and providers manage and supply Internet access.
Broadband penetration in America dropped significantly for the first time ever this past year, slipping from 70 percent of homes in 2013 to 67 percent today, according to a new study from the Pew Research Center.
Residents using smartphones to access the web have more than offset that decline, causing what Pew calls "advanced Internet access" to increase slightly.  So while overall Internet access hasn't changed much, the composition of usage has.
Smartphones weren't envisioned as the backbone of residential Internet access as recently as a decade or so ago, and heavy demand presents challenges today. Typical smartphone users run into data caps as they increasingly stream video and perform other bandwidth-heavy tasks. Telcos may have to accommodate smartphones users more and more at the expense of their broadband business -- though that switch won't necessarily hurt access providers' bottom lines because they enjoy fatter margins in their wireless businesses.
Companies such as Verizon and AT&T are best-positioned to make the transition from broadband to mobile, since they offer both services. Verizon and AT&T's service margins for wireless are much higher than wireline. For all telcos, broadband still has relatively high margins relative to legacy wireline services like video and voice.
Even so, wireless overall might be a brighter bet going forward than broadband because of more lucrative services that exist in the wireless realm.  Verizon, for example, recently launched Go90, an Internet-based mobile video service, which may encourage younger customers to use more data-heavy services such as streaming video.
Companies such as Comcast and Time Warner Cable -- which don't have mobile offerings and rely on lofty broadband margins to help support the costs of expensive programming-- may be pummeled by waning broadband penetration.
For its part, Comcast has hinted that it might move into the mobile industry. As the chart below demonstrates, rapid shifts in how Americans access the Internet may mean that Comcast will have to hurry up.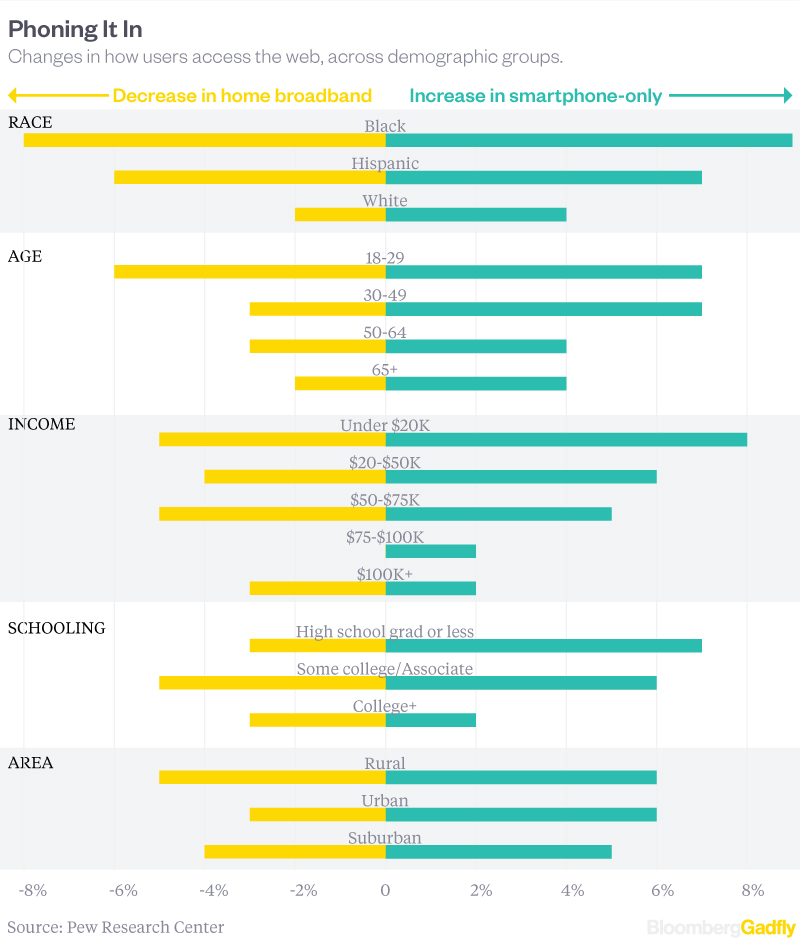 This column does not necessarily reflect the opinion of Bloomberg LP and its owners.
To contact the author of this story:
Rani Molla in New York at rmolla2@bloomberg.net
To contact the editor responsible for this story:
Timothy L. O'Brien at tobrien46@bloomberg.net