Condo Glut
Singapore's Four-Letter Word
Scrapping the ABSD levy could help clear the unsold home backlog.
By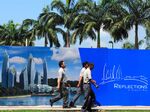 CAPITALAND LTD
+0.01
At Closing, January 19th
UOL GROUP LTD
+0.04
At Closing, January 19th
Singapore is caught between a rock and a hard place. On the one hand, a slowing Chinese economy and sputtering global trade are squeezing growth in the small Asian city-state. On the other hand, the mighty Federal Reserve's sway on global interest rates is causing a sharp jump in the island's benchmark borrowing cost.
There's one -- and perhaps only one -- way for Singapore to wriggle out of the tight spot: scrap "ABSD."
The four-letter acronym stands for additional buyer's stamp duty, a tool the authorities invented in late 2011 when Singapore's property market was being inundated by cheap foreign money. The duty, which has since risen to an onerous 15 percent upfront tax on Chinese and other overseas purchasers 1 , is a big liability for companies like CapitaLand, City Developments and UOL Group, the city's top three developers by market value.  
Already, there are more than 24,000 unsold homes either ready or under planning and construction. During the past one year, developers have managed to sell only about 7,000 new homes. One way to clear the backlog is to let the buyers come. Otherwise, the 8 percent decline in property prices over the past two years could easily spiral out of control.
Smart money is positioning itself for a policy reversal. Out of Singapore's 33 publicly traded real estate companies, as many as five, including Wing Tai, a high-end developer, have reported at least a 10 percent increase in company insiders' stakes. In most recent filings, three other builders, including UOL, have seen a similar increase in institutional investors' shareholdings.
Nomura economist Brian Tan recently told Channel News Asia that should growth come in much lower than expected, it's possible Singapore may start relaxing some of the curbs on property demand. That could become necessary to avoid accidents in the sector. After all, rising borrowing costs don't just affect property buyers. The debt burden is getting bigger for smaller developers, too. If they start dumping their inventory, Singapore's property market may become unstable:
Blunt tools like ABSD were useful once, as an unusual barrier against unconventional money printing by the West. With the U.S. now back to a more traditional monetary regime, the case for Singapore to hold onto its discouraging stamp duties is fast vanishing. It's time to retire the four-letter word.
(
Corrects comments of Nomura economist in sixth paragraph.
)
To contact the author of this story:
Andy Mukherjee in Singapore at amukherjee@bloomberg.net
To contact the editor responsible for this story:
Katrina Nicholas at knicholas2@bloomberg.net
Before it's here, it's on the Bloomberg Terminal.
LEARN MORE