For those who've grown used to a decade in which mining and energy companies bestrode the world, the current malaise in commodities markets can feel like the end times. At the start of 2011, 14 out of 53 companies with market values above $100 billion were in the oil and mining sectors. That club has since expanded to 69 corporates, but only Exxon Mobil, PetroChina, Chevron, Shell and Total are still members.
Back in 2009,  both BHP Billiton and Petrobras were worth more than Apple. Now, Tim Cook could theoretically buy both businesses with net cash and still have money left over to pick up Glencore, Newmont, Barrick Gold, Anglo American and most of Goldcorp.
No one likes to see the value of their investments slashed, but it's worth reflecting that all of this misery is actually a good thing for everyone who's not in the raw materials business. High commodity prices, like ill-designed taxes and higher Federal Reserve interest rates, are ultimately a brake on economic activity.

Take cars. The average automobile in the U.S. contains 394 pounds (179 kilograms) of aluminum, according to consultants Ducker Worldwide. That costs about $266 at current prices, compared with $418 five years ago. The $152 saving doesn't sound like a lot, until you consider that General Motors' total research and development costs of $7.4 billion in 2014 equate to about $747 for each of the 9.9 million vehicles it sold worldwide.
Indeed, look at the history of commodity prices and economic growth and you notice that every time materials prices hit the floor, gross domestic product starts to pick up: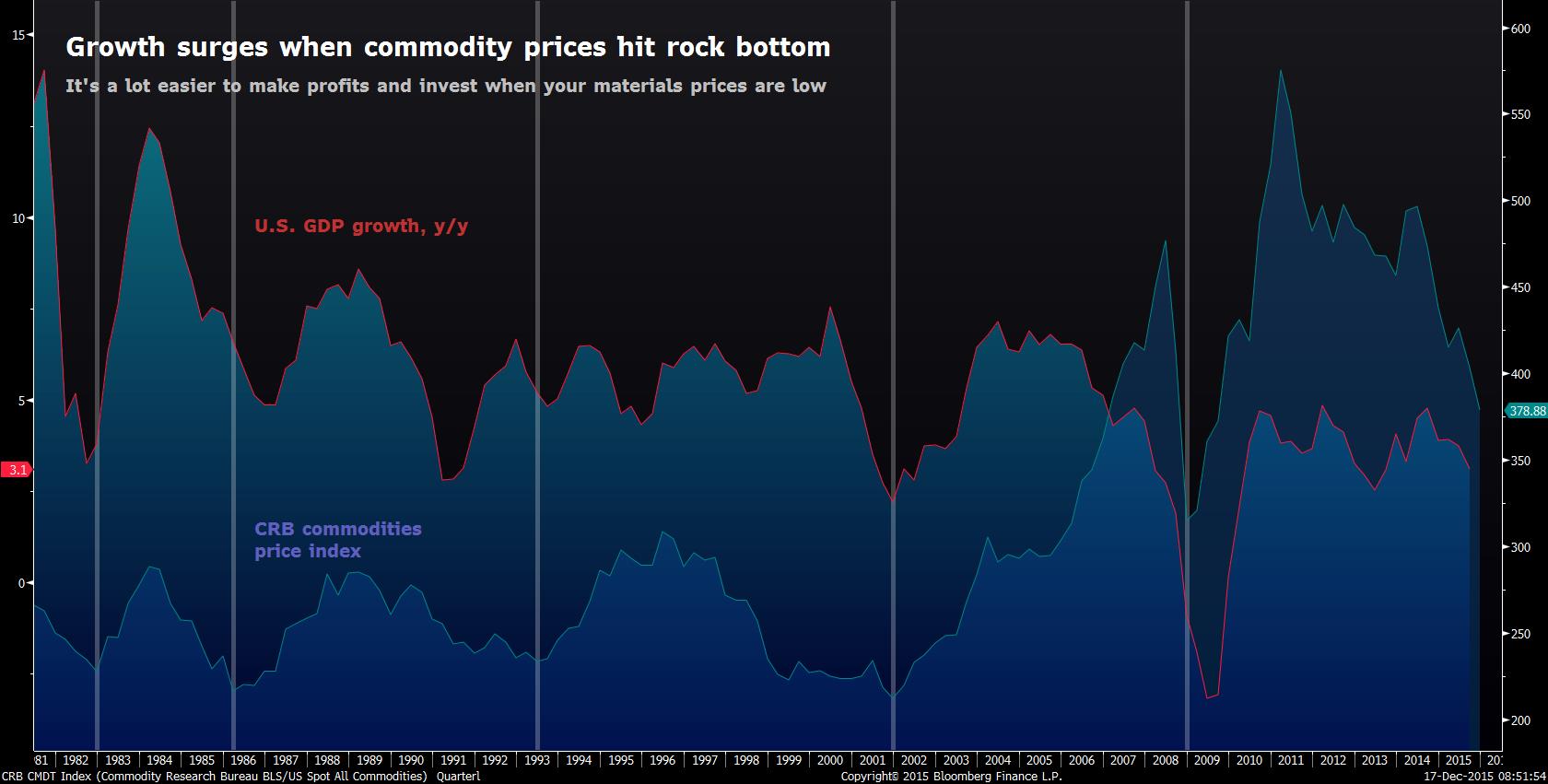 There's both cause and effect here. Lower materials prices certainly make it easier to make a profit, and afford more cash for growth-enhancing investment. But commodity prices are also likely to stop declining the moment a faster pace of economic growth starts to increase demand. Perhaps the current price weakness should be seen not as a promise of future earnings, but a harbinger of collapse?
If cratering commodity prices are really signaling a worldwide demand crisis, Janet Yellen seems not to have noticed. "Much of the recent softness in inflation is due to transitory factors that we expect to abate over time," she said in a speech in Washington earlier today explaining the Fed's first rate rise in nine years.
Who will be the winners from a world of lower commodity prices? Energy and materials account for more than half of the cost base for car manufacturers, food producers, chemicals plants and smelters, according to a 2014 Dutch study. The first two sectors, with their less commoditized products sold to consumers rather than businesses, seem best placed to benefit.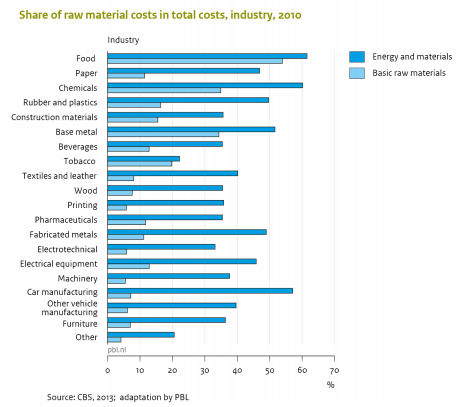 It's good news for airlines too: fuel will account for about 21 percent of carriers' costs next year, down from 32 percent in 2014, according to the International Air Transport Association. Profits to upstream oil companies from selling jet fuel will decline by $10 billion this year, IATA said last week, while net income for airlines will be about $16 billion higher. That's a more-or-less direct transfer of benefits from the oil and gas industry, which employs 185,000 people in the U.S., to aviation, which accounts for 454,000 jobs.
Even parts of the economy that have grown fat on higher commodities prices will find some benefit. BHP Billiton consumed 303 petajoules of non-renewable energy last year, more than the total electricity consumption of Pakistan. Falling energy prices should help that part of its cost base, even as they hurt the top line. While commodity-exporting nations such as Brazil and Saudi Arabia have suffered, Australia last month managed to add 71,400 jobs, the best figure in 15 years, as non-mining parts of the economy started to recover.
So the world shouldn't be worried that materials prices have crashed. Indeed, the bigger worry is that they haven't crashed enough to mark the turning point toward faster economic growth. Commodity slumps tend to last longer and move further from the median than the booms that preceded them. We could still be a long way from the bottom.
This column does not necessarily reflect the opinion of Bloomberg LP and its owners.
To contact the author of this story:
David Fickling in Sydney at dfickling@bloomberg.net
To contact the editor responsible for this story:
Katrina Nicholas at knicholas2@bloomberg.net