All oil crashes aren't equal. 
This week West Texas Intermediate prices dipped below $35 a barrel, the lowest they've been since the 2008 financial crisis -- from which oil prices have yet to fully recover. 
Previous oil crashes resulted from economic crises that temporarily blunted demand. This time, robust energy reserves created by the shale gas and oil revolution in the U.S. have put OPEC on the defensive. Shale reserves appear plentiful and are cheap to produce, forcing OPEC's de-facto leader, Saudi Arabia, to focus on maximizing its own oil output. 
With Congress open to lifting the export ban, the oil market could also be awash in unfettered U.S. crude exports. Commercial crude stockpiles were at 485.9 million barrels through Dec. 4, more than 120 million barrels above the five-year seasonal average. Excess oil inventories may be with us through 2016, according to my Gadfly colleague Liam Denning -- and may not truly normalize until 2017.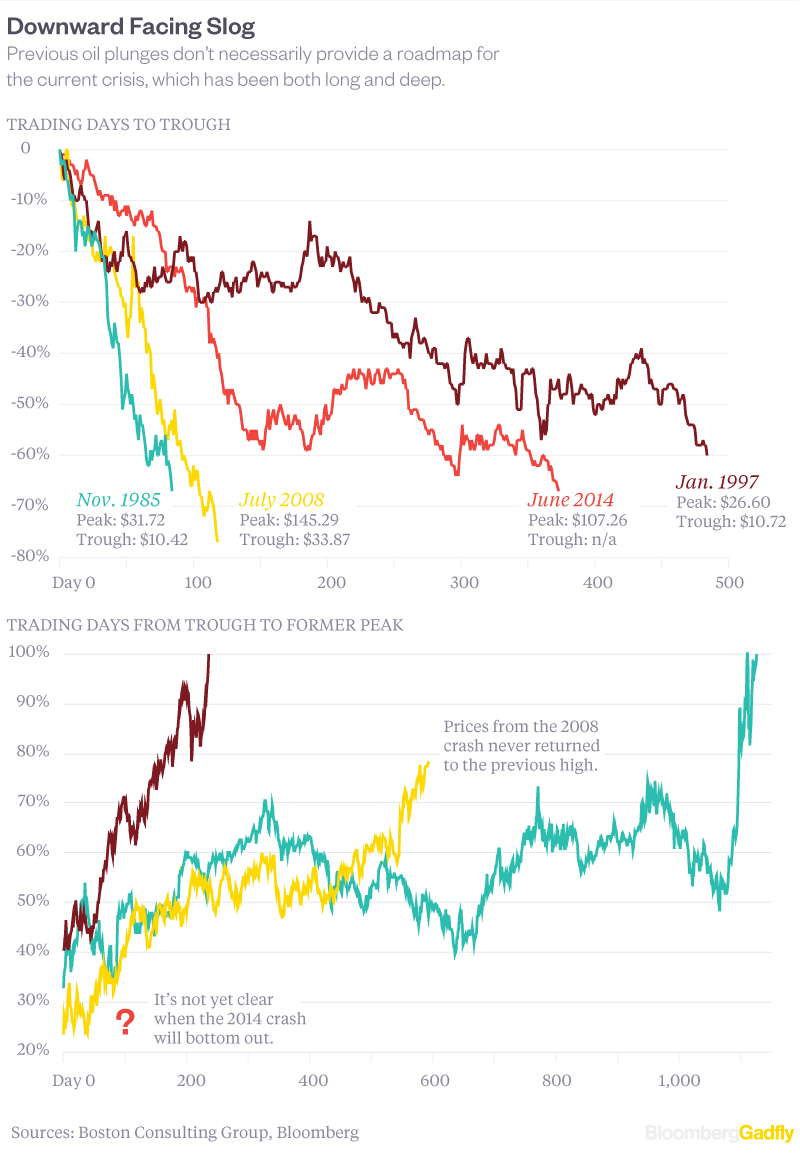 As you can see from the chart above, the current crash in oil prices isn't quite as deep as in 1985 or 2008 (the '08 plunge was saw prices tank 77 percent in just over 100 trading days). The current crash is also not yet as lengthy as the less severe 1997 plunge, which took nearly 500 trading days to reach bottom and only about 200 trading days to return to its previous peak (following the Asian financial crisis).  
What is distinct about the current price plunge is that it's unclear whether a robust price recovery will even arrive again -- and if it does how it might align with previous rebounds.
This column does not necessarily reflect the opinion of Bloomberg LP and its owners.
To contact the author of this story:
Rani Molla in New York at rmolla2@bloomberg.net
To contact the editor responsible for this story:
Timothy L. O'Brien at tobrien46@bloomberg.net