Not Blocked (Yet)
Halliburton Can Deal
At least regulators didn't sue to block the company's takeover of Baker Hughes.
By and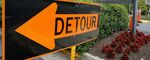 HALLIBURTON CO
+0.65
At Closing, January 19th
BAKER HUGHES A GE CO
+2.39
At Closing, December 22nd
Well, it's better than a block.
That's the sentiment among Halliburton and Baker Hughes investors Tuesday, after a Bloomberg News report revealed that U.S. antitrust officials still aren't comfortable clearing their $38 billion merger. The second- and third-biggest oilfield services companies agreed to combine more than a year ago, and are awaiting regulatory approval in several countries -- the U.S. being key, because that's where they're based and generate the most revenue. 
Both stocks fell briefly following the article, before restoring their gains for the day. Traders remain optimistic because the Department of Justice doesn't (yet) appear to be suing to block the transaction. It signals that there's still hope of salvaging the deal from a fate that's befallen Electrolux's takeover of General Electric's appliances business and Staples' purchase of Office Depot. 
It does further delay things, though. The companies had already agreed to extend their closing date to Dec. 15, but now the U.S. officials don't expect to make a decision until next year, a person familiar with the situation told Bloomberg's David McLaughlin. 
Halliburton and Baker Hughes said Tuesday that they would continue discussions with the Justice Department and set a new deadline of April to close the transaction. The companies said that while the DOJ doesn't believe the current remedies are sufficient, it will assess further proposals. 
It wasn't a lock that Halliburton and Baker Hughes would get their deal done this year, anyway. Halliburton CFO Christian Garcia said as much earlier this month. Getting approval for this deal is a long game and U.S. regulators are just one part of the process. The companies are still awaiting signoff from authorities in Brazil, Australia and the European Union.
As of 2:48 p.m. New York time on Tuesday, Halliburton's offer was worth $60.75, about 27 percent higher than Baker Hughes' stock price. The wide spread reflects the risk that the deal won't get done.
European regulators may actually be the hardest to win over because the merger will eliminate one of the major competitors in the North Sea. The initial deadline for a European review is Jan. 12, but the agency can choose to stretch things out for months if it's not happy with the proposed remedies.
Halliburton said back in November 2014 that it'd be willing to part with units representing as much as $7.5 billion of revenue to appease regulators. The company then put its drill-bits and drilling services business up for sale, as well as assets that allow for building new wells and controlling the flow of oil. The more they sell, the less worthwhile the deal will be. The proposed asset sales so far amount to about $5.2 billion in 2013 revenue, still below the threshold Halliburton set. 
An extension gives the companies more time to finalize these divestitures. While General Electric is in advanced talks to buy Halliburton's drill-bits and drilling services divisions, no transactions have been officially announced yet.
In addition to the merger arbitrageurs anxiously keeping track of the situation are some big investment houses with a lot of money riding on it. Among them is activist shareholder ValueAct Capital Management, which owns about a 5 percent stake in Baker Hughes and about 4 percent of Halliburton, according to holdings data compiled by Bloomberg. That's more than $2 billion based on Tuesday's prices.
While Halliburton waits for other regulators, there's little harm in spending more time hammering out a deal with the U.S. Striking an extension is a good sign because it indicates progress has been made and the deal will ultimately gain approval if certain requirements are met, Stephen Gengaro of Sterne Agee CRT wrote in a note before the Bloomberg News report.
Should regualtors quash the deal, Halliburton would have to pay a $3.5 billion breakup fee to Baker Hughes. In that case, it's possible that another company (say, GE) bids for Baker Hughes instead.
Before it gets to that point, the companies should learn a thing or two from Staples and Office Depot, which are set to fight for their deal in court after U.S. regulators sued to scuttle it. Despite outlining a potential divestiture of as much as $1.25 billion in revenue, the companies only offered up a package of more than $500 million in contracts to regulators.  
Halliburton and Baker Hughes can still keep their deal from becoming the latest casualty.
To contact the authors of this story:
Tara Lachapelle in New York at tlachapelle@bloomberg.net
Brooke Sutherland in New York at bsutherland7@bloomberg.net
To contact the editor responsible for this story:
Beth Williams at bewilliams@bloomberg.net
Before it's here, it's on the Bloomberg Terminal.
LEARN MORE